College of Medicine

Communique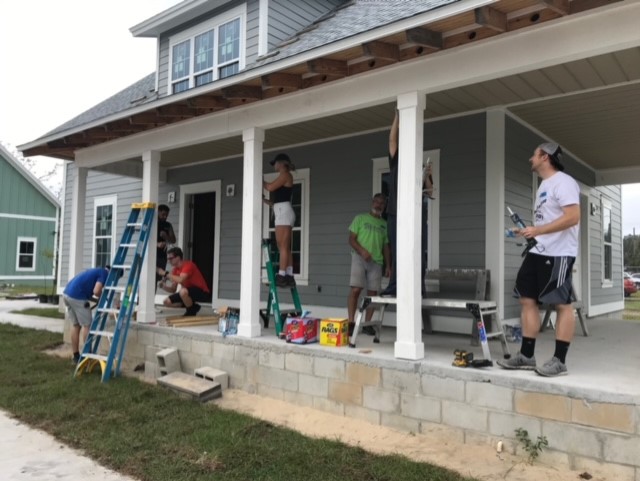 Two grateful families have new homes for the holidays thanks to a group of third- and fourth-year medical students. The students partnered with Habitat for Humanity to build the houses in a Habitat for Humanity-funded community in Winter Garden.
"The Habitat-UCF College of Medicine collaboration has been a work in progress for over a year," said third-year medical student Melanie Peterson, who helped organize the partnership. "Students were very excited to finally get out in the community for some well-needed fun and service."
Habitat for Humanity is a nonprofit organization that offers "sweat equity" affordable mortgages for homeowners to build or improve a place they can call home. Habitat homeowners help build their own homes alongside volunteers, like the eleven UCF medical students who worked with construction site leaders to complete the finishing touches on the home exteriors.
The two new homeowners – who asked that their last names be withheld for privacy – expressed thanks to the physicians-in-training and other volunteers who built their homes. Danykqua, a mother of two daughters, said her family is excited about how a home of their own will change their lives.
"Before Habitat, my daughters and I lived in a two-bedroom apartment that was filled with mold and mildew, plumbing issues and fluctuating rent prices," she said. "Becoming a homeowner is going to bring peace and security that will change our lives forever."
Peterson, who has been volunteering with Habitat since high school, says she has always enjoyed direct, hands-on ways to help the community.
"When I came to COM, I missed the gratification of local service in the busyness of studying," she said, "So after over a year of working with local sites, I was finally able to coordinate a build for UCF students."
Another new homeowner, Christina, a mother of three who works for ACE Hardware, is also looking forward to the stability of homeownership.
"Before Habitat, our life consisted of moving around from place to place, until we finally moved into the house we are renting now, which is very overcrowded for me and my growing children," she said. "I am so grateful for all the people who have helped me to reach my goal of becoming a homeowner. It is truly a blessing that will forever change the lives of my children and me. We are looking forward to creating new memories, having more space, and creating a home that I hope will be passed on for generations."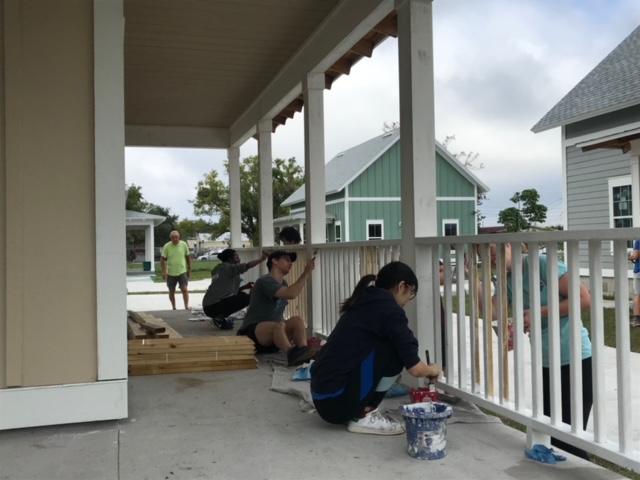 Peterson hopes to organize several Habitat building projects per semester that will help teach medical students the importance of service while changing the lives of others.
Nicole Campbell, communications manager at West Orange Habitat for Humanity, commended the medical students for volunteering their time and effort.
"People often ask, 'Does my time volunteering really make a difference?' The answer is a resounding YES!" she said. "As a non-profit, we rely heavily on volunteers, especially when it comes to our build sites. Simply put, we could not do what we do without our volunteers. Families in Central Florida now have safe, decent, affordable homes to live in because volunteers, like UCF College of Medicine, took time out of their Saturdays to make it happen."
Post Tags