College of Medicine

Students
Medical students from the UCF chapter of the Student National Medical Association (SNMA) organized a voter registration drive on campus for National Voter Registration Day, September 27 signing up more than 40 of their classmates to participate in the upcoming presidential election.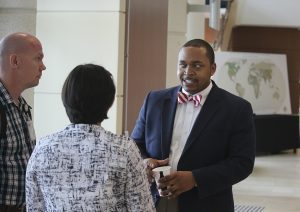 For Gabriel Williams, a second-year med student and vice president of community outreach for SNMA, the event was an opportunity to make a meaningful difference.
"All the students here are going to be future health care providers. It's crucial that we learn early on, while we're going through our medical education, how important voting is, and to see how it will impact health care in the future."
As millennials, students have an outsize role to play in the election. According to a report by the U.S. Census Bureau, the number of millennials nationwide has surpassed that of Baby Boomers for the first time. In Florida, they make up nearly a quarter of the population, outpacing all other age groups.
The trick is making sure they come out to vote. Byron Green, a representative from the Orange County Supervisor of Elections, said SNMA reached out for help. With Green's help, SNMA set up tables next to the first-floor café to make registering as convenient as possible for busy students rushing off to their next class.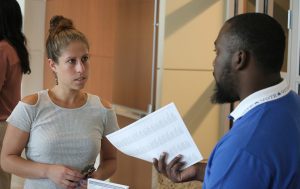 "We were more than happy to come out," Green said. "There are actually a lot of out-of-state and out-of-county voters, so a lot of them are asking if they are allowed to register to vote in Florida. Some haven't updated their Florida IDs, or they may have an ID from a different state. We're out here to bring awareness to young voters, answer any questions they may have, and actually get people to come out to the polls."
James Lee, SNMA's president and a second-year medical student, said it's difficult sometimes as a medical student to get involved in issues like politics.
"It's easy to distance yourself from the world around you. And the thing is – we can't do that," he said "This is a critical election year. This is not the time to tune out and disassociate yourself from the political process. Being a citizen of the world is going to help us be better doctors and to have more compassion and understand where people are coming from."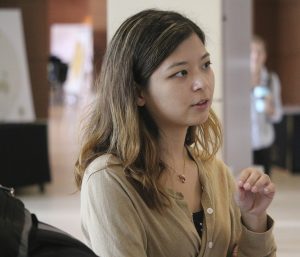 Lee wants to hear more from the candidates on health issues, which could directly affect his future career.
"Health care is going to change drastically depending on who may get in office. I want to hear more about health insurance – what will the fate of Obamacare be? How will Medicaid be affected?"
On October 11, SNMA will host a follow-up event, "Make Medicine Great Again," discussing healthcare policy in the 2016 election. That coincides with the last day voters can register.
"I'm happy seeing people coming in making sure they're registered to vote," Lee said. "The biggest thing for millennials is just – the new thing that people say is just, 'stay woke.' It's colloquial. But essentially what it means is, keep your eyes open, stay aware and awake to the realities happening around you, and be active in the process."
Post Tags