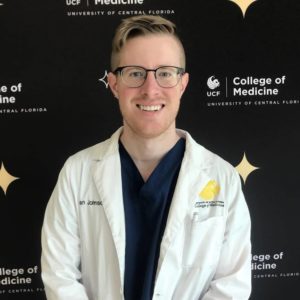 As COVID-19 changes healthcare education across the globe, a rising fourth-year UCF medical student has been named to a national leadership position to help improve the way physicians are trained.
Evan Johnson was selected from a national pool of applicants to serve as advocacy coordinator for the American Medical Student Association's Medical Education Committee. There he will represent students in developing initiatives to improve medical education.
"I am very passionate about medical education and this position is a huge opportunity to advocate for improvements in the field," he said.
"This pandemic for example has caused a lot of unforeseen changes for medical education nationally. So, I want to help ensure that any changes that come up in the near future are optimized and in medical students' best interest."
AMSA has a membership of more than 30,000 medical students nationwide. There are eight leadership committees including health policy, global health action and medical education committees. The medical education committee addresses issues such as diversity, curriculum reform, innovation and graduate medical education.
Johnson received his undergraduate degree in biomedical sciences from the University of South Florida and chose to pursue medicine for the chance to impact lives. At UCF, he volunteers with the KNIGHTS and Chapman Compassion Care student-run clinics, and holds a leadership position in the Healthcare Innovations Student Interest Group.  He hopes the experience in this AMSA leadership role will help prepare him for a career in academic medicine.
"I really enjoy mentorship roles, working closely with other students and professionals and having a positive impact," Johnson said. "So though I ultimately want to do orthopedic surgery, I would also like to be a faculty member for either a residency program or medical school, and so I hope to learn from this experience."
Johnson's tenure officially began this month and will last a year.
"This is not only an incredible opportunity for Evan to learn about leadership in medicine at a national level, but it is also an opportunity for him to represent the UCF College of Medicine to other national leaders," said Dr. Marcy Verduin, associate dean of students. "I have no doubt that he will represent us well and will gain critical leadership skills to share with his fellow students."
Dr. Richard Peppler, vice dean and associate dean for faculty and academic affairs, agreed.  "With the college undergoing curricular transformation and the COVID-19 pandemic," he said, "Evan will play an effective role in conveying what is going on locally as well as have a say in any national decisions concerning medical education in response to the pandemic."
Post Tags