College of Medicine

Diversity

Students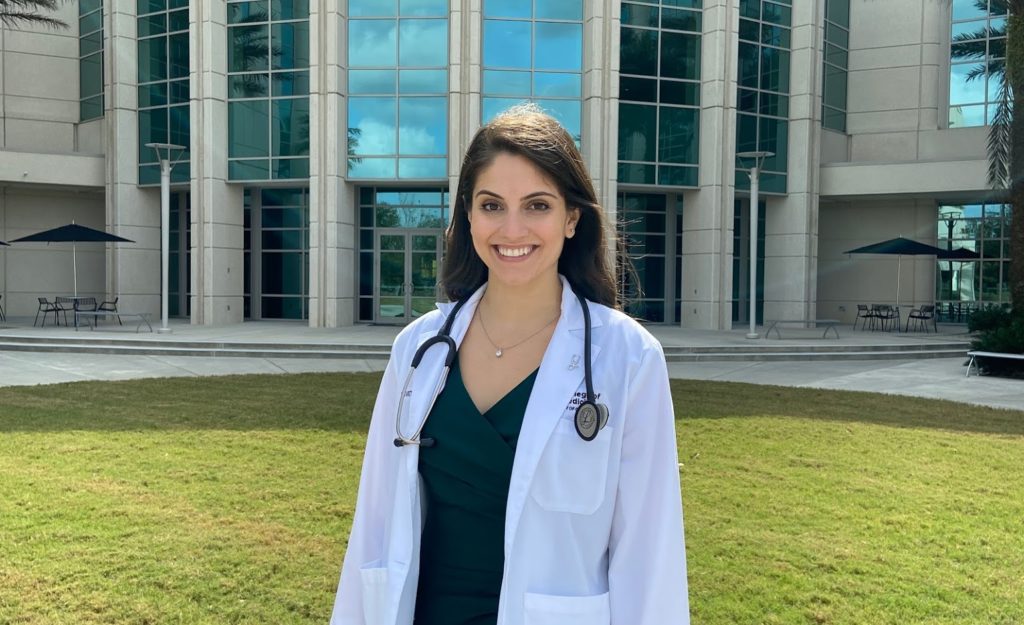 As a young girl, Lisvet Luceno saw firsthand the importance of community service as her family depended on free clinics for their healthcare. Now a second-year UCF medical student, she volunteers at several community programs, as her way of giving back.
These service efforts have earned her a $10,000 scholarship from the Dr. William Lascheid Memorial Scholarship, which recognizes medical students who have demonstrated excellence in community service. Now in its sixth year, the scholarship is in memory of Dr. Lascheid, co-founder of the Neighborhood Health Clinic, a free clinic in Luceno's hometown of Naples where she volunteered as a Spanish interpreter before coming to medical school.
"Growing up, we benefited as a family from other people's community service," Luceno said. "We never had health insurance, so if there was ever a free clinic going on at a local church or wherever we would be there. I played sports in high school, and whenever I had to get my annual sports physical, it was always at a free clinic. So to be able to finally give back, in the same ways, has been really gratifying."
Luceno, who received a psychology degree from the University of Pennsylvania, is the first in her family to graduate from college. Her mother, a housekeeper and her father, a retired tile installer, both came to America in the 1980 Mariel boatlift, among some 3,000 Jehovah's Witnesses who fled Cuba in search of religious freedom.
When Luceno was in middle school, her father was diagnosed with gum cancer. Since he understood little English, she attended all of his doctor's appointments as an interpreter. The experience piqued her interest in medicine and showed her the challenges that language and cultural barriers pose to receiving quality healthcare.
So when she began medical school, she joined several service groups including MedPACt, a student-run global health organization. She volunteers at the Apopka Farmworkers clinic, providing care to immigrant farmworkers, as well as the KNIGHTS free clinic which cares for Orlando's uninsured in partnership with Grace Medical Home.
"I am truly grateful for this scholarship," Luceno said. "The first year of medical school, I realized just how expensive medical school can be. And when you're from a lower income, it's more difficult. It's not just being able to study but it's also being able to afford the books and in different resources. So this scholarship means I can have access to things and be as competitive as everyone else."
After earning her medical degree, she plans to pursue a master's in public health, which she hopes will help her provide better care for medically underserved communities.
"The main goal of this scholarship is to provide critical financial aid to future medical professionals, and to recognize students who give their time to charitable causes," said Dr. Rolando Rivera, chair of the Collier County Medical Society Foundation which granted the scholarship. "Lisvet is a shining example of Dr. Lascheid's dedication to caring for the underserved, and we are honored to award her this scholarship."
Post Tags
community service

first generation

lisvet luceno

students