College of Medicine

Communique

Faculty News

Hospital

Medical

Research

UCF Health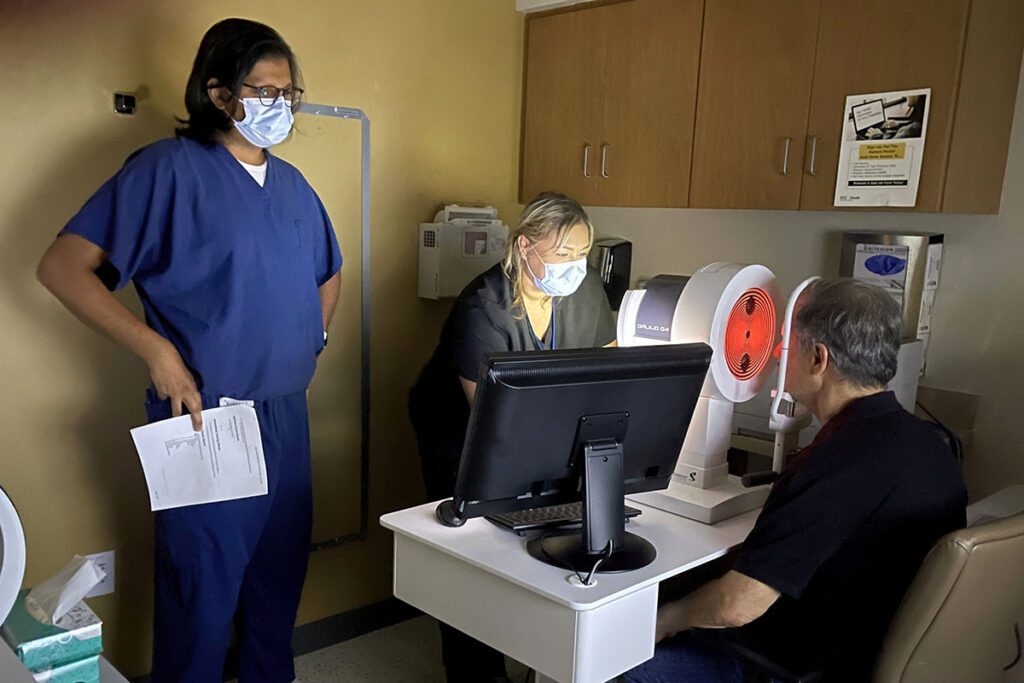 When the first four civilians travel to the International Space Station April 8 they will be working with a team of University of Central Florida doctors to study how space travel affects the human body, particularly the eyes and brain.
Three faculty physicians at UCF Health, the College of Medicine's clinical practice, are collaborating with Axiom Space and two Israeli medical centers – Sheba Medical Center and Rabin Medical Center – to conduct clinical studies with passengers aboard Axiom's private flight that will take four passengers to the International Space Station aboard the SpaceX Crew Dragon. The flight is scheduled to launch from the Kennedy Space Center and should return 10-14 days later. The space explorers received pre-flight testing at UCF Health facilities and will be back for post-flight testing.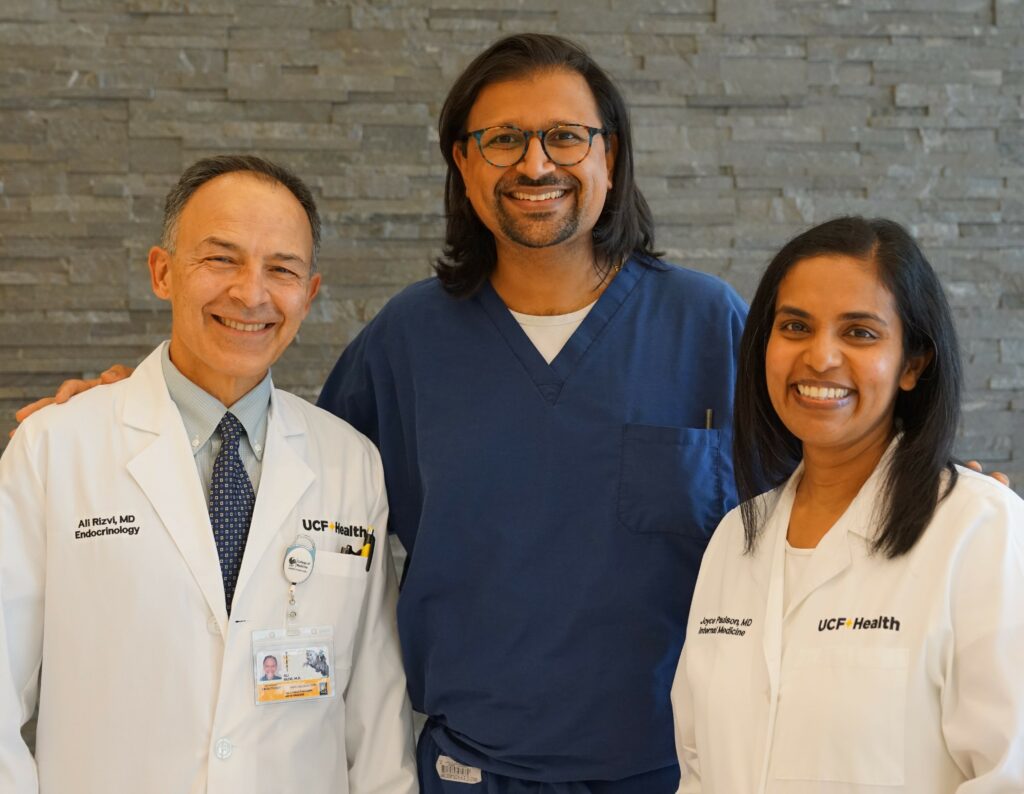 The eye study will include the use of high-definition technology unlike any used before to examine the participants' eye structure. The brain study is the first of its kind in space. These studies represent UCF's first human subject space studies.
"It's a historic moment for space exploration with civilians going to the ISS and for UCF," says Dr. Deborah German, vice president for Health Affairs and founding dean of the College of Medicine. "These two studies are just the beginning. We have several more to come. It's not just about exploring. What we find will contribute to keeping space explorers safe and finding new treatments here at home."
It's All About the Eyes
The first study, a collaboration between Dr. Gal Antman, ophthalmologist from Rabin Medical Center in Israel and UCF Health ophthalmologist Dr. Mehul Patel, will examine how the microgravity environment of space affects the structure and function of the eye in a condition called "spaceflight-associated neuro-ocular syndrome" or SANS that typically occurs in astronauts. The most commonly reported symptom of SANS experienced by astronauts is decreased near vision.
"In a microgravity setting, one of the theories is that there is fluid buildup and congestion inside of the orbit, which is the bony space in which our eyeballs rest," Dr. Patel says. "And so, if there is a buildup of fluid even in short duration flights, that exerts pressure on the eyeball which changes how blood enters the eye and leaves the eye and the actual shape of the eye."
The study includes a range of pre-and post-flight eye exams using a noninvasive approach called optical coherence tomography angiography with the comprehensive imaging device called the Spectralis HRA+OCT2 on loan to UCF from Heidelberg Engineering in Germany. This is the first space eye study that will benefit from this kind of detailed imaging.
"All prior studies have used MRIs and other ways to image the back of the eye with photos," Dr. Patel says. "But this newer OCTA technology can be compared to a 4K or 8K TV and those high definition cameras that are allowing you to see greater depth and clarity. So, we can now do something similar in the back of the eye, to really look at detail and definition of blood flow and vascular changes in the back of the eye."
The Brain and Alzheimer's
The second study is a collaboration between Professor Yael Mardor and physicians Itzik Cooper and Harel Baris from the Sheba Medical Center, Israel and UCF Drs. Joyce Paulson and Ali Rizvi. The study will examine how space travel affects the structure of the blood-brain barrier (BBB). The barrier is a semipermeable coating around the brain that acts as a filter to prevent harmful toxins or pathogens carried in our blood from getting into the brain.
While the barrier has a protective function, it can also filter out or restrict beneficial substances like therapeutic drugs. Researchers are hoping the barrier can be altered through microgravity to allow better absorption of medications that treat neurodegenerative diseases, like Alzheimer's.
The civilian astronauts will undergo pre- and post-flight evaluations (including MRIs) to see if there are changes in the BBB.
"If there are any changes," Dr. Rizvi says, "the end goal is to see whether the blood-brain barrier can be temporarily altered by exposing patients to microgravity – either in space or simulated on Earth — to facilitate the treatment of diseases like Alzheimer's."
This is the first blood-brain barrier study to be conducted on human subjects during space travel at the cellular level.
"UCF is grateful for this opportunity to collaborate on this project to help enhance the treatment of neurodegenerative diseases," Dr. Paulson says. "Right now, there are limitations in terms of what we can do to help these patients. Neurodegenerative diseases are not only difficult to treat, but they are also very progressive and impacts not only the patients but their caregivers as well, so studies like these are very important."
The researchers see these studies as an important step in providing new treatments on earth.
"The innovative breakthrough in this study lies not only in the specific research questions and methods but in the creativity of referring to the physiological impacts of exposure to microgravity as holding a therapeutic potential- which holds a promise for harnessing space endeavors to other medical applications and healthcare innovation," says Dr. Baris, director of the ARC Space Lab at Sheba Medical Center. "We are confident that the collaborations on these studies will pave the way for further shared efforts – and enable our clinicians to provide better healthcare, for all human, either in space or on Earth.
Sheba Medical Center is the largest hospital system in Israel and Newsweek has ranked it in the top 10 internationally.
Israeli astronaut Eytan Stibbe has completed all pre-flight testing and will return for post-flight testing at UCF Health's Medical City location and UCF Lake Nona Hospital, the medical school's partnership hospital with HCA Healthcare.
"I am excited to be able to participate in these research studies and contribute to medical knowledge for future generations," Stibbe said as he began testing at UCF days before being quarantined before the flight.
The UCF-affiliated studies are just two in of many experiments being conducted during the mission.
The UCF College of Medicine's Department of Clinical Trials, under the direction of Dr. Amoy Fraser, is leading the trials. Fraser says more space flights studies are under negotiation.
"The medical school's research expertise — and its Medical City location , close to an international airport and the space center — make us an optimal partner for medical space research," Dr. Fraser says.
Post Tags
clinical research

International Space Station