College of Medicine

Faculty News
With the spirit of "horses cure just about anything," physicians, elected officials, equestrians and veterans officially opened the Osceola Therapeutic Riding Center November 18 as a place where four-legged counselors help heal the mental and physical injuries of combat.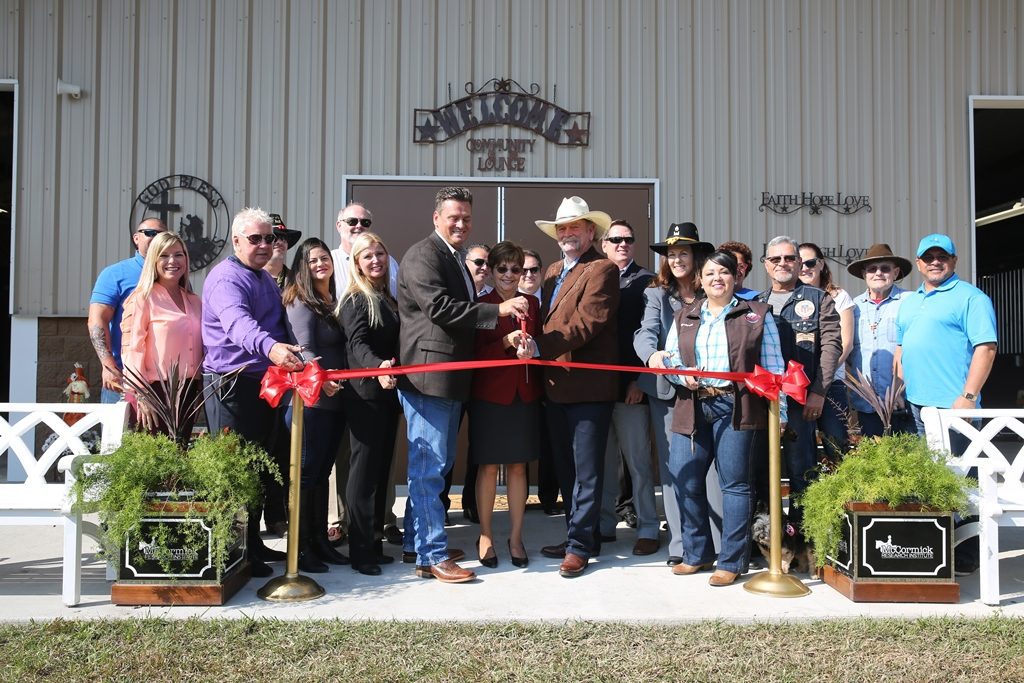 The center, a partnership between the UCF College of Medicine, Osceola County and the McCormick Research Institute, provides and does scientific research on equestrian therapy not only for veterans but for autistic children, patients with Parkinson's disease and others.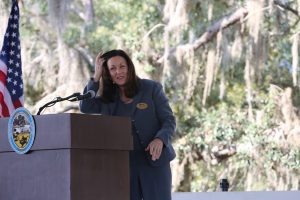 The effort is led by Dr. Mänette Monroe, a lifelong horseman, College of Medicine faculty member and assistant dean of students. Dr. Monroe laughed as she spoke to attendees at the ribbon-cutting: "I'm in a barn in a suit. This must be a special occasion." She told the audience that her early research has shown that equestrian therapy yields dramatic improvement in veterans' depression and Post Traumatic Stress Disorder symptoms. While equestrian therapy has been going on for decades, little scientific research has been done on the topic. With research "to prove what we know," equestrian therapy can expand and receive funding to reach more veterans, said Mark Miller, who chairs the McCormick Institute. "We're talking about millions and millions of people in need," he said, noting that 22 American veterans commit suicide each day.
The center is the only one in the country led with help from a medical school. "We are honored to be partners with you in improving the health of our community," Dr. Deborah German, vice president for medical affairs and dean told attendees. "Thanks to your efforts, we are able to provide better care to our nation's heroes. This equestrian center is a place of hope."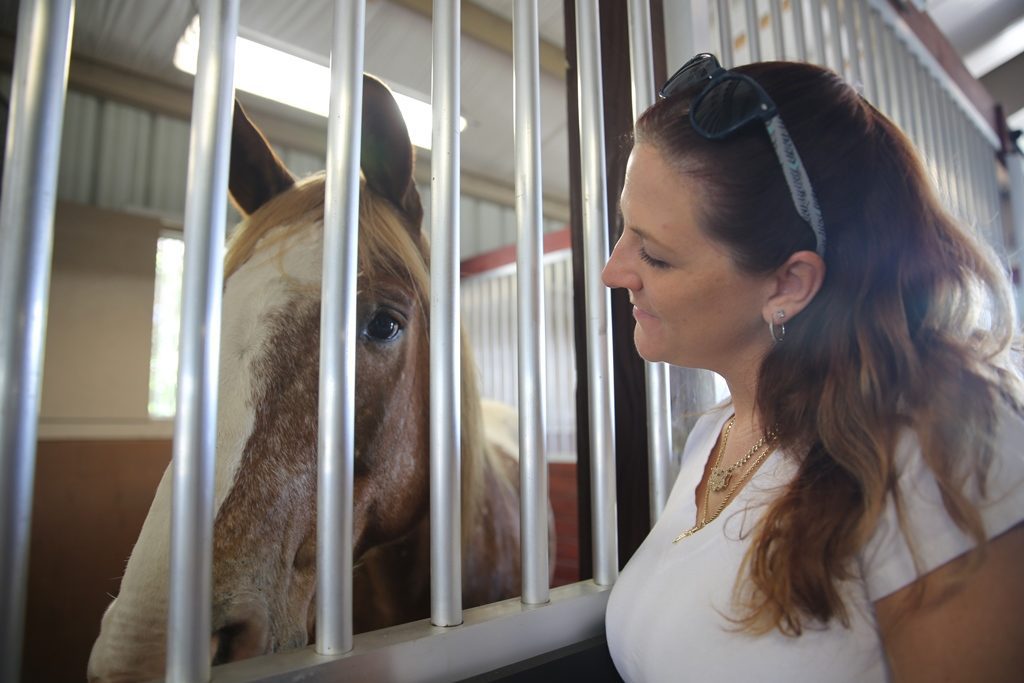 Just ask Marine Corps veteran Francesca Langston and her therapy horse, Brooks. Langston drove trucks in combat and returned home hyper-vigilant about daily activities, especially driving. She doesn't like to talk about her experiences in war. But Brooks – half of the performing equestrian duo "Brooks and Dunn" that once performed at the Arabian Nights Dinner Theater – helps Langston cope.
He's a huge Belgian Appaloosa who loves peppermint candy, apples, nose rubs and attention. Stop petting him to talk to a human and he kicks his stall with a giant hoof. "Brooks, I have more candy, but you have to be patient," Langston urges the gentle giant, then explains how the horse helps her: "He's amazing — so calm, so patient. His ears hear everything so he's hyper-vigilant just like I am. That's our bond. He's given me a new life. He makes my heart happy."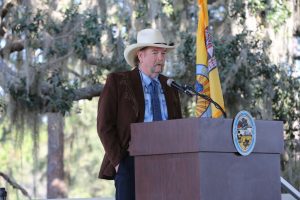 Miller said that intuition is a horse's therapeutic gift. Most domesticated animals humans encounter are hunters – even dogs and cats. They're logical. But horses aren't hunters, he said, they're prey, so the connection is intuitive. "The relationship between a horse and a human is unique. They love people. Horses were bred to go to war with us, to give their lives for us. That's the difference. Their connection with us is completely from the heart."
The medical school and Heavenly Hoofs, an equestrian therapy program in Osceola, began the Horses and Heroes veterans' program several years ago. But the county-donated property that housed the program had no covered ring. So the program closed each summer because of heat and rain. After hearing from veterans about how equestrian therapy helped them, Osceola County Commissioners approved building a $1.75 million facility at Chisholm Park. Its covered ring, air conditioned meeting rooms and special grooming and tacking areas allow the center to provide therapy sessions year-round. County Commissioner Fred Hawkins Jr., whose district includes the center, said the therapeutic riding program has personal meaning to him. Hawkins competed in rodeo events as a child and said the relationship between horses and humans is a "real lifeline to our veterans and others."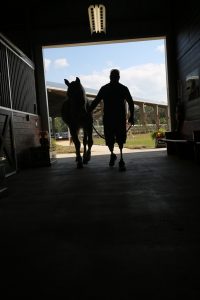 Mike Fradera, who spent four years in the Marines and six years in the Army, is currently enrolled in the program. He lost both legs in combat and said he was fighting with himself about coming to the center. He'd never ridden before, had never even been around horses.
He says Liberty, his horse, responds easily and intuitively to him. That has built trust, lessened fear and forged a strong bond between the two. "There's something about grooming a horse that's so calming and relaxing," he said. "You're taking care of a beautiful creature."
Post Tags