College of Medicine

Faculty News

Students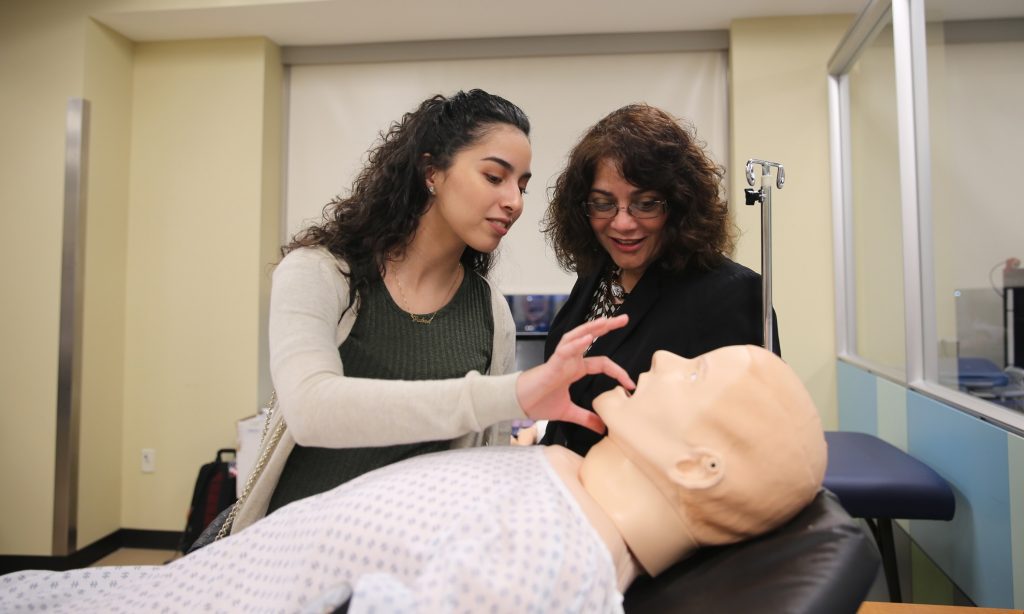 She is only in the tenth grade, but Apopka High School student, Racquelle Moxey has already had her first day at medical school.
Moxey was one of about 150 high school students from across Central Florida who attended a March 13 open house at the College of Medicine designed to help them chart a course to becoming a physician. The students from Orange, Seminole and Osceola counties were selected by their guidance counselors for academic achievement and interest in medicine. They toured the medical school, saw its high-tech teaching tools and learned from faculty and students about their own journeys into the healthcare profession.
"It was really cool to see all the new technology that they offer here," Moxey said after touring Clinical Skills and Simulation Center, where standardized patients (actors) and computerized mannequins help train students. "I especially like that they have actors that come here and you can diagnose them. College is very different from high school and so this tour gave us a sense of what we will actually experience while in college."
Laurel Poole, the medical school's assistant director for admissions, said this is the first time the college has held an open house for high school students and their parents. The open house was geared at helping students chart a course to medical school and encouraging them to gain early life experiences that will prepare them to be better physicians.
"We get a lot of inquiries and requests for tours from high school students and their parents interested in our medical school," she said. "We also see a lot of applicants that could have taken a better path if they were advised to in high school. So we decided to give the students an opportunity to come out and see the campus and also learn more about what they should be doing now to prepare for medical school."
The students sat in their first "class" — a presentation from Dr. Judy Simms-Cendan, associate professor of obstetrics and gynecology, who shared her journey into medicine.  She talked about how her first job selling clothes at the mall helped her to better relate to her patients. She urged students to use every opportunity to learn from their experiences, no matter their circumstances.
"You may not get your first job in medicine," Dr. Simms-Cendan said. "It may be a job at McDonalds or Walmart or at the mall, but it is practical experience and you will learn work ethic and customer service. All of that will make you a better doctor later on. Take what you can from everything you're doing."
Poole gave the students and parents an overview of the medical school's admission requirements and offered tips on what they can do in high school to prepare for medical school, such as volunteering in health care and participating in summer camps.
After the session, students and parents took a self-guided tour of the building, making stops at the Harriet F. Ginsburg Health Sciences Library and the Clinical Skills and Simulation Center. In the simulation center, they were fascinated by
"Harvey" and the other computerized mannequins that can speak, sweat, seize, react to different dosages of prescription drugs and even die. High-schoolers were able to interact with first- and second-year medical students stationed at various points along the tour.
Tran Le, a 10th grader at Winter Park High School, was impressed by the technology available for training students and is now more confident about her decision to attend the medical school.
"After today, I am definitely interested coming here now," she said, "especially looking at all the technology, the program and how it's set up, and especially how the students are trained using real life situations."
Poole said she is motivated by the positive feedback she received from students and parents and said the admissions team plans to make the open house an annual event.
Post Tags