Burnett School

Cancer Division

College of Medicine

Communique

Faculty News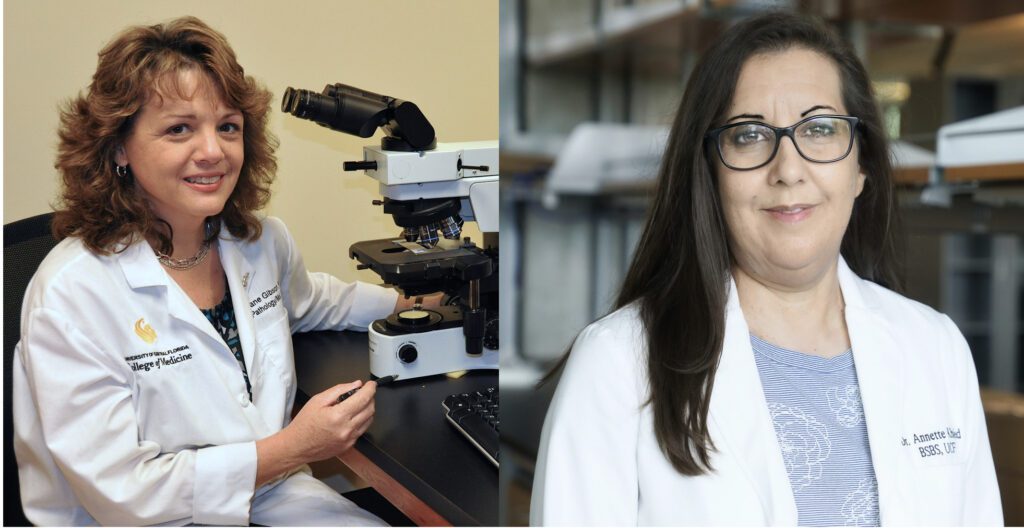 Two recent leadership promotions will support and develop M.D. and Burnett School of Biomedical Sciences faculty. Dr. Jane Gibson is the College of Medicine's new associate dean for faculty affairs and Dr. Annette Khaled is the new assistant dean for faculty affairs.
"Together, these leaders will serve as a team resource for faculty training the next generation of physicians and scientists," said Dr. Deborah German, vice president for health affairs and dean.
Dr. Gibson is a founding College of Medicine faculty member who joined UCF in 2008. A practicing medical geneticist and molecular pathologist at Nemours Children's Hospital, she currently is a tenured professor of pathology and serves as Chair of Clinical Sciences and will continue in that role. She is a former president/vice president/past resident of the medical school's Faculty Council and has served on multiple national organizations and committees, including the AAMC's Group on Faculty Affairs, where she was elected to the Professional Development Committee.
She is a member of the Board of Trustees of UCF Lake Nona Medical Center and previously served as assistant dean for students. An ELAM Fellowship graduate, she is also a member of the Orlando Health Board Emeritus Council and serves as Chair of UCF's Infectious Disease Task Force for COVID-19.
Dr. Gibson earned her B.S., M.S. and Ph.D. at the University of Florida, and is board certified in Clinical Molecular Genetics by the American Board of Medical Genetics and Genomics.
Dr. Khaled is a tenured professor of medicine who also serves as head of the Cancer Research Division at the Burnett School of Biomedical Sciences, a position she will continue to hold. She joined UCF in 2002 after doing post-doctoral work at the National Cancer Institute.
She has spent the past eight years developing biological agents that can seek out and kill metastatic breast cancer cells and holds multiple patents and licensing agreements for her discoveries. She is one of the College of Medicine's top-funded researchers, including being a top recipient of proceeds from the annual Cure Bowl, which raises money for cancer research. She is the author of 59 peer-reviewed research publications, with two pending.
She is the current president of the College of Medicine Faculty Senate, having previous served as vice president. Dr. Khaled is an ELAM fellow and the winner of multiple teaching and research awards from UCF, the College of Medicine and the National Institutes of Health.
She earned her Ph.D. from the University of Florida, her M.S. from California State University Long Beach and her B.S. from University of California Irvine.
Post Tags
College of Medicine leadership

Dr. Annette Khaled

faculty affairs

Jane Gibson