Burnett School

College of Medicine

Communique

Diversity

Faculty News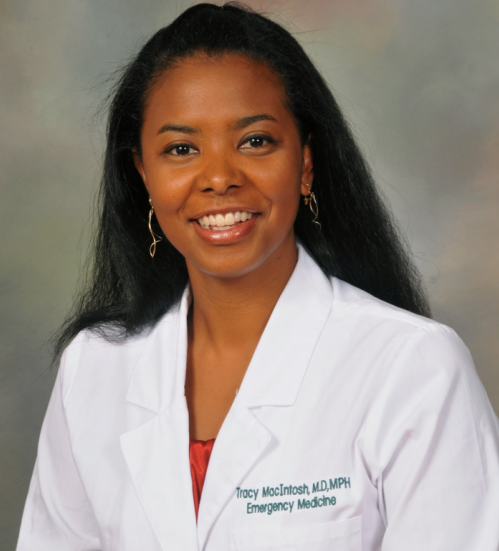 Tracy MacIntosh, M.D, M.P.H., M.S., FACEP, is the College of Medicine's new Associate Dean for Diversity, Equity and Inclusion. Selected after a national search, Dr. MacIntosh currently serves as Associate Program Director for the medical school's Emergency Medicine Residency Program at Osceola Regional Medical Center and Chair of the UCF/HCA GME Consortium DEI Committee.
"Throughout her career, Dr. MacIntosh has been a dedicated advocate for equity and efforts to end systemic racism and healthcare disparities," said Dr. Deborah German, Vice President for Medical Affairs and dean of the UCF College of Medicine. "As an educator, community leader and attending emergency physician, she has seen first-hand the impact of healthcare disparities and is committed to train her peers, students and residents to work to ensure health equity for all patients and communities."
Dr. MacIntosh will begin her new role on April 1. She will work to increase the diversity College of Medicine's student body and faculty ranks and help revise the curriculum to include more instruction on healthcare disparities and culturally competent care. She will also lead the Office of Diversity, Equity and Inclusion – which was renamed before the search began to better define the college's efforts. She envisions that the College of Medicine can play a more public role in community engagement and addressing healthcare equity, social and racial injustice.
She earned her M.D. degree at Yale University School of Medicine and completed her Emergency Medicine residency at Yale University Health Services. She holds a Master of Public Health: Epidemiology and Biostatistics and a Master of Science: Food Policy and Applied Nutrition from Tufts University in Boston. She earned her B.S. degree in Physiology and Equity Studies from the University of Toronto.
"As an emergency physician, I see everyday the impact of health disparities and social determinants of health in our community members," Dr. MacIntosh said. "We must work together to ensure that the next generation of UCF College of Medicine scientists, physicians and leaders is equipped to identify and end health disparities and provide truly equitable healthcare to all."
Post Tags