College of Medicine

Faculty News

Students
Twenty-six of Prisca Takundwa's family members traveled worldwide to see her become a physician Friday, an accomplishment a med school adviser called "a credit to her tenacity and pushing herself forward no matter what life threw at her."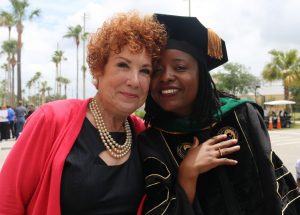 Takundwa was one of 113 UCF medical students – poets, engineers, painters and microbiologists — who received their M.D. degrees in the young medical school's fifth graduation. The Class of 2017 was the UCF College of Medicine's first class at full enrollment of 120 students and with their commencement, the medical school has now sent 376 Physician Knights into the world.
One hundred percent of this year's graduates matched into residencies – compared to the national average of 94.3 percent. Takundwa will train in pediatrics at Yale. Family members, ranging in age from 3 to 78, traveled from her native Zimbabwe, South Africa, the United Kingdom and New Hampshire to attend her graduation and honor her journey through medical school.
Her younger sister was injured in a car accident during her first year at the College of Medicine. Her mother died the same year. Her father had perished before that. Takundwa left Zimbabwe to pursue her dreams, did graduate work in England and struggled to afford medical school. "It's been a series of hurdles to get over," she said, "so it's incredibly special to have my family and friends here. This degree means way more to me because it took me a while to get here. I am especially remembering my parents who couldn't be here for this moment."
Zoe Brown-Weissmann, director of student support services, who had remarked on Takundwa's tenacity, teared up as the two hugged after commencement, calling the young physician "a remarkable human being." Family members said the College of Medicine's support had helped Takundwa succeed. "The school has all kinds of different people and they became her family," said her aunt and the family matriarch, Siphikelelo Jentimanea. "She kept going, worked so hard. She just smiled through it. This was the best place for her to be."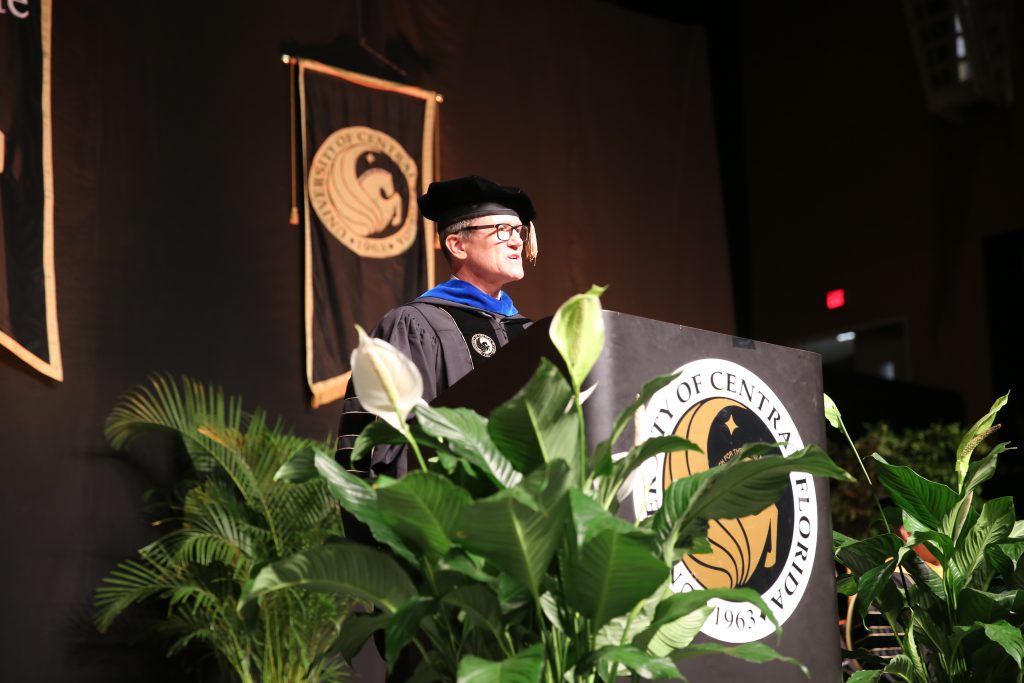 In his commencement address, Dr. A. Dale Whittaker, UCF's provost and executive vice president, talked of UCF's impact on the individual and the world. "It's the ripple effect that includes all the lives touched, and livelihoods we lift, the opportunities we provide and what our graduates go on to accomplish," he said. "As one of the nation's largest public universities, we have the opportunity to lift students of every background and aspiration, their families and the communities where they live."
As an example of impact, he noted that the Class of 2017 had helped grow Medical City as a destination for medical education, research and patient care, noting that the community will soon be home to a UCF partnership teaching hospital.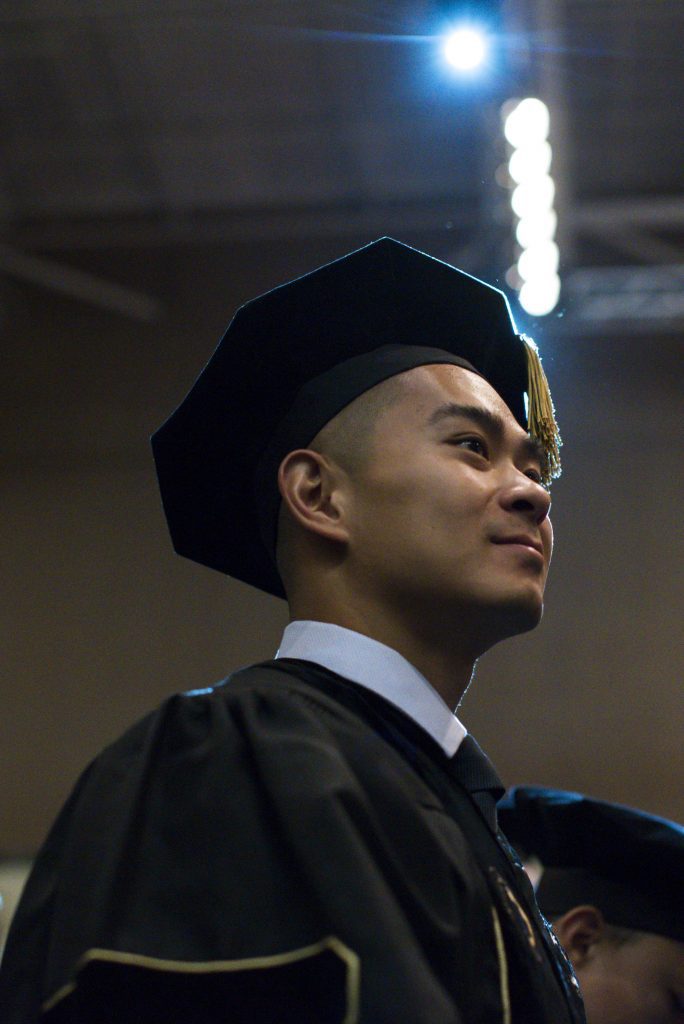 The students' impact also included service. During four years of medical school, they cared for impoverished people in the Dominican Republic, provided clinics for local farmworkers, ran the free KNIGHTS Clinic for Orlando's uninsured, and entertained youngsters at Nemours Children's Hospital to bring a bit of normalcy to their environment. Two class members are military officers, who were promoted in rank during commencement. Anthony Hawkins will do his emergency medicine residency at Madigan Army Medical Center in Tacoma, WA. Eli Kinberg will serve in the Air Force after doing a civilian residency in otolaryngology at Mount Sinai Hospital in New York.
Kinberg said he didn't know what to expect from the commencement ceremony. "But it's amazing. Everybody's here in robes. Everybody is getting called doctor and they earned it. They're going to be great doctors."
Faculty speaker, Dr. James Sanders Jr., assistant professor of neurosurgery, began his remarks by taking a selfie with the students. He told graduates they were entering medicine at a unique time – when healthcare is changing and the nation is becoming more divided. He urged them to "carry the light" and "to lead by example, practicing medicine with humility, empathy, love and kindness."
Graduate Aryan Sarparast talked about empathy moments after receiving his diploma. He is doing his psychiatry residency in Oregon, where he did his undergraduate work. A published poet and essayist, Sarparast said psychiatry will enable him to give those with mental illnesses a voice. "I feel like that's always been my destiny," he said, "my calling."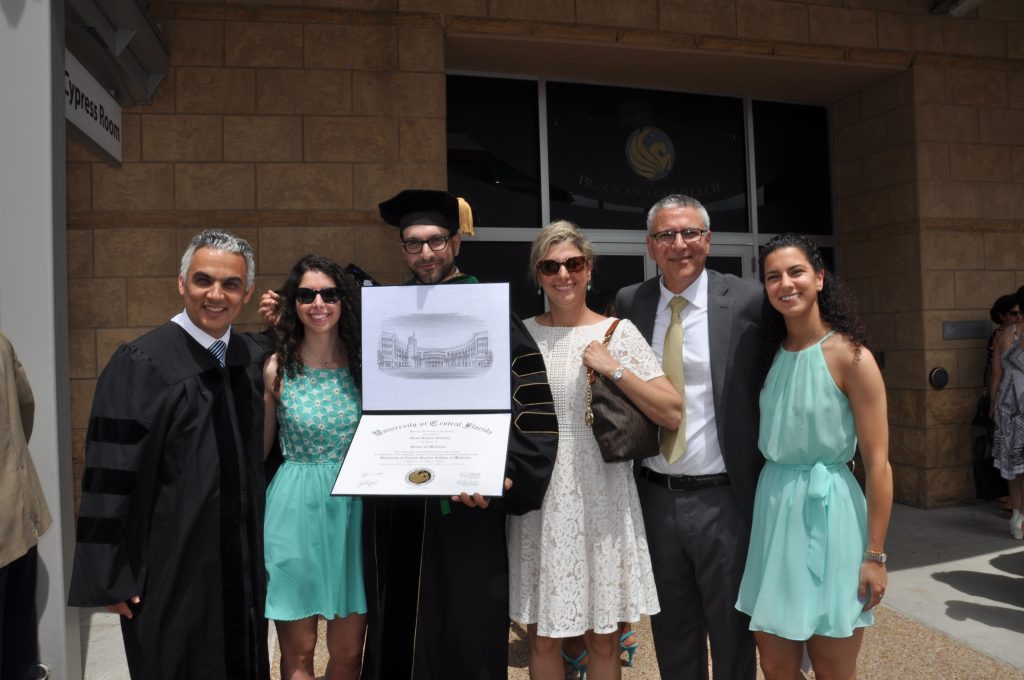 Sami Saikaly didn't know if UCF was going to be his destiny. The University of Florida undergraduate wanted to go to medical school. His father, Bashar, is a cardiologist in St. Augustine, and when his son was considering medical schools, Dr. Saikaly was traveling by plane and found himself sitting next to UCF's Dr. Abdo Asmar, associate professor of medicine, vice chair of internal medicine, and head of the College of Medicine's first internal medicine residency program. Dr. Asmar told the physician father that UCF "was the place to be." The younger Dr. Saikaly is now going to the University of Florida for his dermatology residency. "It's a small world," he said. "My dad sits next to Dr. Asmar on an airplane. UCF was my destiny."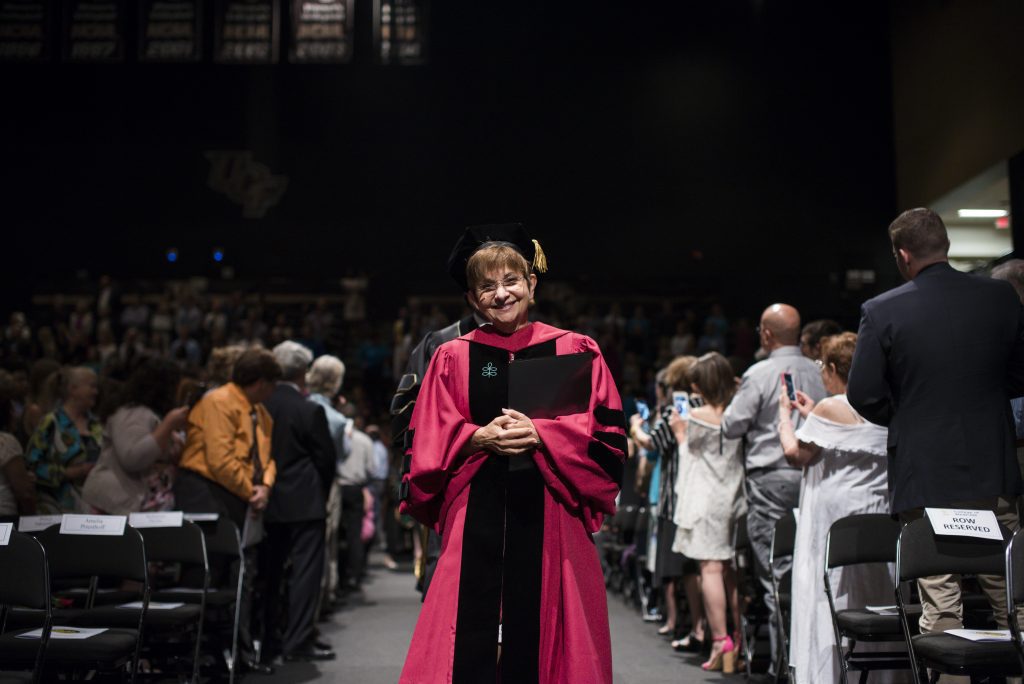 As she closed her remarks to students, Dr. Deborah German, vice president for medical affairs and founding dean of the College of Medicine, said graduates would spread the reputation of the new medical school as they cared for patients from Florida to California.
"Take care of yourselves," she told them. "Take care of your dreams. UCF COM will always be your medical home and you are forever a UCF Physician Knight."
Post Tags