Burnett School

College of Medicine

Faculty News
The College of Medicine had multiple honorees at UCF's annual Founders' Day event April 5, which recognizes outstanding academic achievements of faculty and students.
Medical school honorees included Dr. Shadab Siddiqi, associate professor of the Burnett School of Biomedical Sciences, who received a "Reach for the Stars" award recognizing the university's brightest early career professors. Other faculty honorees were: Dr. Robert Borgon, for excellence in undergraduate teaching, Dr. Dinender Singla, for excellence in research and Dr. Diane Jacobs, named professor emerita. The College of Medicine student honoree was Class of 2017 biomedical sciences major Baggio Evangelista.
Dr. Shadab Siddiqi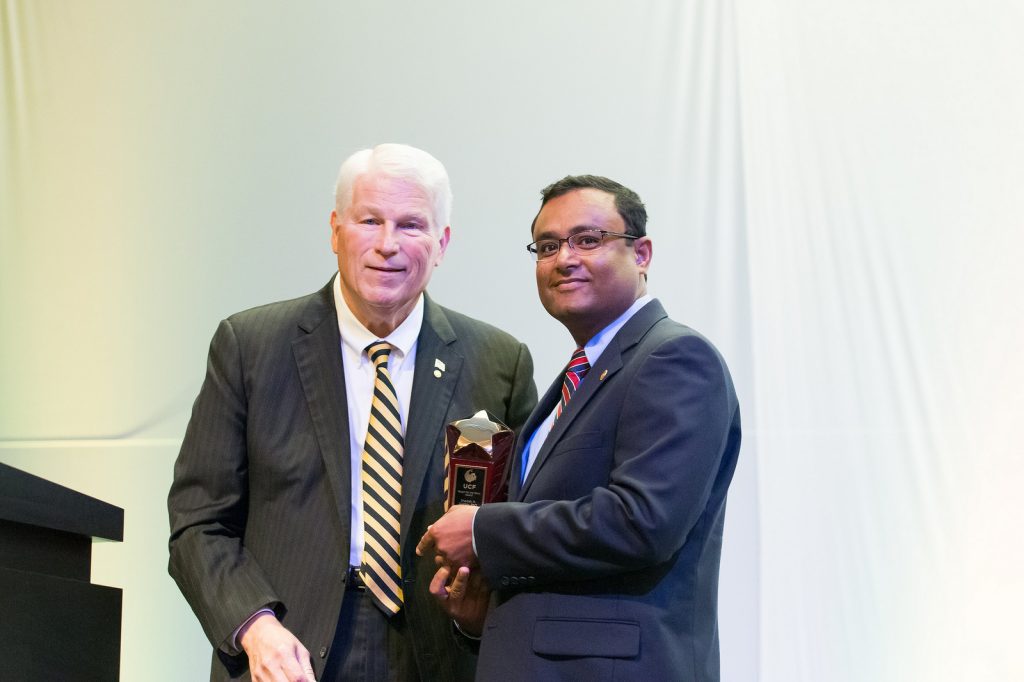 Dr. Siddiqi was one of five UCF faculty members granted the Research for the Stars Award. President John C. Hitt selects the winners based on faculty members' past four years of work. Recipients must be an assistant or associate professor and have attained significant research work during their early career. The Reach for the Stars winners get a $10,000 annual research grant for three years, which can be renewed based on their promising work. This is the third year UCF has given Reach for the Stars Awards at Founders' Day.
Dr. Siddiqi's research focuses on identifying novel therapeutic targets for controlling LDL-cholesterol levels in the blood that cause cardiovascular disease. His work has been continuously funded by the American Heart Association and the National Institutes of Health; his NIH funding totals more than $2.5 million. Last year, Dr. Siddiqi discovered that an acid found in red meat and butter activates a liver protein that causes high LDL levels. The finding was the cover story in The Journal of Biological Chemistry and was covered by more than 30 national and international media outlets. He has published more than 24 scholarly papers and authored 27 presentations/posters.
Dr. Robert Borgon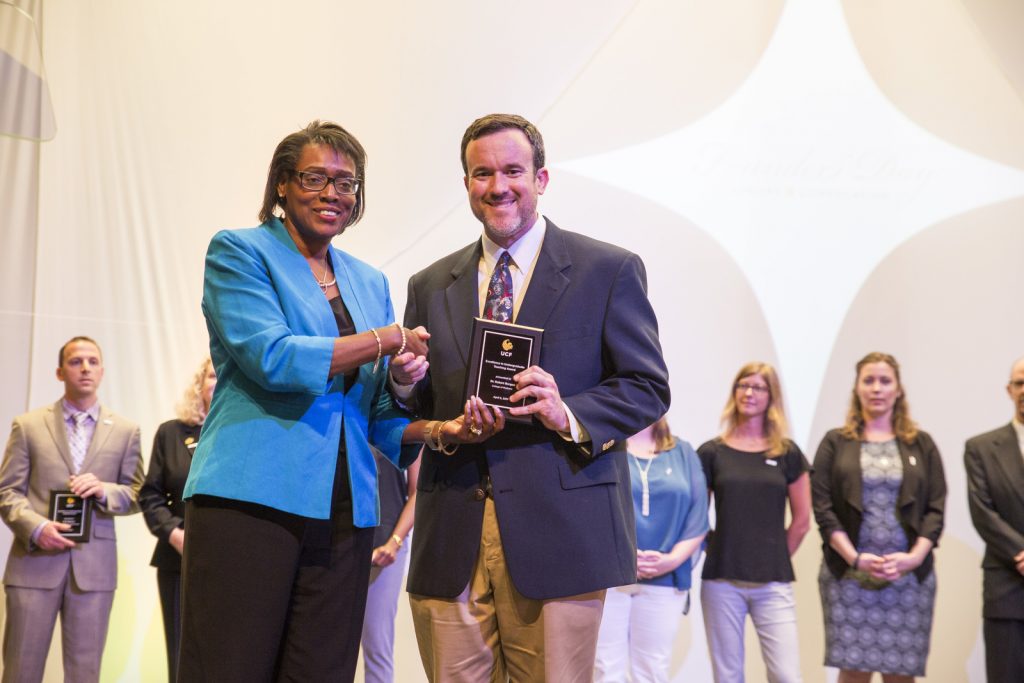 Nominated as "an exceptional teacher and innovator who makes major contributions to our teaching programs," Dr. Borgon teaches both lecture and laboratory components of the Quantitative Biological Methods course, which is a core course in undergraduate majors of Biomedical Sciences, Medical Library Sciences and Biotechnology. As the Burnett School of Biomedical Sciences has grown, so has the course's class size, increasing from about 120 students to 250 in the last 10 years with lab sections increasing from five per semester to 10. Dr. Borgon has kept lab experience based on groups of two students so that students have a high degree of experiential learning with modern techniques used by molecular biologists, including those used to study nucleic acids and proteins. Because the lab exercises involve unique skills – such as analysis and purification of proteins and manipulation of nucleic acids – Dr. Borgon wrote the course's text and lab manual.
Dr. Borgon also helped develop the Peer Instruction and Laboratory Occupational Training (PILOT) course, which combines teaching and lab experiences for outstanding Burnett School students. So far 400 students have completed the program and reported the opportunity to experience teaching and research with faculty increased their self-confidence, presentation and teaching abilities and their mastery of molecular biology techniques. A research article on this course was published in the Journal of Microbiology and Biology Education's June 2013 edition.
Dr. Dinender Singla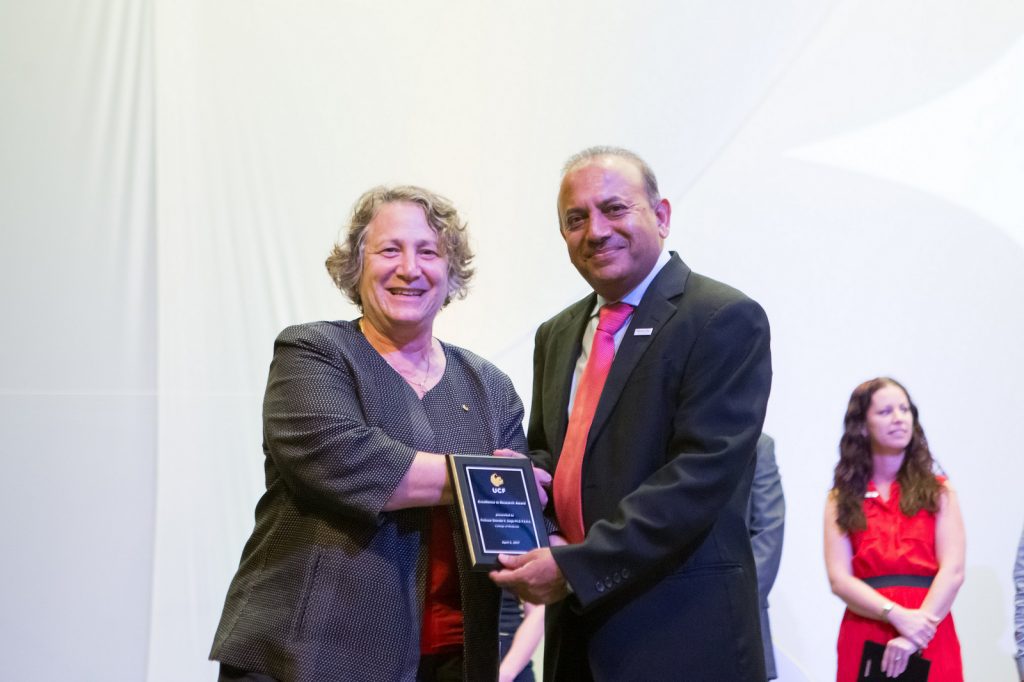 Dr. Singla's research focuses on repairing and regenerating the heart using different types of transplanted stem cells. Heart attacks happen when blood vessels in the heart become blocked, leading to the death of heart cells and a hardening of the heart muscle. Dr. Singla's research team is looking at ways to replace dead heart cells with stem cells. In mice models, stem cells improved heart function by creating new blood and heart cells, increasing the heart's pumping ability and improving overall cardiac health.
Dr. Singla is also doing additional research on the connection between diabetes and inflammation, which makes heart disease a frequent complication of diabetes. Studies on mice models have shown that pre-diabetics – those with higher than normal blood glucose levels – have increased thickening and scarring of the heart muscle due to inflammation. Dr. Singla hopes that his research will show ways to reduce inflammation in diabetics before their condition causes heart disease. In addition, his lab is using 3D printing to make models of heart diseases to help pediatric surgeons better care for children with heart disease.
Dr. Diane Jacobs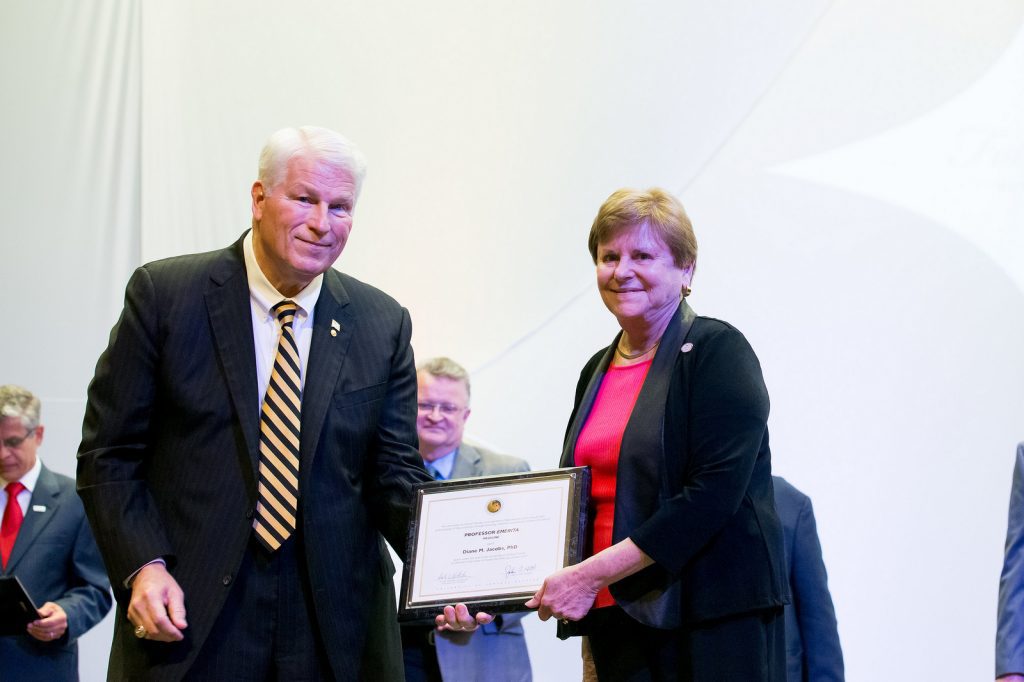 Dr. Jacobs was a founding College of Medicine faculty member who retired last summer. She earned her Ph.D. in bacteriology from Harvard University and was professor of microbiology and the medical school, where she also oversaw the M.D. program's two-year FIRE (Focused Inquiry and Research Experience) module.
She was the first female tenured faculty in the Department of Microbiology at the School of Medicine and Biomedical Sciences at the University at Buffalo (SUNY), and in 1994, the first female to ascend to the vice president level at UCF. As vice president in charge of research and graduate studies at UCF, she created the Office of Graduate Studies, and later held several leadership positions including chair of the Department of Health Professions and interim chair of the Department of Microbiology and Molecular Biology. Dr. Jacobs joined the College of Medicine in 2008, a year before the charter class matriculated and when the college operated in a single classroom in Research Park at the UCF main campus.
Baggio Evangelista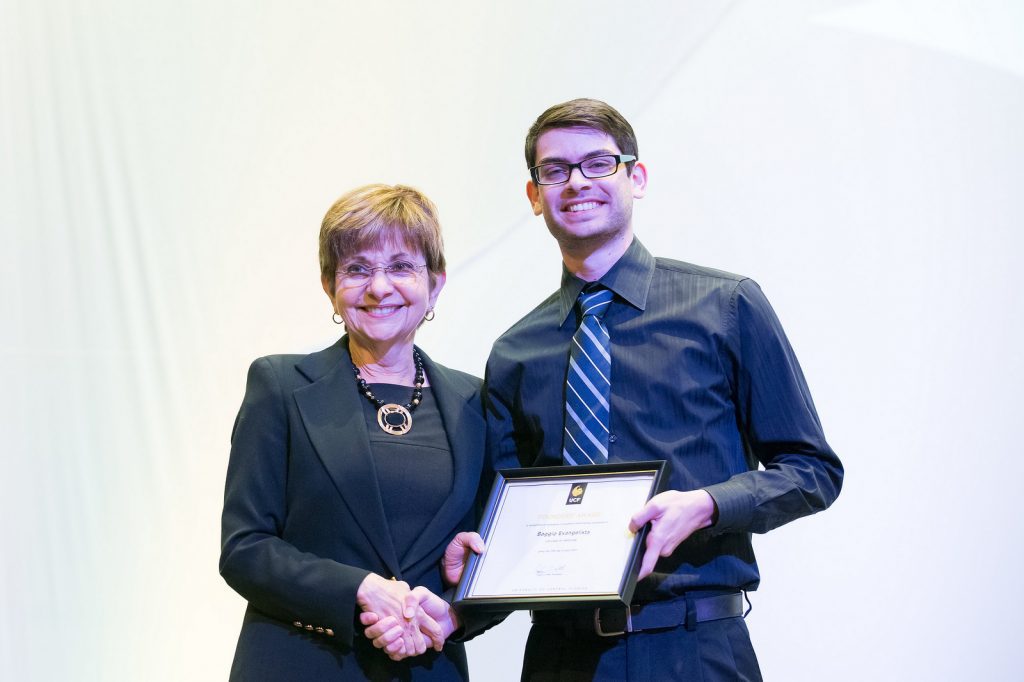 A biomedical sciences major with a minor in music, Evangelista is a member of the Burnett Honors College, Evangelista has a perfect 4.0 GPA and is active in research and public service, He is the co-author of three epigenetic studies on Parkinson's Disease, two original and independent diagnostic students for early Parkinson's detection and an original independent therapeutic study to reverse Parkinson's disease. He volunteers at Shepherd's Hope as a medical assistant and shadows physicians in infectious disease, family practice and surgical specialties at Orlando Health.
As service project chair of UCF's Circle K International Service Organization, he coordinates weekly student volunteers at organizations including Give Kids the World, Habitat for Humanity and Second Harvest Food Bank. He is also a second chair bassoonist with the UCF Wind Ensemble. He has received numerous research awards and scholarships, including the UCF's Distinguished Undergraduate Research Award last fall.
Post Tags