College of Medicine

Communique

Health Sciences Campus News

Medical

Students

UCF Health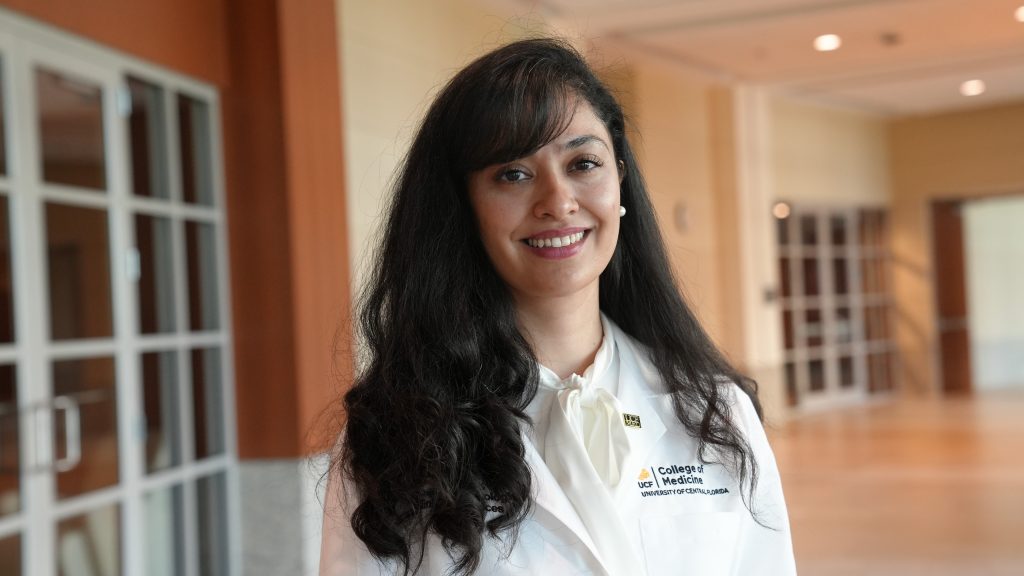 Dr. Monika Farhangi beams as she walks the halls of the College of Medicine again, this time as a UCF Health physician.
The Class of 2014 alumna returned home this month to become the practice's second ophthalmologist at its Lake Nona location.
"I'm so excited to be back," she said,
Dr. Farhangi's journey to medicine has been hard won. She and her younger brother fled Iran leaving her parents behind when she was 18 because they were persecuted for their Bahá'í faith. The family has yet to be reunited.
The two siblings first landed in Turkey as refugees and they eventually made her way to California through a UN refugee program. There, she had to learn a new language and culture, enrolled at Fresno City College and graduated from the University of California Irvine with majors in neurobiology, physiology and behavior.
She credits the UCF College of Medicine's welcoming and nurturing environment for her success.
During her medical school interview at UCF she felt instantly at home.
"Seeing Dr. German was a woman was so inspiring" she said, "and the genuine care that the faculty had for the success of our education has been a true guiding force throughout my time in medical school."
After medical school, she completed a highly competitive ophthalmology residency program at Howard University. Today she said she is eager to give back to her alma mater and the community that embraced her.
She will work with Dr. Mehul Patel at UCF Health, improving eye health through surgical and clinical means and also hopes to inspire future ophthalmologists as College of Medicine faculty member.
"The ability to serve a diverse population and enhance their quality of life through surgical and medical interventions, enabling them to experience improved vision, is incredibly rewarding to me," she said. "Ophthalmology is my passion."
To request an appointment with Dr. Farhangi, visit https://ucfhealth.com/doctor/monika-farhangi-m-d/
Post Tags