Burnett School

Faculty News

Medical

Students
The Medical Laboratory Science program, which trains students to work in hospital, research and commercial labs, received renewal of its national accreditation in 2013 as The National Accrediting Agency for Clinical Laboratory Sciences (NAACLS) praised MLS Director Dorilyn Hitchcock for her "dedication, leadership skills and organization skills" in making the program what it is today.
Using expressions like "the Disney World of MLS programs," the accreditation agency also noted that UCF's program currently has a 100 percent job placement rate for its graduates seeking employment.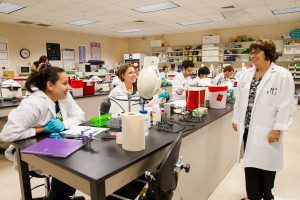 The MLS Program has accepted 30 new students for the fall of 2013, its highest number yet. That brings total enrollment to 52 medical lab scientists-in-training. Offered through the College of Medicine's Burnett School of Biomedical Sciences, MLS students take courses in clinical microscopy, immunology, parasitology, chemistry and hematology and spend 18 weeks working hands-on in clinical laboratories across Central Florida. Their skills are in high demand, because they translate directly to the needs of the workforce. "We are essentially doing everything here that they would do in a real hospital setting," Director Hitchcock said. "Wherever they're training, the clinical site is usually looking at them as a potential future employee."
One of those clinical sites is Orlando Health's Health Central Hospital in Ocoee, where Administrative Lab Director Margie Weissgerber says she has been very impressed with the quality of the MLS students. "It's an excellent program," she said. "The caliber of the students that Dorilyn accepts is the kind of people that you would want working in a hospital laboratory. No one has come through our doors that I wouldn't be willing to hire."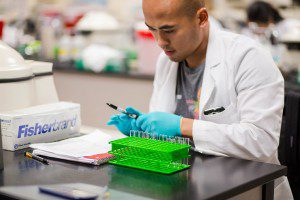 Christopher Herrera is entering his senior year with the MLS program and plans to use his training in a future career with the U.S. Navy. "It's been a passion of mine for healthcare, and I've always wanted to give back," Christopher said. "We're getting taught on a one-on-one basis. The teachers want to make sure that we understand the material and we're comfortable with it. With a license, I'll be more focused into a certain discipline so the Navy can use me to benefit the branch itself."
Director Hitchcock hopes to see the program grow even larger with the new opportunities in Lake Nona's Medical City. Affiliations with Nemours Children's Hospital and the future Orlando VA Medical Center will provide more clinical sites for students in training and more employment opportunities. "I can't think of a better career choice for anyone because of the job opportunities," she said.
Post Tags