College of Medicine

Faculty News

Residents

Student Affairs

Students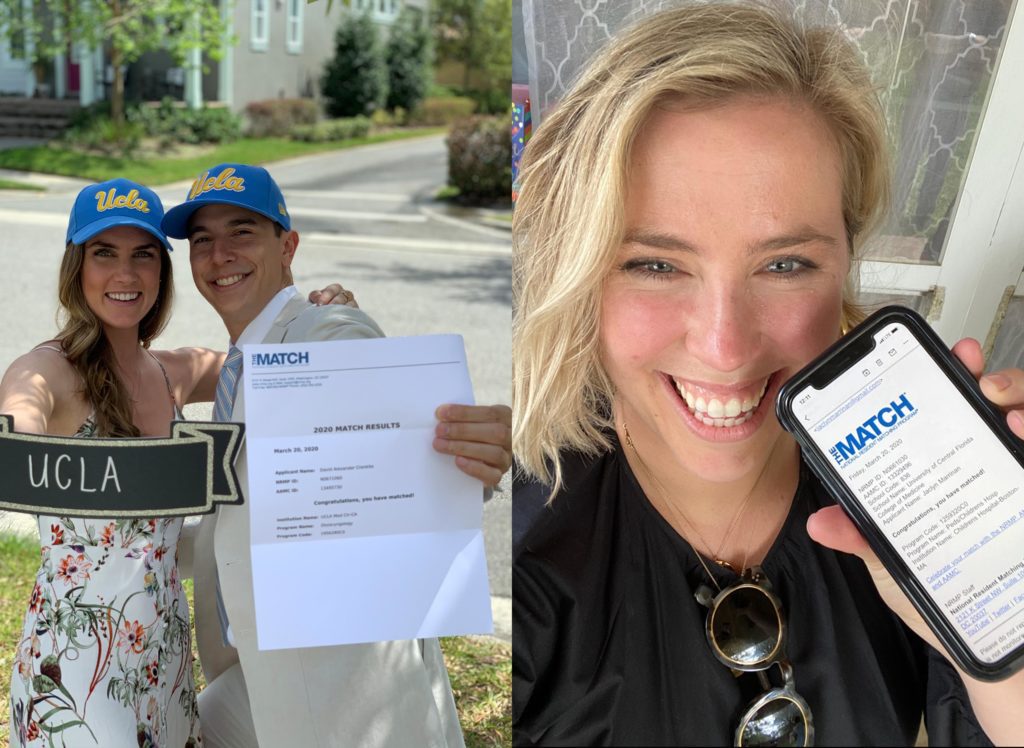 Jaclyn Marrinan (pictured above right) spent a year in West Africa fighting the Ebola outbreak. Friday, as the coronavirus pandemic made drastic changes to the world and Match Day 2020 celebrations, the UCF medical student learned she'll do her residency training at Harvard's Boston Children's Hospital.
Marrinan was one of 120 College of Medicine students who went through match, learning where they will spend the next three to seven years of residency training, with 117 matching and three pursuing a year of research. UCF's 97.5% match rate again exceeded the national average – this year at 93.7%.
COVID-19 canceled UCF's traditional Match Day ceremony, where students open their residency envelopes in front of hundreds of family, friends, faculty and staff on the College of Medicine's Tavistock Green. Marrinan and thousands of other medical students across the nation received their results via email. Despite her disappointment in missing the match event, Marrinan said her experience as a junior epidemiologist for the World Health Organization's Ebola Response Team gave her perspective.
"I often think about what Dr. Peter Piot, who was a very pivotal scientist during the original Ebola response, said during the last outbreak," she said. "He said people should really fear the next airborne epidemic. And here we are. It makes me really brainstorm how my future career in critical care is going to incorporate epidemiology."
For their graduate medical education, UCF students are going to outstanding programs across the state and nation. Forty-four are staying in Florida for all or part of their training. This includes 12 at UCF-HCA residencies in Central Florida, four at Orlando Health, two at Nemours Children's Hospital and one at AdventHealth. Nationwide, students are going to programs that include Brown, Georgetown, Harvard, Johns Hopkins, UCLA, Vanderbilt and Yale.
"This was an extraordinary Match Day," said Dr. Deborah German, vice president for health affairs and dean. "It was different from the other matches we've celebrated. But I hope as time goes on, our students will look at COVID-19's role in their match as a historic war story. Because medicine is always about dealing with the unexpected – and putting the safety of all as our top priority."
Without a College of Medicine event, students created their own social distancing celebrations. Alex Cronkite and his significant other, third-year student Heather Kraft (pictured above left), printed out his match result without looking at it, placed it in an envelope, decorated the house and put out food. Then they FaceTimed all of their family and friends. Cronkite opened his envelope and shared the news: He got his first choice, UCLA for head and neck surgery.
"I feel like the luckiest person in the world," he said. "I'm originally from Los Angeles, so being able to train at an amazing program like UCLA while being close by my family…I couldn't be happier."
Cronkite was a baseball pitcher in high school and college and said head and neck surgery reminds him of working with others on the baseball field. "Surgery is a team sport," he said. "There's something intangible about the operating room that makes me incredibly happy. There are so many members of the surgical team that all work selflessly toward the ultimate goal of exceptional patient care, to make them whole again."
Monet Winslow's match result was also a team effort – in multiple ways. She will do her pediatrics residency at Nemours Children's Hospital in Lake Nona – her first choice. It's where her UCF College of Medicine "Big Sister" and mentor, Dr. Laura Chilcutt, is finishing her first year of residency. The two talked often about training together. And being in Orlando means Winslow's family is nearby in South Florida. That's especially important because she and her husband have a new baby. The entire clan was together as Winslow opened her cell phone – packaged in her own "match envelope" – to retrieve her Match Day result email.
"I'm over the moon I and can't stop smiling," she said. "My mom, dad and sisters came up to visit and celebrate. And my husband and one-month-old baby girl, Aniyah, are here with me. We were screaming so much we actually scared the baby a little bit."
Lacie Turnbull matched into orthopedic surgery at the University of Florida's Shands Hospital. Orthopedic surgery is a highly competitive specialty for match and during medical school, Turnbull has been an advocate for getting more women into the specialty. "Orthopedics is about restoring anatomy, restoring function, restoring movement, and it really is the opportunity to restore people's lives," she said. "There are only about 6% of practicing orthopedic surgeons who are women so I think I can really make a difference."
As class president, Turnbull had led all the student's Match Day plans before the coronavirus canceled the event. "We knew that Match Day wasn't going to be what we imagined," she said. "But like I told the students, it will be a day we will never forget — a story we will tell for a lifetime."
For full 2020 Match results: Match Results Class of 2020 – By Specialty
Post Tags
2020

ceremony

match

Match Day

residency