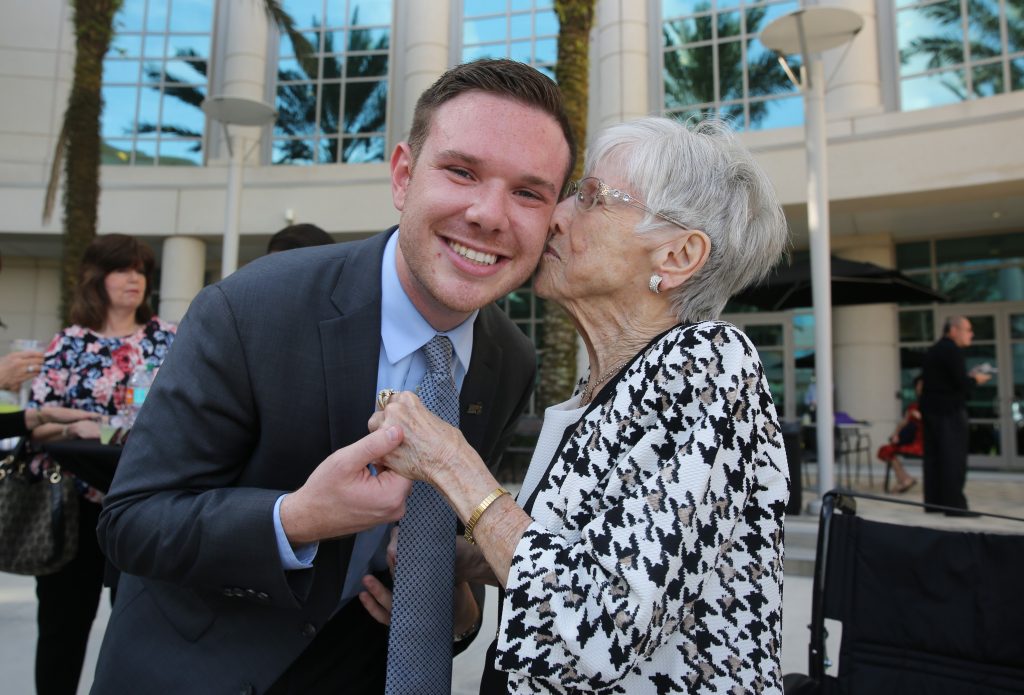 Evelyn Stoeckert beamed with pride as she watched her grandson, Jacob Sambursky, take a step closer to becoming one of those healers who gave her a second chance at life.
Last year, 95 year-old Stoeckert suffered a heart attack that caused her heart to stop beating for 30 minutes. Doctors managed to save her and when she revived, she made a promise to her grandson: "I'm not going anywhere yet, I'll be here to see you graduate."
On Friday, she looked on from her wheelchair as Sambursky opened his envelope at UCF's Match Day ceremony, which revealed he was accepted into a neurology residency at the University of Miami and Jackson Memorial Hospital.
"It's just a happy day," said Stoeckert, who made the trip from Jacksonville to attend the event. "And to be here today is just wonderful. Many years ago we used to come down to Disney and I used be wheeling him around in his stroller. Well last night we were at the boardwalk and he was the one wheeling me around, so we've come full circle."
After they learn their match results, UCF students go to a podium on the Tavistock Green and announce where they will spend their next three to seven years of graduate medical training. Sambursky, who received his undergraduate degree from the College of Medicine's Burnett School of Biomedical Sciences, fought back tears as he dedicated his residency to his grandmother.
"She's really made me the emotional, spiritual and ethical person that I am today," he said later, crying about almost losing her.  "So it was super-important that she was here to celebrate that with me today. The College of Medicine did a great job, but she was at the very center of it."
Medicine, Sambursky said, uniquely combines his love of science and people. And he said neurology became his specialty of choice after his clerkship in the subject during his third year of medical school.
"Neurological symptoms are usually ones that are with someone for life," he said, "and I really want to be there and become like a part of the family for all my patients, to know that I can be there and be the person that they can call when they are in need. It's a very sacred relationship — that physician-patient relationship, and I knew that I would get that in neurology."
Has the UCF College of Medicine Positively Impacted You?
The UCF College of Medicine is a research-based medical school with a culture based on partnerships and collaboration. As a founding member of Orlando's Medical City we are proud to be your community medical college.
Find out how to give back to your medical school, today!