College of Medicine

Faculty News

Student Affairs

Students
Thousands of fourth-year medical students across the country are preparing for one of the most important days in their academic and professional lives – Match Day. On March 17, at exactly noon EST, they will open the envelope to their future and learn where they will spend the next three to seven years in residency training before becoming full-fledged physicians.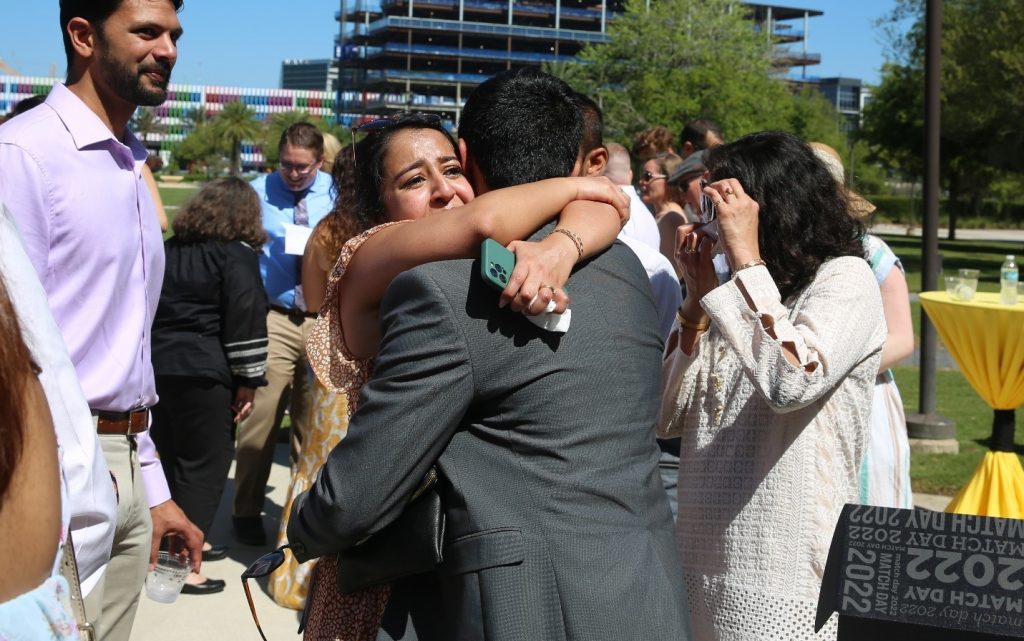 "Match Day is the key that opens the door to their kingdom of what they're going to be practicing," said Dr. Abdo Asmar, a leader of the College of Medicine's graduate medical education (GME) programs. "Can you imagine the excitement of not knowing where you're going to go? It is very nerve-wracking."
This nervous excitement was echoed by Class President Brandon Tapasak, a fourth-year student hoping to match into Otolaryngology, a specialty focused on treating the ears, nose and throat.
"I think students are feeling more excited than nervous. But there is always that thought that you do not know where you are going for the next few years of your career. You have no idea up until that day," he said. "Obviously, this is still difficult for medical students."
Part of what makes Match Day special is that students have been preparing for this day for the bulk of their academic career, not just through strong showings in their coursework and clerkships, but through extracurricular work as well.
Class Treasurer Amy Morrison, for example, has participated in student government, contributed to medical research, volunteered at UCF's free KNIGHTS Clinic and served as Vice President of UCF's chapter of the American Medical Student Association. She hopes those activities will help her match into her top choice for general surgery.
"I was always one of those people who was 12 years old, saying, 'Medicine is awesome, surgery is awesome, I want to be a doctor.' Then when I entered medical school, it only confirmed it," she said.
This year, 125 College of Medicine seniors are going through Match. They have interviewed with residency programs in their specialty of choice and ranked their top choices. Residency programs made their own rankings. Then a computer matched the two, a pairing that is secret until students open their match envelopes or emails. The College of Medicine will hold a celebration on the Tavistock Green for students and their families to be part of the unveiling.
Tapasak says the class has planned a whole week of Match Day celebrations, including a catered visit to Keg Social, a beach day and a trip together to Lake Nona's Boxi Park to commemorate the bond they share.
"Just knowing that we kind of all have that shared experience of what we went through in medical school is just really comforting to know that there's another 120 people out there like me."
Our annual Match Day livestream will be covering all of the excitement, starting March 17 at 11:00 AM. Tune in on the UCF College of Medicine's YouTube channel!
Post Tags
Match Day 2023

residency match