College of Medicine

Communique

Faculty News

Student Affairs

Students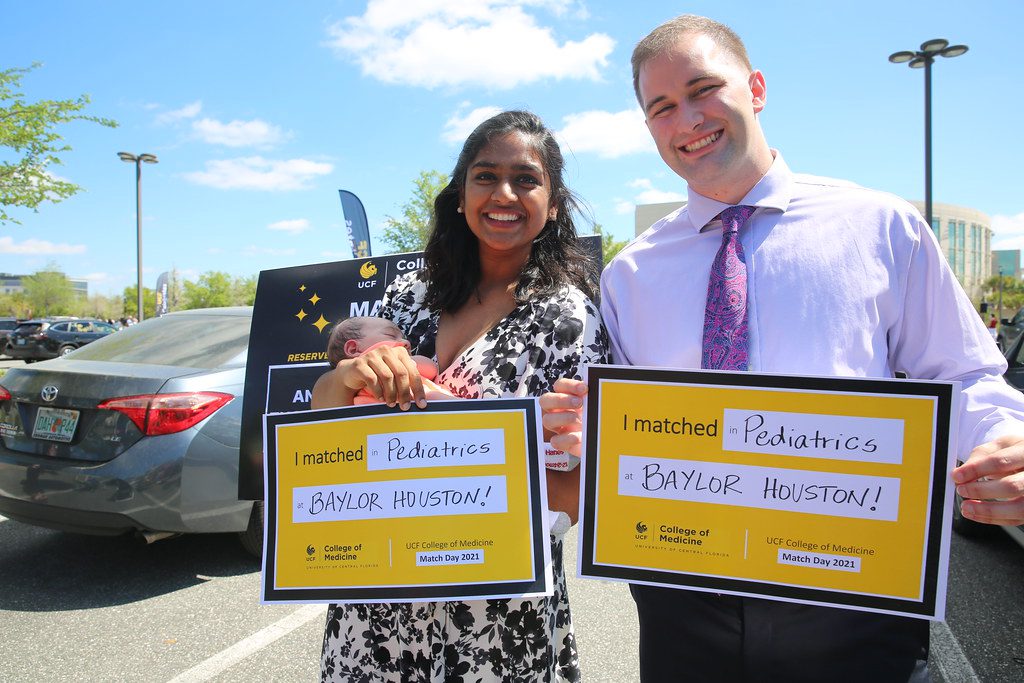 Zach and Anna Thompson had to sit out a year of medical school after Zach was hit by a car and gravely injured while changing a flat tire on his way to class. The couple hope their journey of pain, recovery, uncertainty and hope will make them better physicians. And on March 19, holding their 3-week-old son Samuel, they opened their Match Day 2021 envelopes and learned they will do their pediatrics residencies together at the Baylor College of Medicine in Houston, TX.
"I went from having to navigate medical school to just surviving," said Zach, who spent a week in intensive care. "I just remember having to continue to hope, and needing to find joy in my experiences, despite my condition. I want to help kids find that hope and that joy as they recover."
The Thompsons were among 38,106 medical school seniors across the nation – and 113 at UCF — to match into residency programs as part of National Match Day 2021. "We're so excited and so thankful," Anna said after learning their match results. We've had the opportunity today to reflect on just how thankful we are for all the help we had from the school and our friends and family along this journey."
UCF students are going to outstanding programs across Orlando, the state and nation for their graduate medical education. Forty-five are staying in Florida for all or part of their training. This includes 11 at UCF-HCA Healthcare residencies in Central Florida, two at AdventHealth, two at Nemours Children's Hospital and seven at Orlando Health. Nationwide, students are going to programs that include Brown, Cornell, Duke, Emory, Harvard, Stanford and Vanderbilt.
This year's match process was dramatically different because of COVID-19. All residency interviews were virtual, not in-person. One student described diving to South Florida for a "windshield tour" to get a feel for the community he might serve.
COVID-19 Forces Match Changes
The pandemic canceled last year's traditional UCF Match Day celebration on the medical school's Tavistock Green. This year, UCF was determined to hold a physically-distanced, in-person event for students who wished it. So leaders organized a drive-through Match Day in the medical school parking lot decorated with banners, balloons and UCF flags. Students and their guests parked in assigned spaces. Everyone was masked. About 50 students attended the in-person event, while others received their match information by email at home.
Medical school deans across Florida had told Dr. Deborah German, vice president for health affairs and dean, that UCF was the only school attempting an in-person event this year. UCF President Alexander N. Cartwright and his wife, Melinda, also attended the event that featured new, giant celebration banners hanging on the Medical Education Building. At the end of the event, students had a car parade past the medical school.
"Nothing – not even COVID-19 — can change the excitement we feel today," Dr. German told students from a stage set up in the parking lot. "Medicine has never needed you more."
Philip Wessels and Tryphina Mikhail are the two UCF medical students going to Nemours. Wessels is a former Green Beret who spent most of his adult life as a medic for the Army's Special Forces. Wessels said service to others is why he entered the military and why he's becoming a pediatrician. "Children are the most vulnerable and they need advocates more than anyone," he said. "As a pediatrician, I can offer my service to the people in the community who need it most."
Mikhail asked her mother to open her match envelope and both shed tears of joy when they learned the daughter had matched into her top choice. Mikhail held a hand-painted white doctor's coat – a gift from her brother, a first-year UCF medical student, when she received her acceptance letter from UCF's medical school. On it were colorful animals, symbols, flowers and "Dr. Tota" – her nickname. In addition to her mother and brother, Mikhail was joined by her cousin, a family medicine physician, her husband, a UCF Ph.D. candidate, and her best friend, who is in UCF's M.D./Ph.D. program. "Pediatrics is the best opportunity I know of to make an impact on kids and their parents," she said. "You are there for the whole family."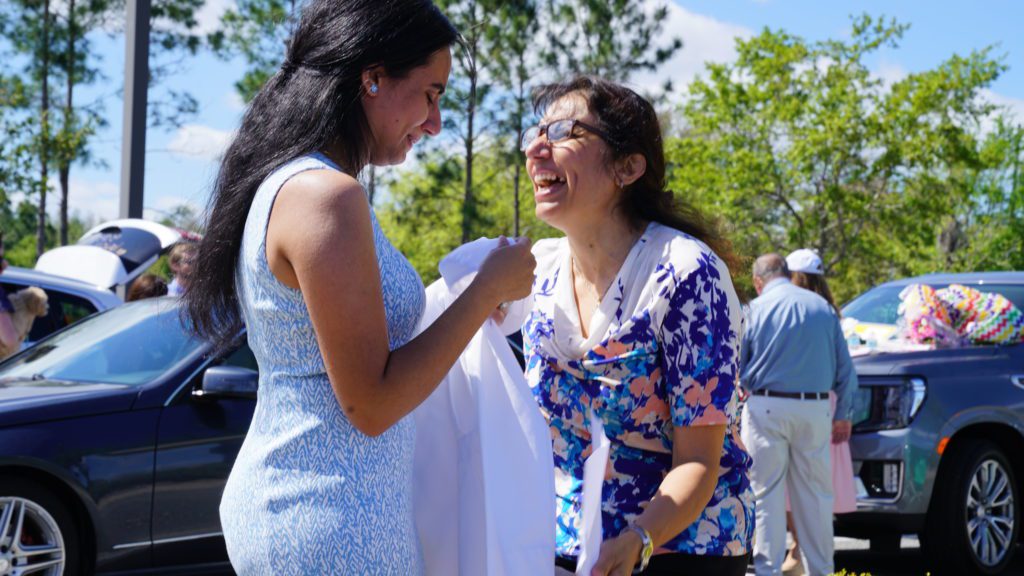 Medical students Simeon Thibeaux and Kristen HoSang met when they both attended and tutored microbiology labs at UCF's Burnett School of Biomedical Sciences. Now engaged, they let out screams of joy when they learned they will train in the same area. HoSang will do her surgical residency at Temple. Thibeaux will do his psychiatry residency at Metropolitan Hospital Center in New York City.
"I think I am more grateful to UCF than anybody in our class."
In the days before match, Thibeaux noted that he'd spent 11 years at UCF, as an undergraduate and a Masters student, where he received awards for his research into fatty liver disease. He thought he would become an orthopedic surgeon until he did his third-year psychiatry clerkship at the Orlando VA and University Behavioral Center. He fell in love with helping patients address their mental health issues.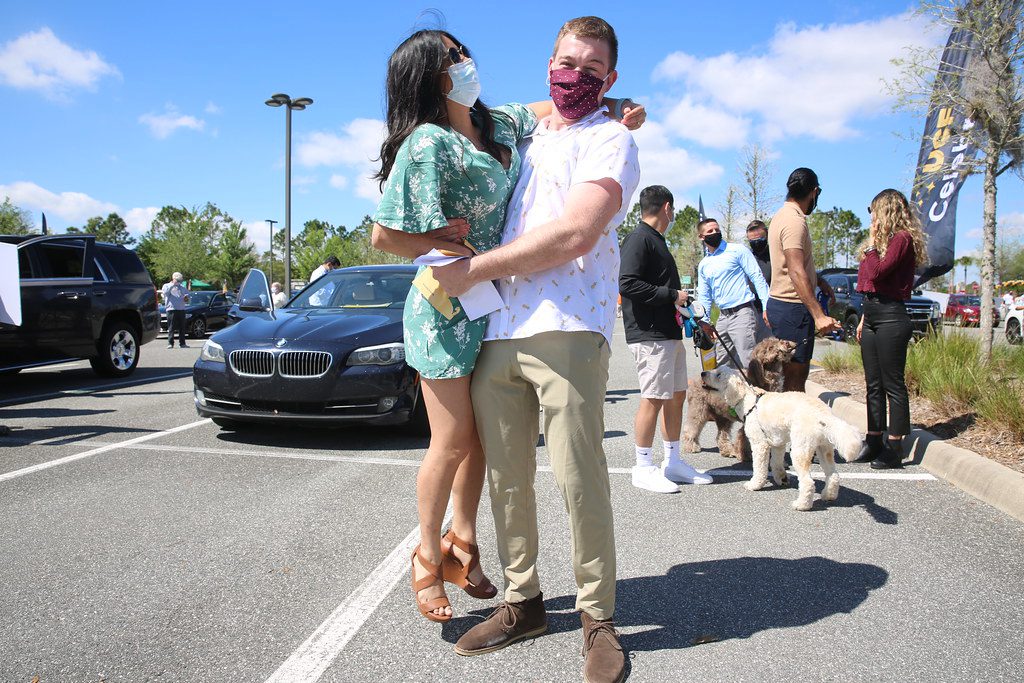 "I think I am more to be grateful to UCF than anybody in our class" he said. "I feel like all of my professors were so dedicated to giving me everything that I needed to decide what I wanted to do with my life and they really opened up my world up in so many ways."
HoSang said she decided to become a doctor at age 6. She had health problems as a child, underwent heart surgery at two weeks old, and was "enamored with my pediatrician. I just thought his job was so great. And I wanted to do that. "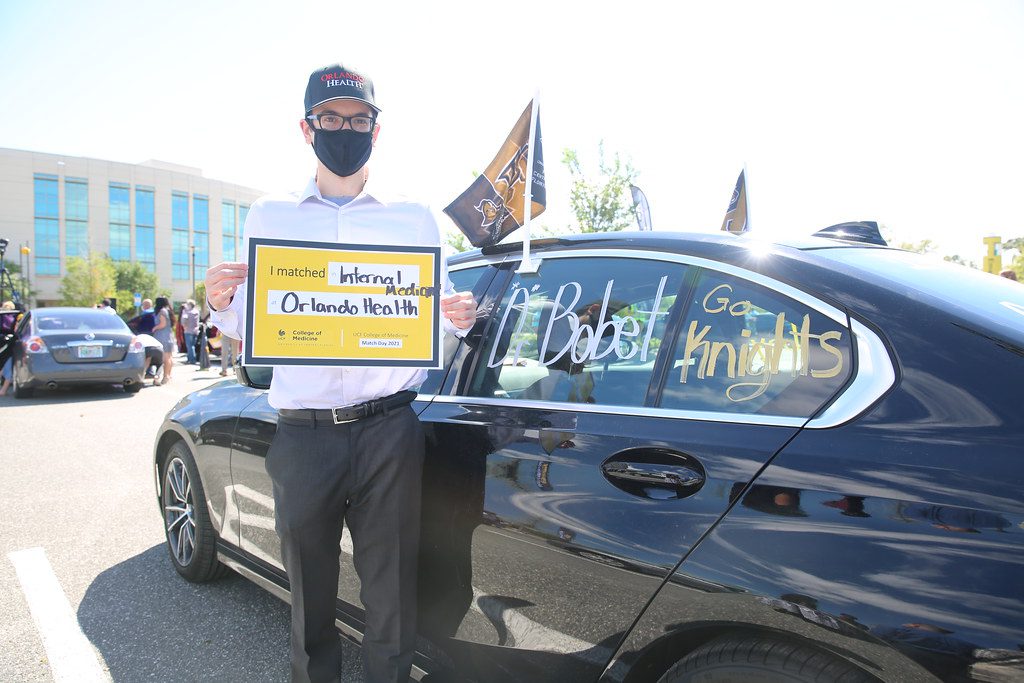 Josh Bobet will do his internal medicine residency at Orlando Health – his first choice. Born in Lake Nona, Bobet earned his undergraduate degree at the University of Florida and then returned to Orlando for medical school. He and his family decorated his car in black and gold paint and UCF flags for the Match Day event. He put on an Orlando Health baseball cap immediately after opening his residency envelope. "I wanted to train at Orlando Health," he said, "because I want to give back to the community that helped raise me."
Post Tags
match

Match Day

residency match