College of Medicine

Communique

Internal Medicine Residency

Student Affairs

Students
A week before they match into residencies, 26 College of Medicine seniors were inducted into the Alpha Omega Alpha National Honor Society Thursday, as a founding faculty member reminded them, "The A-plus grade comes when you use your accomplishments and talents to care for another."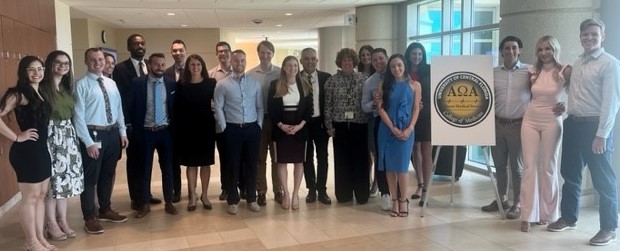 The induction ceremony came as the UCF College of Medicine's Zeta Chapter celebrates its 10th year – and the medical school prepares to match and graduate its 1,000th student.
Traditionally, honor society membership has focused on academic achievement, leadership and service. This year, the medical school broadened its criteria to include character, unselfishness, professionalism, research and "the things we do to make a difference in the lives of others," said Dr. Colleen Moran-Bano, the organization's faculty advisor.
Founded in 2002, AOA's mission is to recognize excellence in medicine that is practiced with humility, charity and dedication. Its motto is "Be worthy to serve the suffering." AOA today has 200,000 members, including 55 Nobel Prize winners and more than 75 percent of medical school deans. The College of Medicine's honorees include students seeking careers in a range of specialties, including psychiatry, orthopedic surgery, internal medicine and OB-GYN. They have helped lead the college's free clinics, advocated for medically underserved communities and volunteered at community organizations, including soup kitchens, elementary schools and the Ronald McDonald House.
Caring for others was the theme expressed by keynote speaker Dr. Abdo Asmar, a UCF nephrologist and leader of the College of Medicine's graduate medical education programs, who was inducted into the Zeta Chapter in 2013.
He reminded honorees that "with great honor comes great responsibility," and noted that while they had focused on high grades in medical school, there are no report cards in the real world. "How are you going to measure your performance as a physician where there is no grade or exam?" he asked. "What grade will matter to you most?"
He talked about the privilege of being a physician. "With all of the medical advances and technology we have today, remember that patients do not put their trust in machines or devices. They put their trust in you," Dr. Asmar said, "And as physicians, we need to honor that trust by being servants to those in our care. Being a servant means we care for patients in a way that honors every individual, and his or her background and beliefs."
COVID-19 showed the importance of servant leadership and the ability to face uncertainty with courage and grace, he said.
"No one in medicine signed up for a global pandemic," he said. "But who was going to take care of patients? Being a servant leader means doing things you didn't sign up to do, having the courage to cope with new challenges instead of running away."
A physician who is a servant leader "tells patients when it's time to worry and when it's time to be at peace," Dr. Asmar said. "It means looking at a number on their blood work, looking them in the eye and saying, 'This is OK. Let me worry about it. That's my job. I'll tell you when it's your time to worry.'"
He provided a personal story as an example. During Dr. Asmar's residency at Cook County Hospital in Chicago, his 2-year-old daughter oldest daughter Charlize was diagnosed with a heart murmur. Days later, he stood in an echo lab with Dr. Santucci, a pediatric cardiologist, and saw the hole in his child's heart.
"Dr. Santucci saw the expression of fear and intense worry on my face and said words I have never forgotten," he said. "She told me, 'Young man, I know you are a doctor. I don't care. Let me worry about this. That's my job. I'll treat your daughter and when it's time for you to worry I'll let you know.' Her words were powerful, effective and therapeutic."
When the time was appropriate, the physician kept her promise and repaired Charlize's heart. Dr. Asmar has never forgotten Dr. Santucci's message. "Years later, Dr. Santucci may remember my daughter but I doubt she remembers our conversation and the impact it had on me," Dr. Asmar said. "That is the power of being a healer. You will say and do things that can leave a lasting impact on others – even without knowing it."
This year's Alpha Omega Alpha honorees are:
Matthew Abrams
Shaye Busse
Andrew Collins
Maxwell Droznin
Leonie Dupuis
Stephanie Erickson
Carla Gonzalez
Krista Grennan
Aaishwariya Gulani
Tanner Harding
Krisandra Hardy
Thomas Hartmann
Peyton Hull
Caridad Infante
Gabriel Krivenko
Oriana Krivenko
Brianna Leone
Katelyn Lewis
Lake Lindo
Lisvet Luceno
Brenden Maag
Max Mccall
Tammy Phillips
Jacob Riegler
Kunal Shah
Jorge Trilles
Post Tags
Alpha Omega Alpha

Class of 2023

National Honor Society