College of Medicine

Faculty News

Students

UCF Health
Twenty-four UCF medical students with KNIGHTS Clinic volunteered their time at a community health fair to tend to the needs of more than 100 underserved Orlando residents.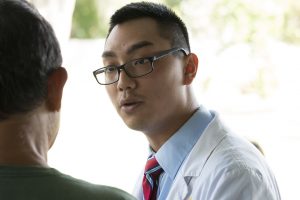 At the Pháp Vũ Buddhist Cultural Centre of Florida, students worked in shifts to check blood pressure and screen cholesterol and glucose levels for abnormalities. Patients with potential red flags were urged to visit their primary care physician for further review.
Central Florida is home to the one of the largest Vietnamese populations in the state, according to Orlando Magazine. The region, now part of the larger Mills 50 District, has been referred to by locals as "Little Vietnam."
"As someone of Vietnamese heritage, I can understand the need this community faces in terms of receiving health care," said Jeremy Tran, a second-year med student and KNIGHTS Clinic media relations chair. "The Vietnamese culture is a very proud and wary culture. They are cautious about going to the doctor, who is essentially a stranger, and taking their advice."
"Through this health fair, we are able to go to this population directly instead of them coming to us."
The students' work was overseen by Dr. Bernard Gros, a board-certified cardiologist at UCF Health, the College of Medicine's physician practice, and assistant professor of internal medicine.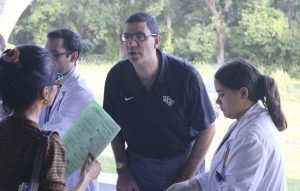 "The session was valuable for the students because it gave them the opportunity to practice their skills in performing diagnostic tests and to recognize firsthand the prevalence of cardiovascular risk factors in the general population," Dr. Gros said.
Working with KNIGHTS Clinic also helps the students foster a sense of compassion and responsibility to the community. The free student-run clinic serves those in the community without access to health care. It's run in partnership with Grace Medical Home and is funded by a grant from the Diebel Legacy Fund at the Central Florida Foundation. KNIGHTS stands for Keeping Neighbors in Good Health through Service.
Students work in tandem with community and faculty physicians like Dr. Michelle Nguyen, a local family medicine doctor and the community health fair coordinator for the Pháp Vũ Buddhist Cultural Centre event. She started volunteering at KNIGHTS Clinic a little over a year ago and has become one of its most active physicians.
"I love working with the students. I try to make it every month. I enjoy seeing their enthusiasm for learning medicine and wanting to help others," she said.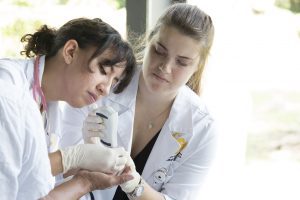 For first-year students Mitchell Blanden and Rajib Chowdury, the health fair was their first taste of applying classroom knowledge to real world situations.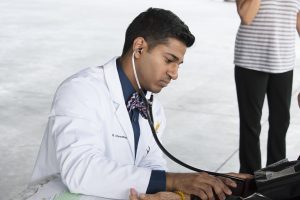 "It's cool to finally be able to use some of the skills we've started to learn and actually get the opportunity to work with patients in our first year," said Blanden. "It's not something we get to do every day, because we're in class a lot."
"In undergrad at UF I did a lot of work in a local underserved clinic," added Chowdhury. "I thought this would be a great way to give back to the community in Orlando as well. I've been asking them what they're eating, as well as what their lifestyle's like and how active they are. Being able to educate patients is the best part of what I'm doing."
The students plan on continuing to use their budding skills to positively impact the community they live in.
"We're hopefully forging a relationship of trust and compassion with them," said Tran. "It's a great opportunity to show them the good UCF does."
Post Tags