Burnett School

Cancer Division

College of Medicine

Communique

Research

Students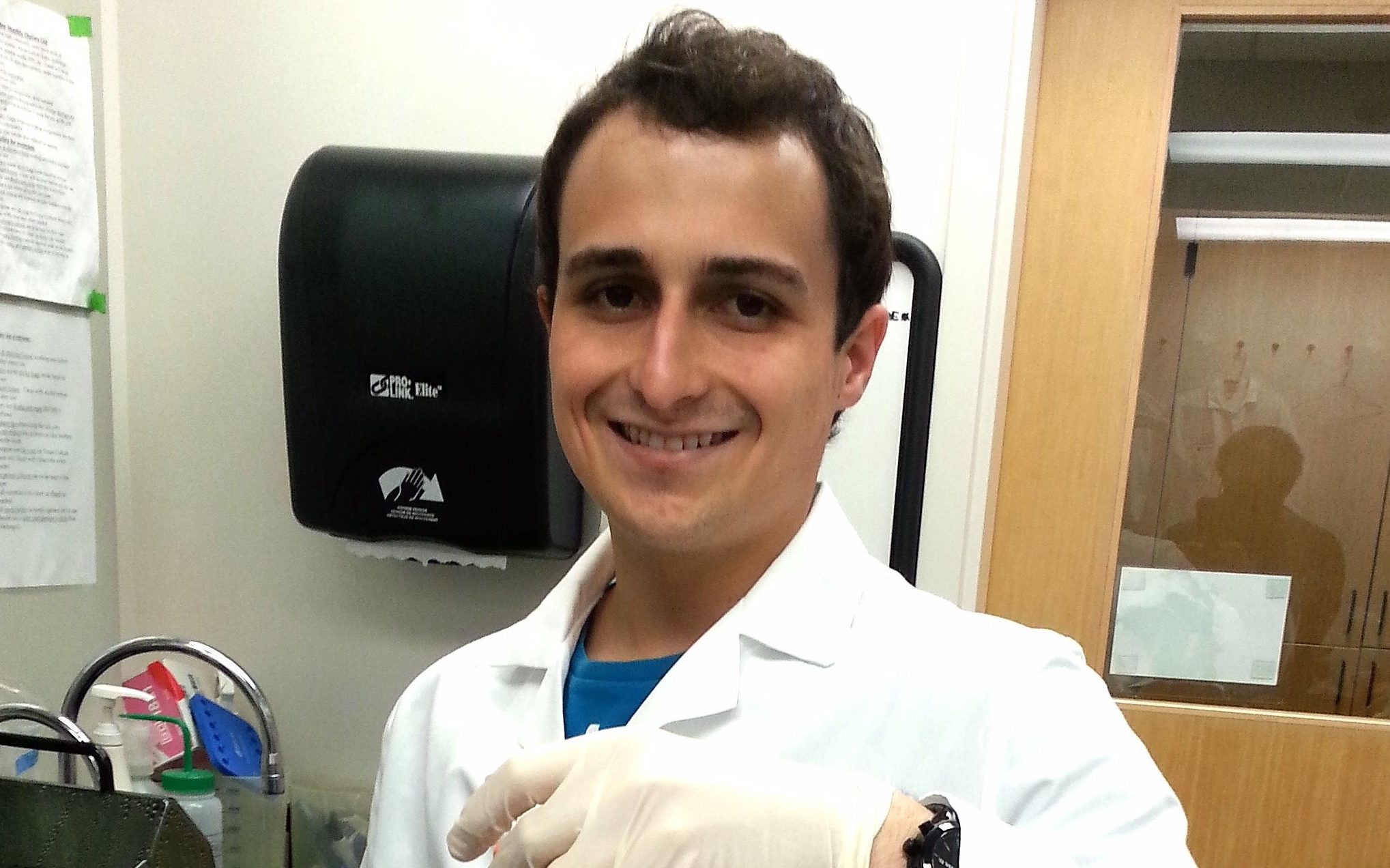 The American Cancer Society estimates that about 1 in 21 men and 1 in 23 women in the United States will develop colorectal cancer during their lifetime. Michael Rohr, the College of Medicine's first joint M.D./Ph.D. student, is hoping to significantly reduce these numbers through his research.
Rohr recently received a competitive grant from by the National Cancer Institute of the National Institutes of Health to support his research on colorectal cancer, the third most common and second deadliest cancer in the United States.
Rohr is the first UCF student to receive the National Research Science Award — also known as an F30 Fellowship – which supports promising doctoral candidates performing cancer-related research and training for an M.D./Ph.D. The three-year grant of $31,000 per year will cover Rohr's tuition for the rest of his studies as well as a stipend to support his research.
Under the mentorship of Dr. Deborah Altomare, a faculty cancer researcher at the Burnett School of Biomedical Sciences, Rohr is studying an enteroendocrine protein — klotho beta (KLB) — and how it inhibits early-onset colorectal cancer and prevents the formation of polyps in the colon. KLB is found naturally in the body and its main function is to help the body regulate production of bile, a digestive fluid, when you eat.
"We're looking at its ability to suppress early onset colon cancer inflammation, mainly through inhibiting a pathway that is known to make a cancer more aggressive when it's activated," Rohr explained.
Understanding how this protein works will put researchers on the path to developing a potential therapeutic for treating colorectal cancer patients.
"By understanding how this protein inhibits this particular pathway, it opens up the potential for looking at therapeutics. There is currently an approved drug – Fisogatinib — that was recently developed for treating liver cancer that works in the same manner as the protein, inhibiting this particular pathway that causes cancers to become more aggressive," Rohr said.
Because clinical trials have only looked at the drug's ability to treat liver cancer, Rohr said more research is needed to see if the drug can be effective in treating other cancers, such as colorectal.
"If our research actually proves fruitful, it gives a whole new context to potentially explore using this already FDA approved drug for also treating early onset colorectal cancer," he said.
Rohr said he was grateful for the award and hopes it will open doors for other UCF students.
"It means a lot to me that this research has garnered recognition and funding," Rohr said. "It confirms that we're on the right track and what we've been working so hard at is actually bearing fruit at this point. This grant will go a long way in advancing my career as well as any other research I plan to do in the future. I also hope it will help to establish confidence in UCF students as hardworking researchers."
Dr. Altomare, who has been working with Rohr since 2019, commended the achievement of the young researcher she describes as a "fireball of energy."
"Receiving this prestigious NIH F30 fellowship is a significant honor for both Michael and for the M.D./Ph.D. training program at UCF," Dr. Altomare said. "Being selected for the F30 award affirms the value and rigor of the proposed research, and the high esteem that UCF has for career development of our M.D./Ph.D. students."
Post Tags
cancer research

cancer treatment

Research

research grant