Burnett School

College of Medicine

Faculty News
At first glance, one may not see the similarities between fishing and Lyme disease, but to UCF Assistant Professor Mollie Jewett, the two go together like Borrelia proteins and magnetic beads. Better and earlier diagnosis of Lyme disease by fishing for antibodies is the basis of Dr. Jewett's research, which she presented at the first College of Medicine first Luminary Series Lecture of 2013. The event was held February 9 at the Interlachen Country Club in Winter Park.
The presentation: "Diagnosing Lyme in the Nick of Time" showed the impact of Dr. Jewett's research on the most commonly reported vector-borne illness in the United States. Lyme disease is on the rise nationwide, yet definitive diagnosis of the disease remains a challenge. That means sufferers can go untreated – increasing their chances for lifelong complications. The Luminary Series is sponsored by Dean Meade and Fifth Third Bank.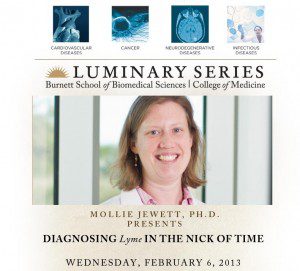 Dr. Jewett is developing an assay that she hopes will improve early, accurate diagnosis of the disease. That is where the "fishing" analogy comes in. People who are infected with the tick-borne disease produce antibodies to fight the it. Dr. Jewett's team is working to find a better way to "fish" for proof of infection with Borrelia burgdorferi, the bacteria that cause Lyme disease. The "bait" is a group of magnetic beads coated with Borrelia proteins. Dr. Jewett's research has found that those beads will attract the antibodies and provide a clearer indication of infection. "The overall goal is new diagnostics and potential new treatments," she said. "We're coming at that from a biology standpoint of: If we understand how the bacteria works, we can understand how to stop it."
The research funding community is taking notice of her work. Days after Dr. Jewett's Luminary Series presentation, the National Research Fund for Tick-Borne Diseases (NRFTD) announced she had received a $60,000 grant to further her research into mechanisms of Borrelia burgdorferi gene regulation, and how the bacteria functions during an infection.
Dr. Jewett also received an in-house grant from the UCF Office of Research and Commercialization. The $7,500 grant is focused on her research into how Borrelia burgdorferi seeks out nutrients from its host. Her goal is to cut off that process, so that the bacteria will not be able to survive.
Dr. Jewett's goal is to change the way Lyme disease is diagnosed, treated and prevented. Her passion for the topic spills over into the classroom, where she is inspiring students to do the same. "Research is my number one love, and bringing teaching into that is how I like to do it, " she said. "Yes, what you're learning is actually applicable, and important and exciting. I think that gives a hands-on meaning to my teaching."
Post Tags