Burnett School

College of Medicine

Faculty News
With her white lab coat, pipet and bright purple latex gloves, Lilly Ann Brooks looks ready to conquer the scientific research world. In reality, the 13-year-old's spirited fight against a genetic neurodegenerative disorder is inspiring fellow patients, medical researchers, local mayors and hundreds of people eager to run Saturday, February 15 in their underwear.
Lilly Ann has Neurofibromatosis (NF), which has caused tumors in her neck, spine, and right eyelid, as well as a twisted and bent right tibia bone and severe spinal scoliosis with more than 90 degrees of curvature. NF causes tumors to grow on nerves throughout the body, and can lead to blindness, deafness, learning disabilities and often severe, chronic pain. There is no cure for NF and few treatment options for the disorder that affects one in 3,000 births in the United States and more than 2 million people worldwide.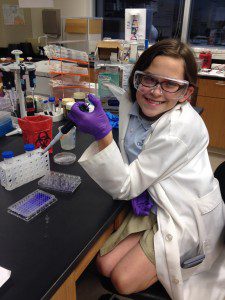 Raising money for the Children's Tumor Foundation to fight NF is the goal of Cupid's Undie Run, where participants run in
their underwear, pajamas or swim suits. With slogans like, "Fundraise your pants off," and "put the hilarity in charity," runs across America raised more than $2.7 million this year in runs from Los Angeles to New York. This year's run in Orlando saw more than 500 scantily-clad participants, more than double the number of the inaugural race in 2013. Local runners raised nearly $40,000 for NF research.
UCF College of Medicine professor Cristina Fernandez-Valle is a Neurofibromatosis specialist who has devoted her career to developing better treatments for the disease. She is currently working with the Sanford-Burnham Medical Research Institute at Lake Nona to identify compounds that can reduce the size of tumors. She has also been active with the Children's Tumor Foundation for more than a decade, working to support families who are dealing with NF. She and others from her lab ran to raise money for Lilly Ann's team called "Lilly Ann's LAB Nerds." The team raised $9,094 – $6,000 more than any other team, earning them first place in the fundraising competition
"People like Lilly Ann remind all of us why we are working so hard to fight this debilitating disorder," Dr. Fernandez-Valle said.
Lilly Ann's dad, Bill Brooks, said the family knew from their daughter's birth that she had a medical issue. She had what doctors described as a blocked tear duct. It was actually a tumor on her eyelid. The family struggled to get a diagnosis since many physicians were unaware of NF. They finally went to Boston's Children's Hospital to learn that Lilly Ann had NF. "We thought, 'Fine, give us a script and we'll go to CVS, pick it up and get this fixed," Brooks said. But there is no cure for NF.
He wants people to know that the Children's Tumor Foundation uses most of its donations for research, clinical trials, specialty clinics, patient support and continuing education for doctors, rather than marketing. He is thrilled people are learning about NF because they want to have fun running in their underwear. He is thankful that by running, Dr. Fernandez-Valle and her team are part of a "full circle story. They are giving back to the very community that funds her research work." And as the mayor of Belle Isle, he has encouraged other Central Florida mayors to run, sign proclamations and help the NF cause.
He says Lilly Ann "teaches me lessons every single day" about courage, faith and not letting NF define who you are. "I hope she can teach people that with faith in God and hard work and a concentrated focus, you can beat anything," he said. "You don't have to let it beat you."
Lilly Ann visited Dr. Fernandez-Valle's lab recently, where she donned the lab coat and purple gloves. But the 7th grader at The Christ School at Orlando's First Presbyterian Church has her eyes set on another career – culinary arts. She loves to bake. Actually, she says, "I love to cook everything." She likes to sing and dance and has let her dad know that she wants to try out for "American Idol." And she's also one of the Child Tumor Foundation's "NF Heroes," who is helping to raise money and awareness to fight her disorder. "I want people to know that we appreciate every dollar," she says, "because it brings us one step closer to a cure."
Post Tags