The UCF College of Medicine's Harriet F. Ginsburg Library received The Consortium of Southern Biomedical Libraries (CONBLS) Distinguished Library Award.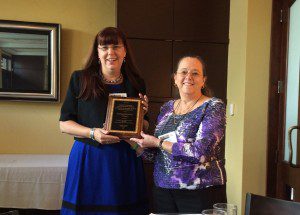 Leaders from medical school libraries across the southeast selected UCF as the winner based on its innovative programs. The College of Medicine's library is 98 percent digital and Library Director Nadine Dexter and her team have been national leaders in developing interactive learning systems, including textbooks offered on iPads. Their goal — a 100 percent digital library
"To be recognized by your peers as a new medical school is wonderful," Dexter said. "There were people on the committee who said: yes, let's give it to UCF because we recognize that what they're doing is very important, and that we should be paying attention to at our own institutions."
UCF's status as a brand-new medical school actually serves as an advantage when it comes to library technology. Dexter and her staff were able to build the program from the ground up, with digital content and tablet technology in mind. Many medical schools aren't in the position to provide such an extensive digital catalog, because of their extensive and costly collections of paper journals and books. "We were able to immediately embrace this kind of technology as soon as our feet hit the ground." Dexter said.
The average medical student can expect to spend about $2,000 per year on textbooks, but at UCF, up to 80 percent of required textbooks are available in digital form, at no or little cost to the student. Digital content is available wherever the student is working or studying. "I like to tell my students: you have a library in your pocket 24/7," Dexter said. "Whether you're at a clinic, a hospital, Panera, home or at school, your content is right there with you."
Has the UCF College of Medicine Positively Impacted You?
The UCF College of Medicine is a research-based medical school with a culture based on partnerships and collaboration. As a founding member of Orlando's Medical City we are proud to be your community medical college.
Find out how to give back to your medical school, today!