College of Medicine

Faculty News
Overwhelmed by the avalanche of iPad apps out there? The College of Medicine's Harriet F. Ginsburg Health Sciences Library threw out a lifeline at its Info Expo on March 29.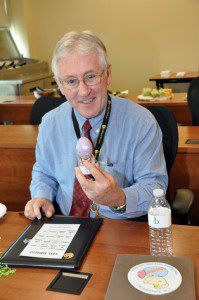 Medical informatics librarian Michael Garner shared his 10 most useful apps for the college's staff and faculty members during the lunch-and-learn session. The list included creative alternatives to PowerPoint, strategic methods to work with colleagues, and smart ways to organize notes.
The techno tour kicked off with a presentation created in Prezi, a program that puts all content – text, graphics, and captions – on a single canvas instead of separate slides. Users can zoom in for details on a particular subject, and zoom out for the big picture.
Michael's Top 10 included:
Dropbox. Easily share files, and access them on any computer or device. "This encourages collaboration," said library director Nadine Dexter.
Goodreader. Annotate and view PDF and text files plus Microsoft Office and iWork documents, high-resolution images, and video files, and play audio files.
iAnnotate PDF. This makes editing and sharing PDFs a snap, and allows users to draw or write freehand with a finger.
Evernote. Create, organize, share and access your notes from any device.
Pear Note. Integrate text notes with audio, video and slides. Click on a particular section of text, and the program jumps to the related section of audio.
Noteshelf. Can't type fast enough? Users can write notes by hand using a stylus, save the notes, add pictures, and email notes as an image or PDF. "I use this for grocery notes," Michael said.
iThoughtsHD. This focuses on mind mapping – a visual way of outlining and brainstorming ideas.
Pages. With this word processor and page layout tool, Michael said, "You can do a lot of things to make documents look nice."
Keynote. Create sophisticated animations and slide transitions, and quickly add photos and videos.
Terminology. Users can easily explore words and phrases to produce well-written documents and reports.
Fees for the apps range from free to about $10 but vary depending on the tiers of service offered.
In another example of adding zip to a presentation, the audience watched a video featuring two space alien characters discussing library services. Raney Collins, senior library technical assistant, put together the video using Xtranormal, a program that allows you to create a script and animate characters online.
After the video, the library staff led the audience in a game of library bingo and a raffle, awarding an iPod Shuffle and other prizes.
Post Tags