College of Medicine

Student Affairs

Students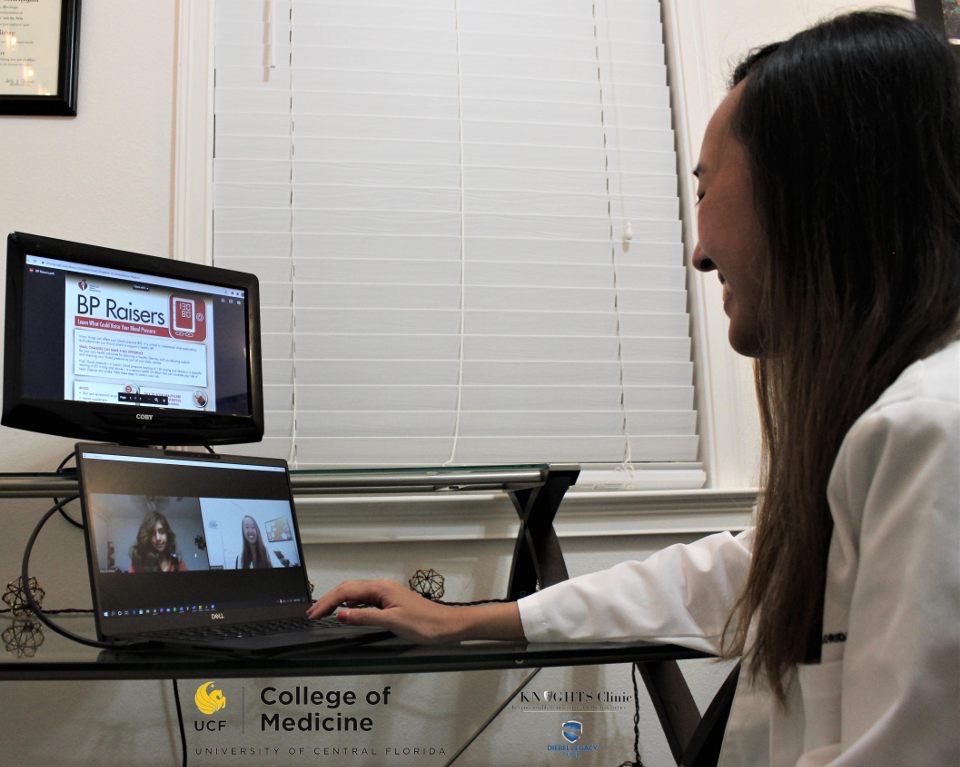 With the global pandemic affecting almost all aspects of daily life, medical students who operate the free KNIGHTS Clinic have found creative ways to continue serving the community. In addition to conducting telemedicine clinics to continue seeing patients, students have started lifestyle coaching Zoom calls to teach patients better ways to manage their conditions and prevent disease.
KNIGHTS – which stands for Keeping Neighbors in Good Health Through Service – operates through Grace Medical Home to provide free healthcare to Orlando's uninsured. Students provide ongoing primary care for about 70 patients under the supervision of medical school faculty and local physicians.
"When COVID-19 hit, it was really frustrating to have everything shut down," said clinic director and second-year medical student Krisandra Hardy. "We felt like we were not only failing our student volunteers who relied on getting clinical experience, but also our patients."
The coaching offers lifestyle modification tips for patients with chronic illnesses such as diabetes and hypertension, educate them about topics such as nutrition, exercise, better sleep habits and coping with stress.
"We set SMART goals with the patients – specific, measurable, attainable, relevant and time-bound goals — to incorporate in their life to make healthier decisions," said second-year medical student, Carla Gonzalez, one of the patient education coordinators. "We write down the goals down for them and then we follow-up with calls and text messaging."
Two medical students are on each call — one does the majority of the patient education, motivational interviewing, and goal-setting with the patient while the other takes notes. The team is providing coaching for 10 patients and the response has been overwhelmingly positive. According to Gonzalez, goal setting and goal completion have improved compared to the results from in-person clinics.
"The good thing about these phone call sessions is they are more focused," said Gonzalez. "Prior to COVID-19 when our patients came in for in-person visits, patient education was just one other thing they had to get to get done, and not the main goal of the visit. With the calls, that's the main goal, so it is more focused and specific and the data we've been collecting is showing an improvement in adherence rates."
The coaching calls have also helped provide a sense of stability and comfort for patients feeling stress and uncertainty during COVID-19.
"For these patients, helping them take responsibility for their health gives them a sense of control over what's going on," said patient education coordinator and second-year medical student Maddy Weiner. "We talk to them and encourage them to still make lifestyle changes regardless of what is going on. There's also a component of companionship and having someone there to show that they care about them, because there have been several patients who have said they have no one to talk to so they are really appreciative."
Funded by the Diebel Legacy Fund at Central Florida Foundation, KNIGHTS has received national recognition for its outstanding care and its unique partnership with a private clinic.  In 2017, the clinic was honored by the Clinton Foundation for its patient education program.
The lifestyle coaching efforts are part of the ongoing relationship KNIGHTS has with its patients, Hardy said.
"Not only do we see underserved patients with no other access to healthcare, but we provide them with continuity of care," she said. "These are patients that know us and rely on us and with whom we've developed special relationships. So this lifestyle coaching endeavor was important to us, because it gave us an opportunity to get back in touch with those patients."
Post Tags