College of Medicine

Faculty News

Students
Leor Arbel and Clayton Stocker leaned forward intently and observed as their patient sat up and pointed to her right calf. She'd had some stiffness and difficulty moving in the past few weeks, she said. Perhaps they could take a look.
While Stocker, a UCF physical therapy doctoral student, took the leg and started checking its range of motion, Arbel, a medical student, jotted down notes, asking about the patient's exercise habits and whether she'd seen her physician recently.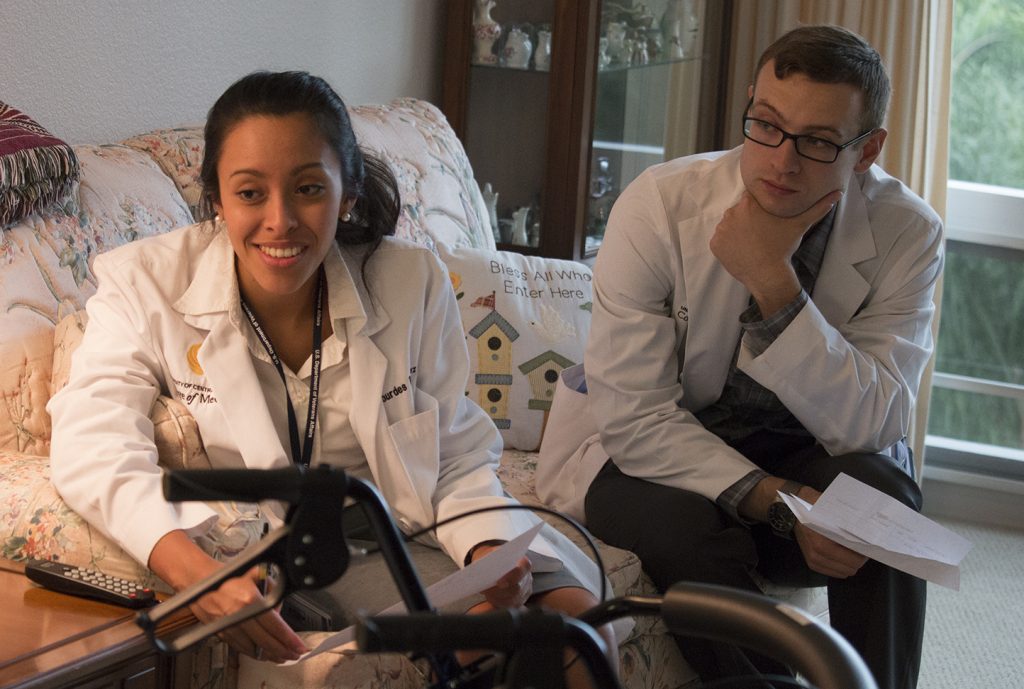 It's a lot like putting together a puzzle, Stocker said. Each health discipline has a different piece to contribute.
"I often get completely focused on the body and how it moves, while the student I worked with tackled multiple aspects, from the patient's medication, to their social interactions to their nutrition. It's given me a better appreciation for what medical students can do."
The experience was part of an interprofessional education program (IPE), now in its third year, consisting of UCF medicine, nursing, social work and physical therapy students and faculty, in conjunction with their counterparts from the University of Florida's pharmacy school. The IPE curriculum is designed to build teamwork and communication skills between various disciplines of healthcare students so they can better serve patients in the real world.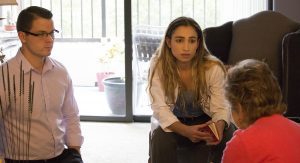 As part of this year's program, multidisciplinary teams worked with senior residents in the Westminster retirement community in Winter Park, and gave each resident a personalized health and wellness assessment based on the students' evaluation. Some residents were advised to take more walks, talk to their doctor about a nagging injury, or to use the community's fitness center. Others were warned to move household items to reduce their risk for trips and falls.
Young adults can often have a biased view about geriatric patients, said Dr. Denise Kay, assistant professor at the College of Medicine and executive director of IPE. That's why it was important for them to be exposed to the many ways people age.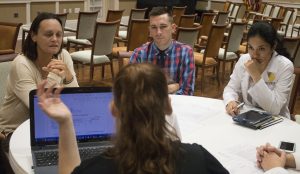 "While some of the participants had chronic or age-related conditions and complaints, many were also examples of healthy aging – individuals who have been resilient to the impacts of aging and found ways to continue to maintain healthy lifestyles," she said. "We wanted students to be exposed to these examples, in part, because the habits and lifestyle choices they adopt now will impact their own aging process. We also wanted students to see the living options available to older adults, who may not be able to continue to live independently."
The teamwork at Westminster was just one example of recent IPE experiences. In a classroom setting at the medical school last month, interprofessional student teams acted in a play where healthcare providers inappropriately disclosed a young woman's chlamydia infection to her mother.
Angela DelPrete, a fourth-year med student, played the role of the patient in the play.
"Although many aspects of the skit seemed humorous or far-fetched, the scenarios depicted are all too common in the real world," she said. "We have all been trained differently and therefore bring different sets of skills to the table. We're only limiting what we can do for our patients if we choose to ignore the talents of others."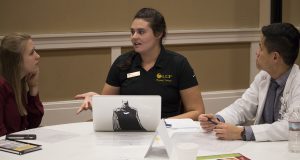 The focus on interdisciplinary training is new but faculty say it's important to build "muscle memory" for teamwork early so doctors, nurses, social workers, physical therapists and pharmacists can provide the best care to patients.
"We have the opportunity to provide our students with something that most of us did not have – the chance to work with their future colleagues while they are still in training," said Dr. Tracy Wharton, UCF assistant professor of social work. "As our patients and clients become more complex, we can provide better service to them and utilize our health care system resources more efficiently by working together."
Ronchell Drains, a fourth-year UF pharmacy school student, agreed. "Communication between healthcare providers is necessary to providing optimum care to a mutual patient," Drains said. "Just as we learn how to provide care to the patient in our respective roles, we have to learn how to communicate what we know and collaborate with other providers in the best way."
Post Tags