College of Medicine

Students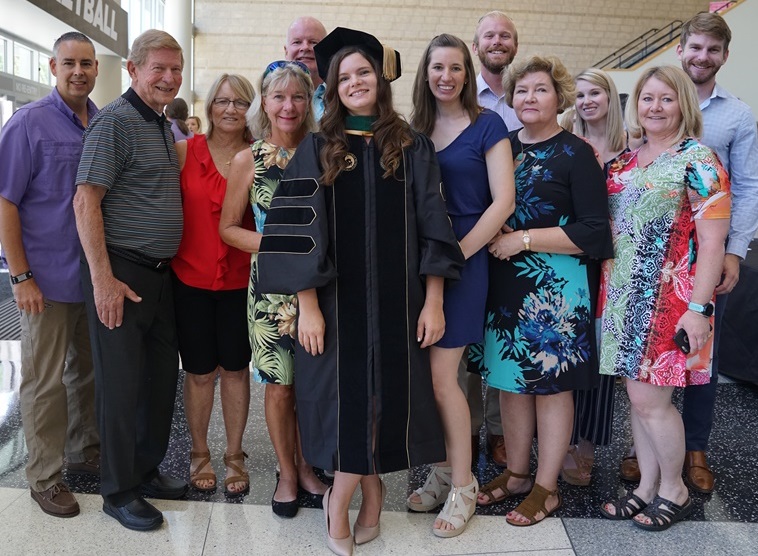 Courtney Wagner started at the UCF College of Medicine in 2007 as an intern – and jokes that she taught founding faculty members how to use the copy machine. Twelve years later, she is a UCF-trained physician.
Now Dr. Wagner, she was one of 117 Class of 2019 medical students to graduate May 17 and is now off to do her internal medicine residency at University of Alabama Birmingham. She ultimately hopes to specialize in treating seniors and managing their end-of-life care.
Wagner earned her undergraduate degree from UCF in 2008 and then went onto get her nursing degree at University of South Florida. She was a critical care nurse at Lakeland Memorial Hospital for three years. As a UCF intern, she was on the team that set up the new UCF medical school, met the 41 Charter Class students and said seeing them graduate in 2013 ultimately spurred her to pursue medical school. "That journey was important to me," she said. "I wasn't one of those who knew at age 20 I wanted to go to medical school. But through my experiences I was able to take that dream off the shelf, dust it off and make it a reality."
The day before commencement, Wagner was named the Class of 2019's top student in Internal Medicine. During medical school, she also served as a trustee for the Winter Park Health Foundation, where she helped form the Cyber Senior program, which helps seniors learn and navigate technology through the help of young volunteers.
She also served on the board of the student-run KNIGHTS free Clinic at Orlando's Grace Memorial Home. Wagner says those experiences taught her the importance of community care and partnerships in keeping patients "past the walls of my practice."
She says her experience as a nurse will make her a better doctor because she knows the important and complimentary role nurses play in providing excellent patient care and says she has tried to help other medical students see the value of the nurse-physician partnership.
As she and the Class of 2019 go into residency training, Wagner hopes all of the new Physician Knights will take with them the pioneering spirit they developed at UCF's new medical school in an emerging Medical City.
"It's been really meaningful to be part of this growth and development," she said. "We all have paved new roads and I hope we all carry on that tradition."
Post Tags