College of Medicine

Communique

Faculty News

Residents
Gustavo Marino stood at attention in his Air Force uniform Friday as the UCF graduation crowd and his Class of 2023 M.D. colleagues cheered.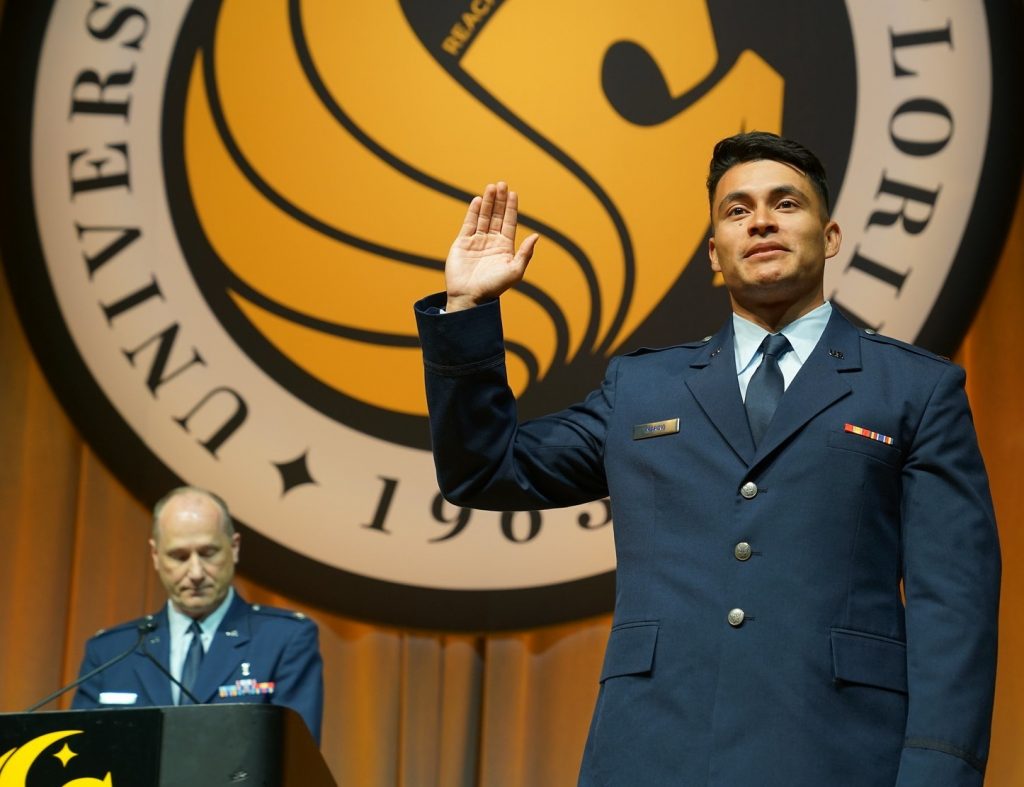 He vowed to honor the Constitution against "all enemies, foreign and domestic," and then his mentor – Col. Quintessa Miller, an Air Force career physician he met while training at the Orlando VA Medical Center – pinned captain's bars on his uniform, saluted and gave him a hug. The crowd roared again.
"I am so proud of you," she had told him hours before.
In the military, medical officers are promoted at the time they receive their M.D. diploma. And the UCF College of Medicine tradition is to make that promotion part of commencement ceremonies. With Marino's graduation, the medical school now has created 39 military physicians in the past 11 years. All were recipients of the military's Health Professions Scholarship, which covers tuition and living expenses for medical students who agree to serve their country for one year for each year of scholarship. Students in the program match into residencies at military hospitals or do their service after civilian residencies.
Marino matched into otolaryngology, a specialty focused on the ear, nose and throat — one of medicine's most competitive specialties — and will train at Brooke Army Medical Center in San Antonio, Texas, the same hospital where Dr. Miller was an attending physician before coming to the VA in Orlando.
Their shared journey of medical education shows that "it's a very small world," Dr. Miller explained. The two met when Marino was training in a plastic surgery rotation at the Orlando VA. Dr. Miller was his teacher. They began talking about his interest in otolaryngology, which includes major and simple surgeries. She introduced him to the VA's ENT specialists and talked about the learning and patient care opportunities at the Brooke center.
"She became my mentor," Marino said. Dr. Miller even bought his captain's pins as a graduation gift.
He chose ENT because it offers such a full spectrum of care – from the clinic to the operating room. "You are taking care of what people see first in a person – the face, ear, nose and throat – what makes that first impression," he said.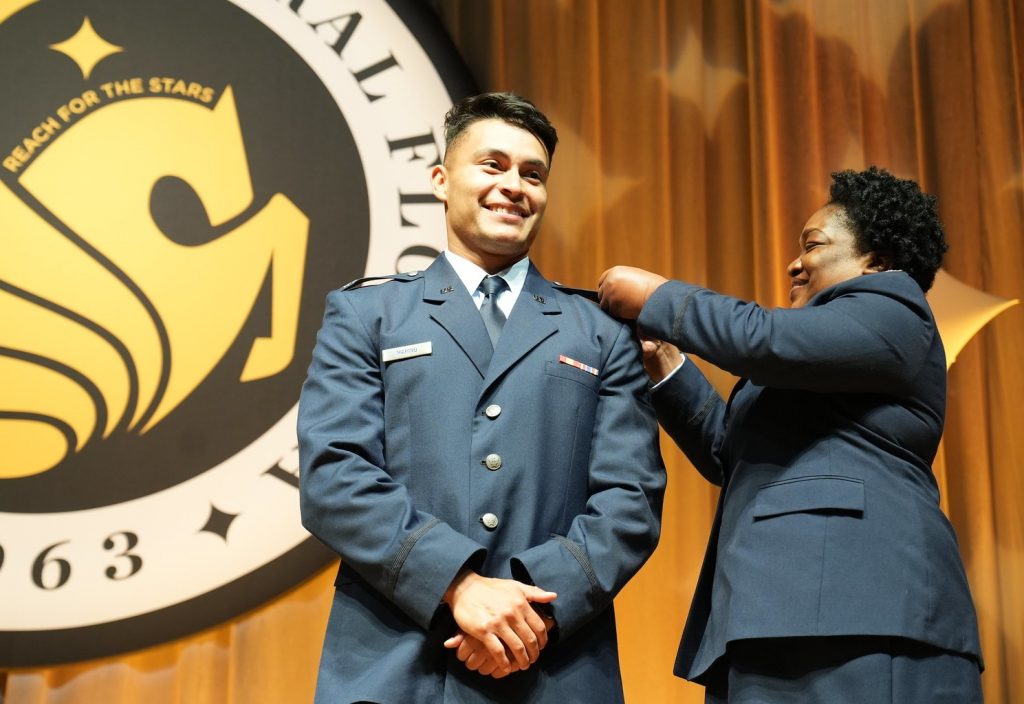 The military connections of Marino's story extend beyond Dr. Miller. The person giving him the oath at Friday's commencement was Dr. Jeff LaRochelle, a career Air Force officer and associate dean for academic affairs at the College of Medicine. Both Drs. LaRochelle and Miller have 23 years of service in that branch of the military.
"The Air Force motto is Integrity first. Service Before Self. Excellence in all you do," Dr. LaRochelle explained. "Gustavo exemplified those traits before he ever entered the Air Force and knew the motto. He will do well."
Post Tags
Commencement 2023

military