College of Medicine

Communique

Global Health

Population Health

Research
Those walking through the UCF College of Medicine hallways last month may have noticed a new adornment – 5 banners showcasing the visual history of the AIDS pandemic, featuring posters and public health messaging created by communities bonded together by illness and a desire to make change.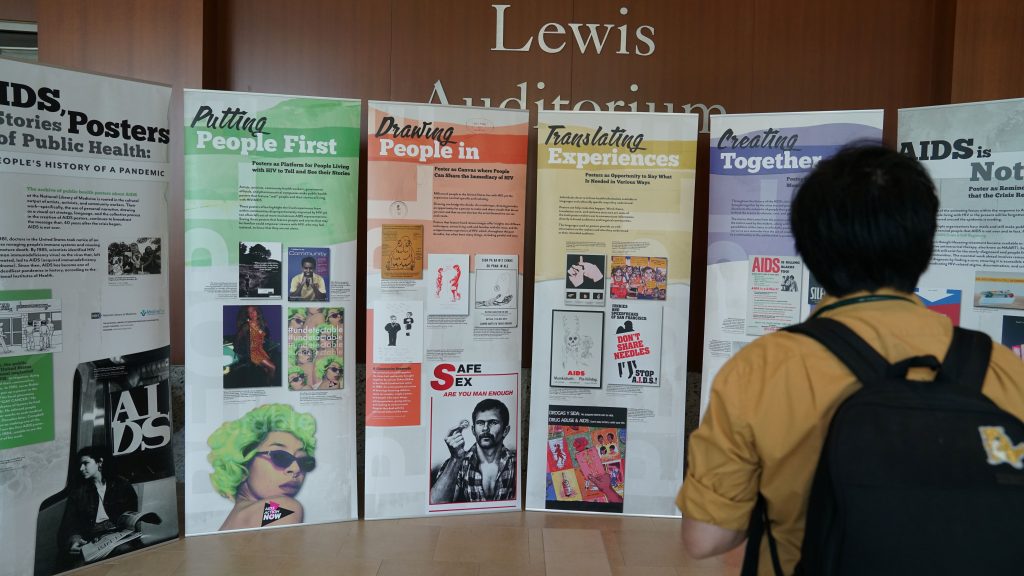 During a recent panel discussion hosted by the Harriet F. Ginsburg Health Sciences Library to highlight the banner exhibit, Dr. Eric Schrimshaw examined the history of the pandemic, from the starting days when it was thought to be a rare form of cancer, to today.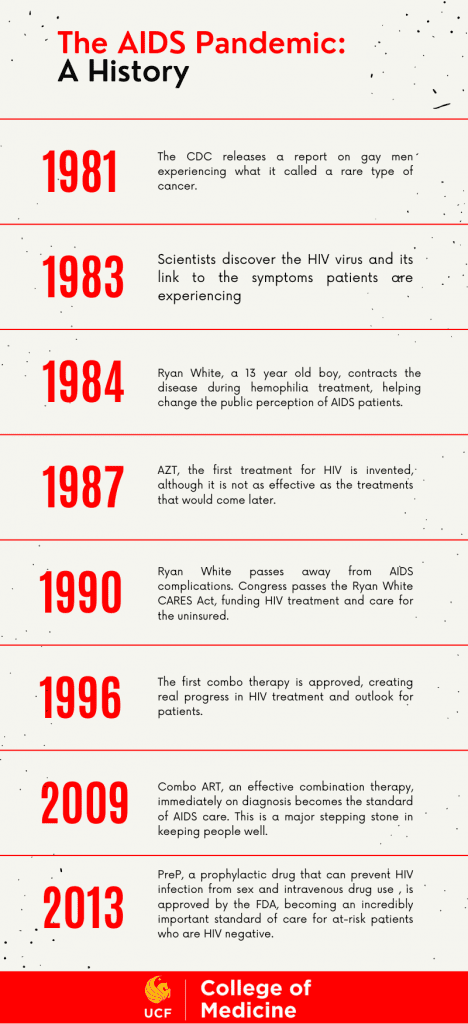 "It is important to understand where these posters were in the historical context of the pandemic," said Dr. Schrimshaw, Chair of the College of Medicine's Population Health Sciences Department. "We have come a long way, but when this messaging took place, there were few effective treatments and the stigma was profound."
After 40 years of research and patient care, medicine has effective treatments that can drastically improve patients' survival and quality of life. But the question remains – how can medicine ensure those in need know about and use these advancements, especially the effective, but under-prescribed prophylactic drug PreP, that can significantly reduce the chances of getting HIV from sex or IV drug use. Such prevention is especially important in Florida and the Orlando metro area, which have some of the highest rates of newly diagnosed HIV infections in the nation.
Dr. Sixiao Liu, a new UCF Population Health Sciences faculty member who studies public health communications, says public health communications have an incredible power to attract attention and resonate with diverse populations – if messaging is crafted carefully and targeted to those in high-risk groups.
"Different messages resonate differently with different audiences," she said. "If the messages can make them feel their health is truly valued by the people and society around them, it can break down barriers."
When communication fails to keep its audience in mind and adapt to new communication methods, it can find groups feeling alienated and unconvinced of its messaging – leaving existing disparities intact.
Communication must change, panelists said, because the community of people impacted by HIV/AIDS has changed. Dr. Omar Martinez, another College of Medicine Population Health Sciences faculty member, said communication and activism from the early days of the AIDS pandemic focused on white, gay men, who often had the tools to advocate for themselves. As time went on, he said, their activism spread to other groups, including mothers worried about transmitting the disease to their children. Today, according to the latest data, 52% of new HIV infections occur in the Southern U.S., with Black and sexual minority Latin populations being disproportionately infected. Many of these patients lack primary medical care and traditional AIDS messaging may not reach them, panelists said.
"When we talk about testing individuals, ideally we want to catch young people who feel they may not need primary care and who have no symptoms," said Dr. Schrimshaw. "They can go without care for 10+ years but continue to potentially transmit the virus to others. When we dismiss the young and healthy because they aren't our first priority, it comes back to catch up with us in the end."
By beginning AIDS safety messaging, HIV screening and PreP prescriptions to younger individuals, we can prevent the next generation from becoming infected and spreading the disease, rather than treating them afterward.
The medical school library receives traveling exhibits like the AIDS presentation from the National Library of Medicine and uses the opportunity to organize and run lectures and other events to provide perspectives on a health need. This session was planned and moderated by faculty librarians Shalu Gillum and Natasha Williams.
"We typically host some sort of informational event when we are hosting an exhibit," said Shalu Gillum. "For this one, the subject matched the work and expertise of the College of Medicine's Population Health Sciences Department, so we were excited to highlight them in a panel discussion format." Read more about the exhibit at https://www.nlm.nih.gov/exhibition/aids-posters/resources.html
Post Tags