College of Medicine

Students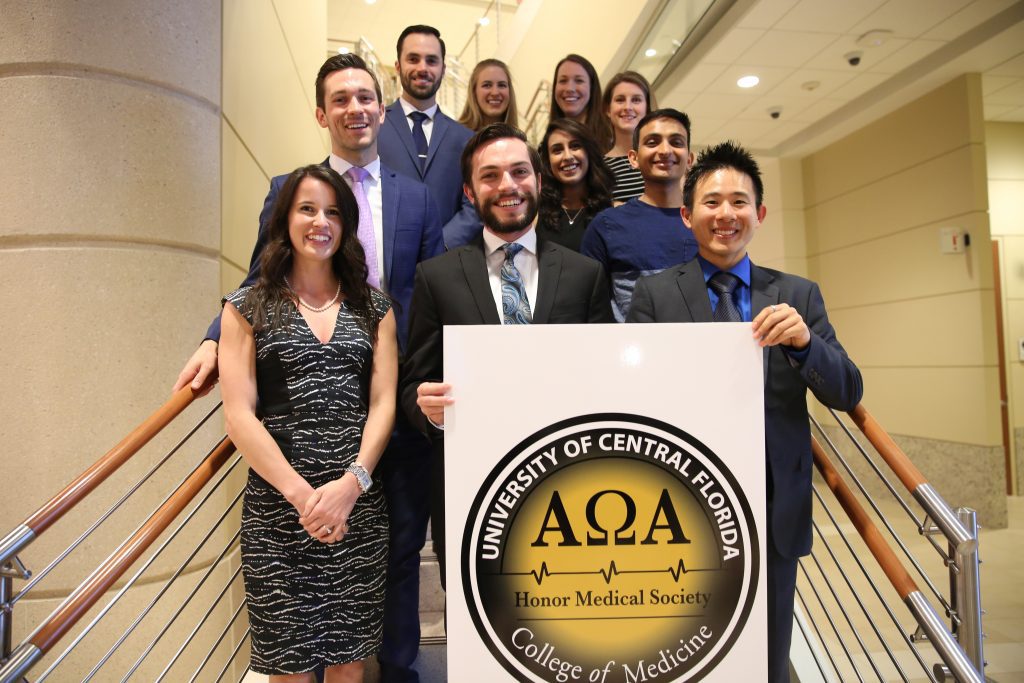 When fourth-year medical student Richard Taylor heard his Maitland Presbyterian Church was offering English classes for refugees, he wanted to help. So he designed a curriculum and spent hours teaching approximately 50 immigrants from countries like Syria, Lebanon, and Venezuela about healthcare in America to make them more comfortable with doctor visits.
"I thought that something that I could bring as a medical student was to teach them how to interact with healthcare professionals," Taylor said. "Most may have grown up with one doctor who saw them so they don't know the difference between different levels of care, and seeing a doctor can be very intimidating even for those who speak English."
Taylor was one of 20 students inducted recently into Alpha Omega Alpha (AOA), the national honor society of medical students, which recognizes scholarship, leadership, professionalism and community service. The induction banquet, held March 8, was the sixth for the medical school's Zeta Chapter.
To be an AOA inductee, students' academic performance must be in the top 25 percent of their class and abide by AOA principles of honesty, unselfishness, leadership and a dedication to serving others.
"Sometimes as a medical student it's easy to believe, 'I just need to study, if I know everything, I'm good'," said Taylor, who hopes to match into a pediatrics residency on March 16. "But the best doctors aren't the ones that get it right every time. They are the ones that sit with patients at their most vulnerable moments and empathize with them."
Other inductees participated individually in a range of service projects.  They participated in medical mission trips, volunteered at KNIGHTS, the college's student-run free clinic, and helped treat uninsured farm workers in Apopka. They have also lent their service to non-profit organizations and events like Ronald McDonald House and Relay for Life.  They also held various leadership positions at the College of Medicine and conducted research on diseases like tuberculosis and Gorlin syndrome, a condition that causes affects the skin, eyes, bones and other parts of the body.
Third-year student Kaitlyn Hite is a member of Medical Campus Outreach, a Christian organization at the med school. She has volunteered at the KNIGHTS Clinic, Apopka Clinic, went on a mission trip to Myanmar and wants to become a rural family physician and continue her mission work abroad.
They also excel in academics. Third-year student Jeremy Tran won UCF's most prestigious honor, the Order of the Pegasus, for his academic performance as an undergraduate, and continues to improve his academic record in medical school. He has an inner calling to serve his country, and is a participant in Naval Health Professions Scholarship Program, which covers tuition and living expenses for medical students who agree to serve their country for one year for each year of scholarship.
Dr. Colleen Moran-Bano, AOA chapter counselor and assistant professor of pediatrics at the College of Medicine, commended the students for their excellence in service and urged them to continue making a difference in other people's lives.
"You now have something in common with Ben Carson, David Satcher, Jonas Salk to name just a few," she said. "Alpha Omega Alpha should not be your destination in medical school but rather it should be your journey through your career in medicine."
The 2018 inductees are
Junior AOA Members, Class of 2019
Ambika Anand
Ahmed Ansari
Leah Beland
Agnieszka Boron
Christina Dai
Alicia Eubanks
Kaitlyn Hite
Michael Mankbadi
Mariel Rickert
Jeremy Tran
Senior AOA Members, Class of 2018
Katie Conover
Kyle Cox
Anand Desai
Edmund Hsu
Adriana Jones
Steven Kelly
Hanisha Patel
Katherine Smith
Richard Taylor
Brittany Urso
Post Tags