Twenty medical students and four residents were recently inducted into Alpha Omega Alpha (AOA), the national honor society of medical students, which recognizes scholarship, leadership, professionalism and community service. The induction banquet, held March 7, was the seventh for the medical school's Zeta Chapter.
To be an AOA inductee, students' academic performance must be in the top 25 percent of their class and abide by the AOA principles of honesty, unselfishness, leadership and a dedication to serving others.
The 2019 inductees are:
Senior AΩA Members, Class of 2019
Jake Altier
Alexander Diaz
Jais Emmanuel
Tyler Janz
Michael Katzen
Khoa Ba Nguyen
Lauren Otaguro
Catherine Tillman
Nicholas Vernace
Jessica Walsh O'Sullivan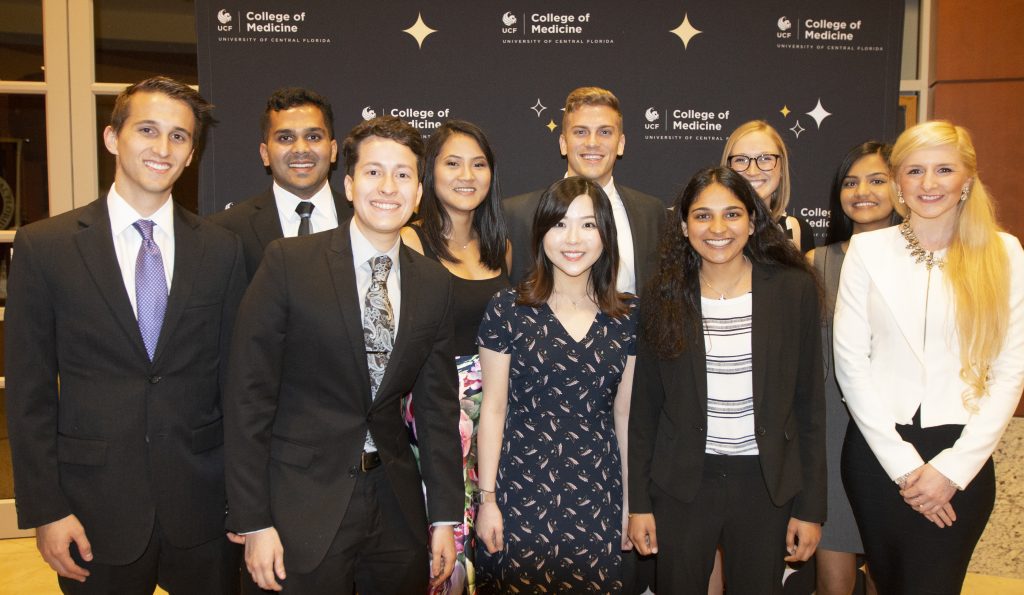 Junior AΩA Members, Class of 2020
George Cheeseman
Jason Day
Sapna Desai
Cole Friedes
Terah Hennick
Stacey Lee
Priyanshi Patel
Sohum Patel
Sirikanya Sellers
Lacie Turnbull
Resident AΩA Members
Adam Benzing, MD
Ali Mozayan, MD
Jorge Restrepo, MD
Volunteer Clinical Faculty Award
James L. Sanders, MD
Has the UCF College of Medicine Positively Impacted You?
The UCF College of Medicine is a research-based medical school with a culture based on partnerships and collaboration. As a founding member of Orlando's Medical City we are proud to be your community medical college.
Find out how to give back to your medical school, today!