College of Medicine

Students
At one end of the classroom, Dr. David Harris, associate professor of physiology, demonstrated a computerized mannequin that mimics symptoms and shows vital signs on a nearby monitor. In another corner, prospective medical students crowded around an Anatomage table that allows them to digitally dissect a human body and see very muscle, nerve and organ inside.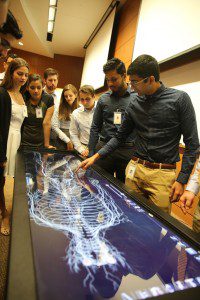 "Everything about the med school is futuristic," said potential Class of 2020 student Becca Trieu as she looked on. The Orlando native, born in Vietnam, is a UCF undergraduate and hopes to attend the university's medical school. She and a record number 100 other applicants came to the College of Medicine April 11 to take a "Second Look" at where they may spend the next four years of medical training.
Second Look allows students who have interviewed at UCF's new medical school to spend a day meeting faculty, fellow students and community physicians and to experience the innovative, high-tech curriculum. This year's event drew more than any other in the school's seven-year history, so many the college couldn't accept all who wanted to attend.
"It's encouraging to see how interested the students are," said Dr. Andrew Payer, who leads the college's state-of-the-art Anatomy Lab and demonstrated the Anatomage table as its latest interactive learning tool. "They are asking a lot of good questions and are more engaged than in previous years."
Dr. Juan Cendan, chair of medical education and professor of surgery, agreed that students came well prepared with questions and areas of interest. "They want to know about the teaching, clinical rotation and what it's like at UCF," he said.
Prospective students toured Florida Hospital, a UCF partner location for clerkships, and had dinner at the Citrus Club in downtown Orlando with Dean Deborah German, faculty and staff. Dr. German talked to prospects about being part of a new medical school in an emerging Medical City.
One of the Second Look speakers was graduating senior Wendy Carcamo, who will begin her pediatric residency at Arnold Palmer Hospital in Orlando this summer. "I can tell them about my experience and they can see how successful we are by where we've matched," she said.
Students have until April 30 to choose the medical school they will attend in the fall of 2016. UCF's White Coat ceremony, which welcomes first-year students as colleagues in healthcare, is August 1.
Post Tags