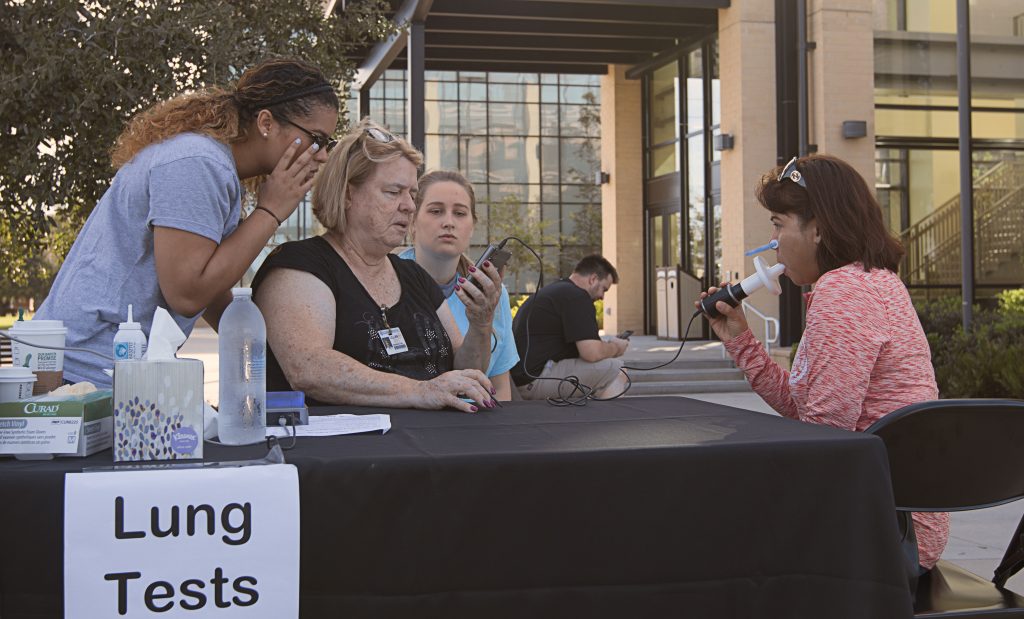 Some were plagued by chronic coughs. Others by allergy symptoms that never went away. A few couldn't take a deep breath. And on Saturday, they visited UCF medical students and community providers at Lake Nona's Farmers Market for an asthma screening to help them find solutions.
About 30 students held the free "Asthma Awareness Inspires Relief" community screening with help from Dr. Santiago Martinez, a local allergist and immunologist, and Lillian Blackwood, a licensed respiratory therapist and certified pulmonary function technician with Florida Hospital. The breathing team saw patients from toddlers to adults.
"Asthma is a disease that plagues a lot of people, and there's this understanding of what asthma is, but I feel like sometimes there's not a lot of action about it," said Morgan Beebe, a third-year med student who coordinated screenings for the last two years. "People just say, 'oh, I have asthma,' and then don't get the treatment they need."
Asthma rates in Central Florida are higher than the national average – as much as three times higher for Hispanics. The American College of Allergy, Asthma and Immunology, which funded the screenings, estimates that 26 million Americans have asthma symptoms and many aren't aware they have the condition. The National Heart, Lung and Blood Institute estimates that more than 3,000 Americans die of complications from asthma each year.
Blackwood, the respiratory therapist, conducted tests to determine how well patient's lungs were functioning. Each patient wore a a HEPA filter mouthpiece with their nose clipped. Blackwood determined how much each person could exhale in one second and the amount of air they exhaled after a deep breath. Some patients could pass the test – others had difficulty taking more than a shallow breath.
Dr. Martinez said he relished the opportunity to catch asthma symptoms early and provide appropriate medical referrals.
"Asthma can contribute to complications," he said. "Early detection can lead to prevention of complications and improve the quality of life for these people."
Beebe said organizing the screening reminded her of why she wanted to become a doctor in the first place.
"It's important for me – looking forward to the kind of physician that I want to be – to be in the community and be accessible and plan events like this that can guide patients to make sure they're taking care of themselves," she said.
Post Tags