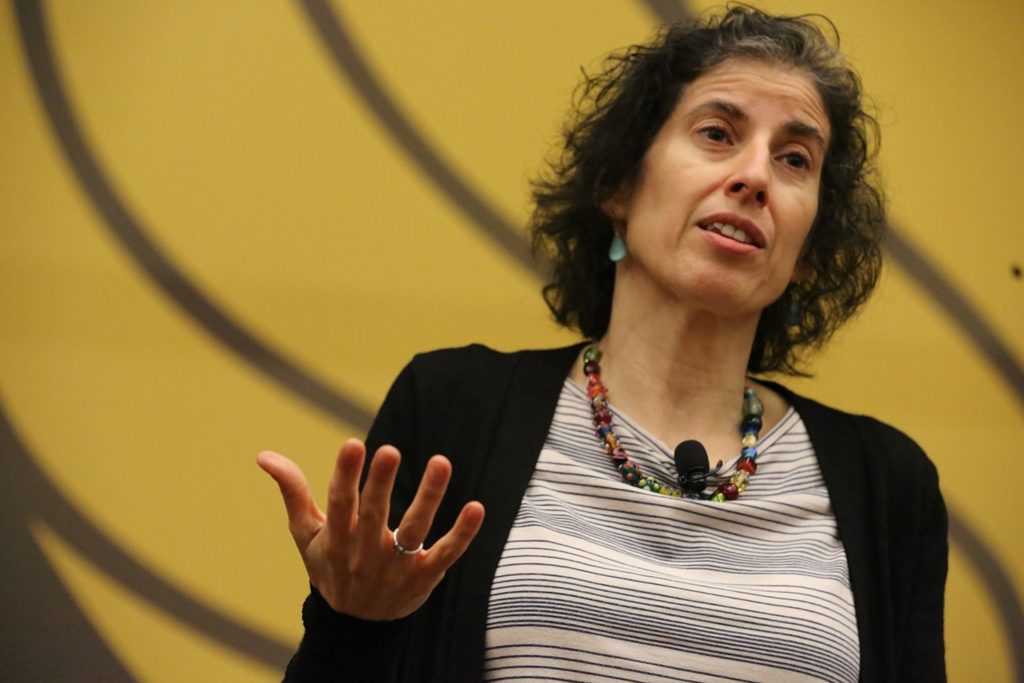 Listening to patients "is the single most powerful tool in medicine," and will never outweigh high-tech innovations, a national patient care advocate told medical students December 15, as she urged them to be active listeners to what others have to say.
Dr. Danielle Ofri, who holds both an M.D. and a Ph.D., cares for patients at Belleview Hospital in New York, the nation's oldest public hospital. She is the author of six books and a nationally published essayist on the doctor-patient relationship. Dr. Ofri was the invited speaker at the College of Medicine's first Humanism in Medicine Grand Rounds, made possible by The Chapman Humanism in Medicine Initiative and the Jules B Chapman, M.D. and Annie Lou Chapman Private Foundation.
Dr. Ofri, an internist, described several of her patients who made communication challenging. One, a 40-year-old heart patient, called constantly demanding an appointment and even showed up at her clinic unannounced demanding to be seen. She was frustrated but agreed to fit him in. He collapsed on the floor. While she got him to the ER and treated, Dr. Ofri said it was clear that she and her patient had not been communicating. He'd been demanding. She'd been angry. But when she took time to see things from his point of view – a young man who was an immigrant, didn't speak English well and was terrified of dying young – she understood his desperate way of communicating.
She urged medical students and faculty to begin appointments by asking patients what brought them in and then letting them speak freely without interruption. She said most doctors are worried patients will go on for hours, and a recent study showed doctors only wait eight to 12 seconds before interrupting their patients. She did an experiment in her practice, let patients talk uninterrupted and found by using a stopwatch that most explained their needs in just 30 to 40 seconds. "As a physician "you may be the only person who will hear their story of woe." Dr. Ofri said. "What the patient tells us is the most important data for forming our diagnosis."
Dedicated listening can also improve clinical outcomes, she said. Studies have shown that a compassionate caregiver who engages with a patient can reduce pain and other symptoms.
And while medicine has become more specialized and includes a new array of high-tech innovative treatments, communication is the most important tool for dealing with the chronic conditions that most patients battle. She noted that diabetes and hypertension are all about helping patients improve their diet and exercise and take their medicines. That doesn't require high-tech tools, she said, but a skilled communicator. "We need to listen better to each other," she said.
In welcoming Dr. Ofri to another of the College of Medicine's "firsts," Dr. Deborah German, vice president for medical affairs and dean, noted that the best physicians are the best communicators.
"Every year, when you get your white coats, we talk about the traits of being The Good Doctor, a UCF tradition," Dr. German said. "Many of the traits you describe are based on communication – words like empathy, compassion, engagement. Dr. Ofri is one of The Good Doctors. Dr. Ofri, thank you for being an example of someone with a head and a heart for medicine."
Post Tags
Dr. Danielle Ofri

Grand Rounds

Humanism in Medicine

patient communication

The Good Doctor