At 13,  Gianna Acocella had already undergone eight surgeries to remove tumors from her middle ear produced by cholesteotoma, a condition that causes abnormal growths. The tumors kept returning because doctors couldn't see beyond the curves of her ear canal to remove the entire tumor. But today she is tumor-free, thanks to a biomedical engineer who designed a special scope that, when inserted, allowed doctors to get a 180 degree view of her ear and better target the tumor.
"That literally saved my life," said Acocella, now 16, who wears a device to improve her hearing. "And it has really pushed me to have a love for both technology and medicine."
Now Acocella wants to be a biomedical engineer so that she can help others the way she was helped.
The Jones High School student was a participant in the College of Medicine Health Leaders Summer Academy, a medical pipeline program that provides hands-on educational experiences for high school students from underserved communities interested in health careers.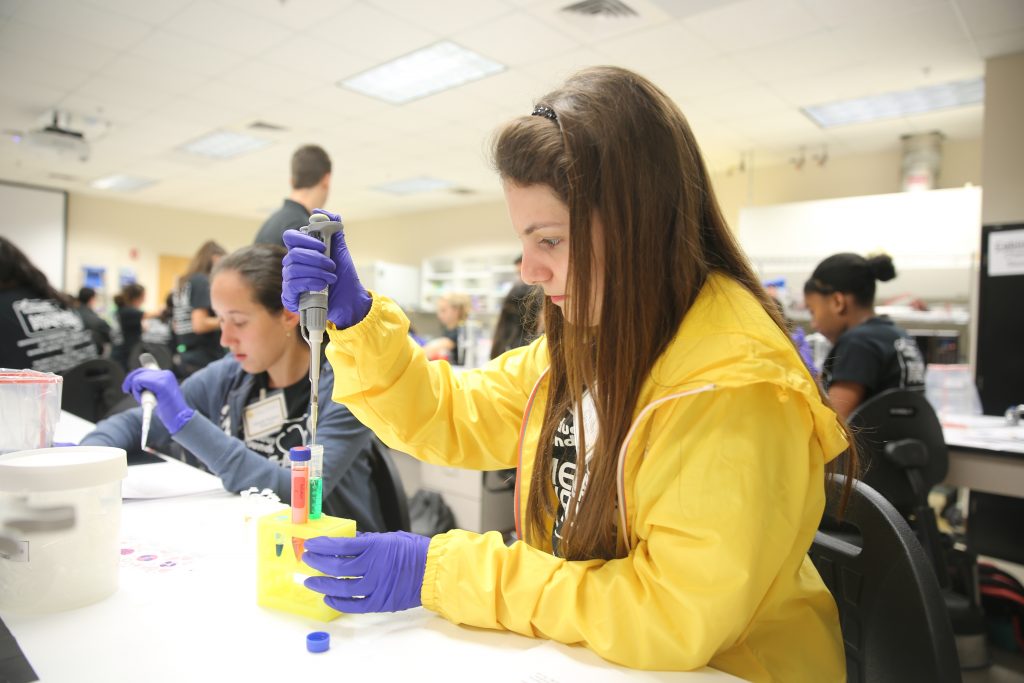 The camp, which ended July 21, saw 70 participants from high schools in Orange and Osceola counties immersed in interactive learning experiences that got them excited about medicine. They conducted lab experiments, researched health topics, had anatomy lessons and toured the medical school.  They also played forensic detectives for a day, comparing DNA from a criminal to samples collected from a crime scene.
"We analyzed DNA samples and learned how to find criminals and I found that very interesting because I'm a big fan of Criminal Minds," said Sophia Silva, an eleventh grader at Osceola's Harmony High School who wants to become a doctor to help impoverished communities in her native Brazil have better access to healthcare.
She wants to study neurosciences in particular as her mother is recovering from spinal surgery.
"Her back is healing, but watching her recover makes me really want to learn more about how the nervous system works and how to make people's lives better," she said.
For Acocella and Silva, the academy was "a once-in-a-lifetime experience" that helped them to chart a course toward medical careers. They got to meet real doctors and medical students who shared their stories and gave them advice on getting into medical school.
"This camp really helps you decide what your future is and prevents you from making too many mistakes when you go to college," Acocella said.  "Health care has always been really interesting to me and this experience has really pushed me further in my love for it."
Speaking at the closing ceremony, Dr. Deborah German, vice president of medical affairs and dean of the College of Medicine, encouraged the participants to "dream big," always challenge themselves and not be afraid of failure.
"It is very important at your young age to have aspirations and to have dreams," Dr. German said, "and one of the things we want to do at the College of Medicine is to encourage, to feed and fuel your aspirations."
So far, the Health Leaders program has inspired some 350 students from Osceola and Orange counties since its inception in 2012.
Deleso Alford, a Florida A&M University law professor who led this year's summer academy, said she was impressed with the participants and their passion for learning.
"The students embody a seriousness of purpose that is so necessary for the next generation of culturally competent health leaders who practice cultural humility," she said. "This is a class that will make a difference in this world."
Post Tags