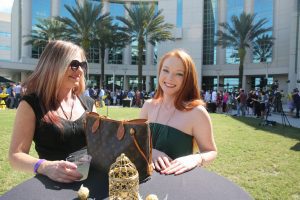 Morgan Beebe fell in love with musical theater as a teen because "performing was the one thing I felt like was my own. All that mattered was how I felt in that moment, and it continues to be the most empowered I have ever felt."
But theater seemed like an unsure lifelong career path. And it wasn't until Beebe's junior year at UCF that she found her purpose while volunteering at Shepherd's Hope, a faith-based organization that provides medical care to the uninsured.
"Volunteering at Shepherd's Hope really opened my eyes to the health disparities in our nation," Beebe said. Realizing she could use her voice to advocate for families struggling to provide adequate healthcare for their children, she decided to major in pre-clinical health sciences and apply for medical school.
On May 17, she will graduate from the UCF College of Medicine – one of 118 Physician Knights from the Class of 2019. And then she's off to Baylor University in San Antonio to do her residency training in pediatrics.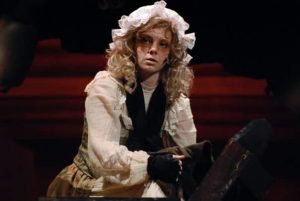 Beebe's first acting role was Gwendolyn in The Odd Couple at age 14. In high school she wrote, directed and starred in multiple dramatic performances, including the witch in Into The Woods and "The Beggar Woman" in Sweeney Todd: The Demon Barber of Fleet Street. That role earned her the Lee County high school award for Best Supporting Actress in a musical.
Beebe believes her acting background gives her a unique perspective as a physician because "I'd like to think I understand how to adapt to social situations a little more easily than some because I have been trained to respond to an audience."
Her faculty advisor agrees.
"She's a perfect pediatrician – a very upbeat, positive person," said Dr. Colleen Moran-Bano, pediatric clerkship coordinator for the medical school and an assistant professor. "She really tries to make the patient's encounter with the provider non-intimidating. And she's really motivated to help make the children in her community better."
Service was part of Beebe's legacy at the UCF College of Medicine. She led a "Take Back Your AAIR" clinic of students and local physicians that provided free asthma screenings to the community. In addition, she surveyed young women at UCF to understand why they aren't getting vaccinated for human papillomavirus (HPV), a common sexually transmitted infection. Her research, which she presented at the International Papillomavirus Conference in Sydney, Australia last year, concluded that an education campaign emphasizing the benefits of vaccination and the severity of HPV infection could convince more women to get vaccinated.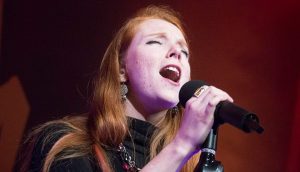 She found ways to nurture her artistic side, too, serving as creative director of the Arts in Medicine student interest group and singing in their annual holiday showcase. "It's nice to be able to get up on stage again and see how incredibly talented our class is – full of Renaissance human beings," she said.
Baylor was her top choice for residency training because she said it "felt like home."
"I interviewed when it was Halloween, so they had a whole choo-choo train of trick-or-treaters, which was great," Beebe said. "Everyone made me feel like this is where I'm meant to train."
As she earns her M.D., Beebe says she's focused on using her voice to advocate for young people.
"There are so many things physicians can do in the community that go beyond the scheduled working hours to help close that health disparity gap," she said. "I'd like to be able to go to schools and talk with children about science and medicine, as well as their health. It's important to look out for our future and take care of our children."
Post Tags
Commencement

Morgan Beebe