Burnett School

Cancer Division

College of Medicine

Communique
When Heba Ghozlan graduated with her Ph.D. in biomedical sciences from UCF, she did do as a scientist who advanced breast cancer research and fulfilled her dream of becoming a scientist and teacher.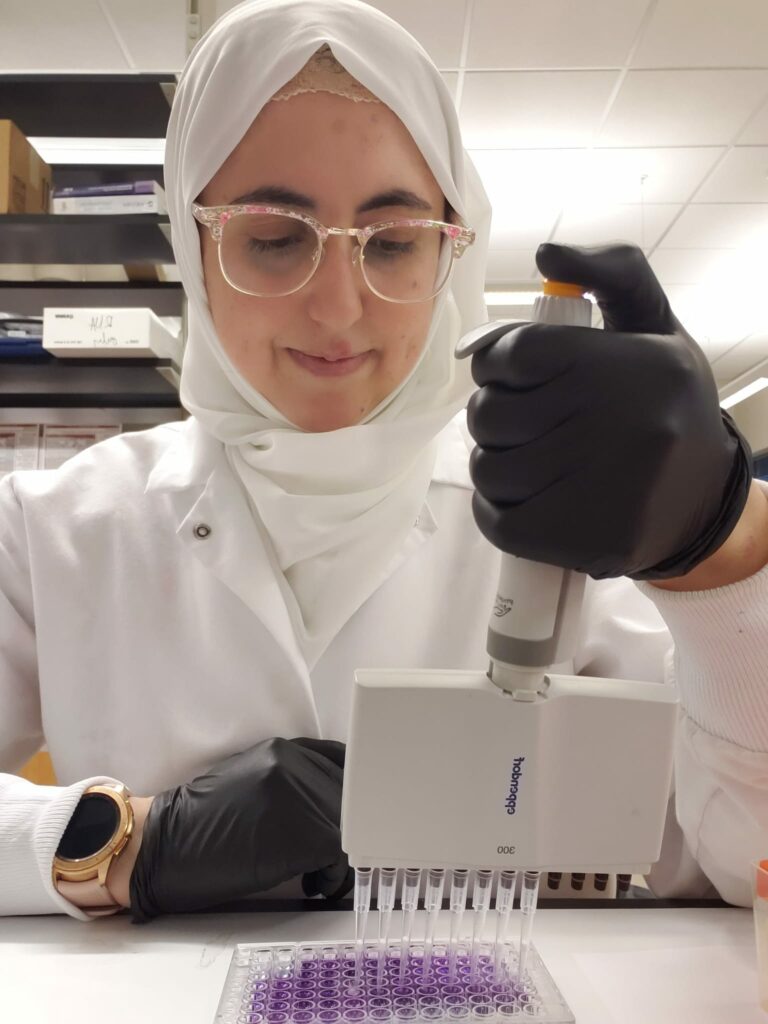 Ghozlan is one of 132 undergraduates and graduate students from the Burnett School of Biomedical Sciences – and about 2,880 university-wide — who were awarded degrees during events Aug. 4-7.
A native of Jordan, Ghozlan came to UCF for her doctoral degree on a full scholarship paid for by the Jordan University of Science and Technology, where she received her M.S. degree. Before that, she worked as a dentist but realized how much she missed research. So, she took a job as a teaching assistant in anatomy and histology and her passion for research and teaching inspired her to apply for a highly competitive scholarship to attend UCF.
She began her doctoral journey and joined the lab of Dr. Annette Khaled, who leads the Burnett School's cancer division. The research of Dr. Khaled's lab is focused on developing new cancer treatments, using cutting-edge nanotechnology, and understanding the underlying molecular changes that cause cancer cells to metastasize or spread.
"I was fascinated by Dr. Khaled's work," said Ghozlan, who helped author several scientific papers on breast cancer during her time at UCF. "When I joined Dr. Khaled's lab she inspired me every day. Her door was always open and she encouraged me to succeed."
Ghozlan is returning to Jordan to become an assistant professor at her alma mater's college of medicine to teach biochemistry and molecular genetics and start her own lab. She is also eager to reunite with her three children, who were cared for by family during her studies.
"I did this for myself, it is my dream," she said of her scientific journey. "I want to inspire my children, other women and make my family proud."
Post Tags
Dr Annette Khaled

Heba Ghozlan

summer graduation 2021