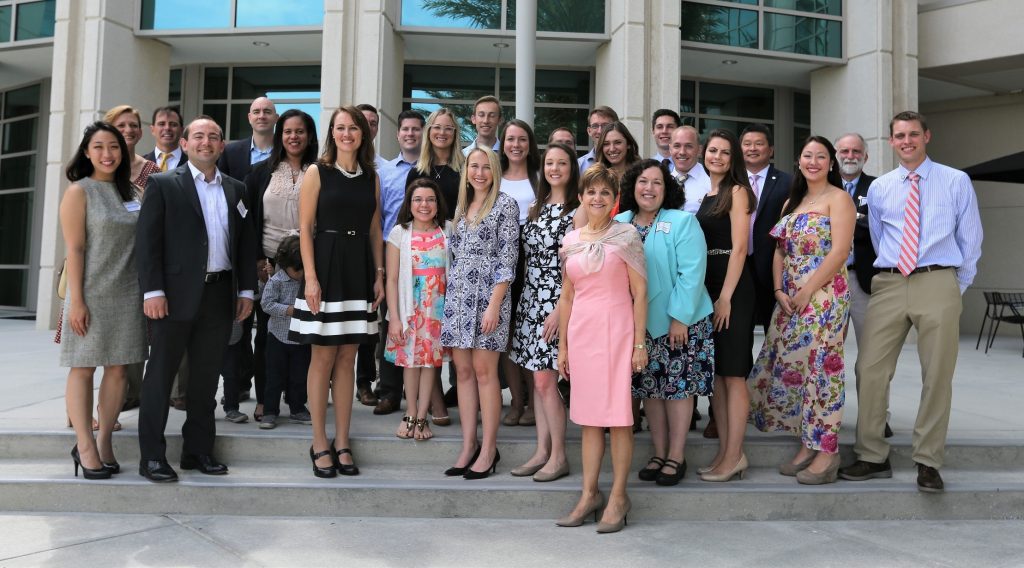 Aspiring physicians typically come to medical school with a selfless concern for helping others. But studies show such caring can disappear amidst the rigors of training.
Nationwide, the Gold Humanism Honor Society is committed to maintaining a compassionate spirit in doctors. On April 29, UCF's Chapman Chapter inducted 19 medical students, three residents (who train College of Medicine students) and three faculty physicians into the society for their humanitarian spirit, clinical skills and service. Honor Society members are nominated by their peers as a physician they would want to care for their family member.
"Studies have shown that all those wonderful attributes that students come to medical school with, like empathy, can actually diminish with the demands of medical training," said Dr. Caridad Hernandez, associate professor of internal medicine and the society's faculty adviser.
"So one of the ways we help students sustain their empathic and altruistic values is through organizations like this, that recognize those values that they have been able to retain despite their training and really be exemplars for others."
Invited speaker, Dr. Theodore Lee, a volunteer faculty member in internal medicine, urged students to focus on improving their patient's quality of life, not just treating their ailments.
"As physicians, we need to have human connections, a human touch to believe that you are healing," he said.  "It's not just about diagnostics, but about listening to the patient and giving them the best treatment options in terms of quality of life, and not just extension of life."
Class of 2018 student Jessica Fernandez said she was honored by the nomination and grateful her peers believe in her to care for their loved ones.
"Not because we have a white coat means we are some kind of better being," she said. We aren't. We suffer and feel just the same as the patient does. This is the first thing I show my patients when I'm with them, that I'm just like them and that I am really there to listen and to care for their wellbeing."
Beyond induction, honor society members have a responsibility to model, support, and advocate for compassionate, patient-centered care throughout their careers. Faculty inductee Dr. Aileen Caceres, director of the College of Medicine's OB-GYN clerkship, has been doing just that.
"I have had a very deep appreciation of humanism from my early childhood where we would travel to my parents' homeland in the Dominican Republic and witness how others had very few resources, especially in medicine," she said.
"This gave me the passion and fuel to pursue a career in medicine and always treat every life touched as precious," she said. "Compassion is very important especially as I counsel women about surgery, so women feel that they are being treated as a whole person. I share this sentiment with students, on rounds or during surgery."
The Spring 2017 awardees are:
Students
Sean All, Kathryn Baker, Erika Cohen, Kristen Combs, Katie Conover, Nathan Esplin, Jessica Fernandez, Amanda Gonzalez, Laura Goyack, Shane Hamacher, Steven Kelly, Timothy Legare, Trevor Mattox, Katherine Mills, Brian Nagle, Stephen Rineer, Nicole Spitzer, Katelyn Updyke, and Elizabeth Wellings.
Residents
Dr. Cielo Gnecco,
Dr. Rebecca Rowen
Dr. Georg Wiese
Faculty
Dr. Aileen Caceres, Dr. Robert Karch, Dr. Theodore Lee
Post Tags