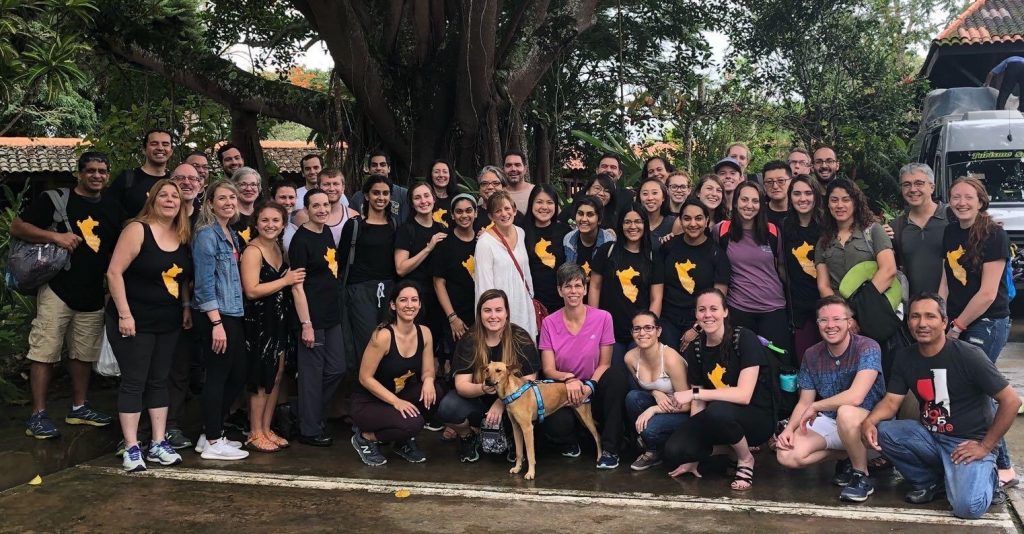 An interprofessional healthcare team of 51 students, faculty and volunteers provided primary care and surgeries for more than 500 patients in a remote village of Peru this summer –  a 41 percent increase in the patients seen last year.
The College of Medicine student group MedPACt (Medical Students Providing Across Continents) sponsored the trip, May 26 to June 3, at a rural clinic with open air ventilation and natural lighting in Yantaló, in the foothills of the Andes. The nearest major city is Lima, the capital, more than 600 miles away.
"This community in rural Peru has no access to specialty care," explained Dr. Judy Simms-Cendan, director of the medical school's global health initiatives and MedPACt's faculty adviser. "It is a remote agricultural region with patients willing to walk hours or come by motorcycle taxi for care."
The Fundación Yantaló Clinic is staffed by volunteer primary care physicians year-round. UCF College of Medicine faculty physicians and medical students provided specialized care in areas like dermatology, pediatric urology and surgery. The interprofessional team also included faculty and students from UCF's College of Nursing, led by Drs. Heather Peralta and Desiree Diaz, and the Physical Therapy program, led by adjunct faculty member Chris Doerger. They were joined by volunteers from the UF College of Pharmacy, certified registered nurse anesthetists from the University of Michigan, Denisse Lamas, a UCF social work faculty member, a chaplain and two translators.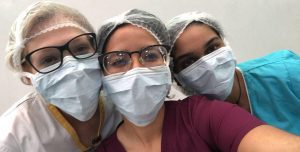 Physical therapy students and Doerger saw adults with musculoskeletal dysfunction and pain, as well as children and adolescents with developmental delays, scoliosis and post-traumatic injuries. "The local residents often work jobs that involve a high degree of physical labor, including farming and construction," said Doerger. "As you might expect, they do not have access to consistent medical care or rehabilitation."
Medical students Yunfai Ng, Chavi Rehani, Bradford James and Daralys Lopez took charge of coordinating clinic volunteers, organizing the flow of patients and helping to set up the operating room schedule. They also took inventory of supplies in the operating room and pharmacy. As physicians operated on hernias and performed gynecological surgeries, nursing students and faculty provided triage and perioperative care.  Medical student Talia Helman served as director of education, putting together patient education materials in Spanish and leading efforts to provide sex education to a school in the Yantalo community.
"Interprofessional education is the key to the future of health care," said Dr. Peralta. "Our students will be working hand-in-hand, side-by-side as providers within hospital settings. Providing enriching, positive experiences during their schooling fosters these relationships."
Ng, a second-year med student, said she was glad for the opportunity to put what she'd learned in the classroom to good use. Before medical school, she volunteered as a global patient advocate, raising money to provide healthcare to rural villages in India. But this was her first time directly caring for international patients.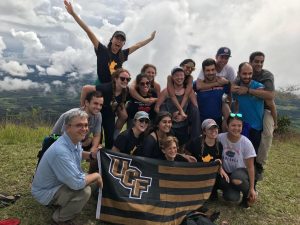 "All of the physicians were really open about teaching," Ng said, noting that Dr. Pinkal Patel, a family medicine physician and College of Medicine faculty member, "let every student come up with differential diagnoses, and he was like, 'OK, what's the treatment and plan?' And then he talked us through it, which was pretty awesome."
Students had plenty of specialty physicians to learn from. Dr. Juan Cendan, chair of medical education and professor of surgery, did hernia repairs. Dr. David Weinstein, assistant professor and dermatologist at UCF Health, treated skin conditions. Dr. Aileen Caceres, OB-GYN clerkship director, was among the accompanying community physicians, joining Dr. Patel, Dr. Hubert Swana (pediatric urology), Dr. David Simmons (internal medicine) and Dr. Alix Casler (pediatrics). College of Medicine coordinator Christina Serrano handled logistics for the entire trip and served as a translator in pediatrics.
This was MedPACt's second visit to Peru. The trips have been so successful, Dr. Simms-Cendan has worked with clinic leaders to set up a national consortium of the physicians who will volunteer at the facility.
"We're going to really try to make this center a hallmark of sustainability," she said.
Post Tags
Aileen Caceres

David Weinstein

global health

Juan Cendan

Judith Simms-Cendan

Judy Simms-Cendan

Peru