Burnett School

College of Medicine

Global Health

Infectious Disease Division

Students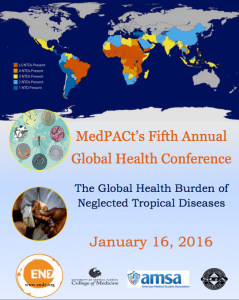 The College of Medicine's annual global health conference – organized by students seeking to improve health worldwide – will focus on neglected tropical diseases – the most common diseases of the world's poor. The January 16 event is open to all health professionals – physicians, researchers, nursing, pharmacy, public health and M.D. students. A portion of the proceeds will support END7, a worldwide organization seeking to eradicate the seven most neglected tropical conditions.
The event will include simulations and workshops including:
Narrative patient interviews conducted in Spanish
Demonstrations of how to diagnose tropical diseases with the help of College of Medicine standardized patients – actors who portray people suffering from illness
Interactive patient experiences with simulation technology
Keynote speaker for the event is Dr. Maria Elena Bottazzi, associate dean of the Baylor National School of Tropical Medicine, a professor of pediatrics at Baylor College of Medicine, and director of the vaccine product development laboratories of the Sabin Vaccine Institute and Texas Children's Hospital Center for Vaccine Development.  Dr. Bottazzi's career has focused on advancing knowledge and understanding for fighting neglected tropical diseases. She leads a comprehensive research and development effort for a new generation of drugs, diagnostics, and vaccines for such conditions.
The yearly event is organized by MedPACT (Medical Students Providing Across Continents). Previous conferences have focused on topics including refugee health and the health of women and babies around the world. Last year, 200 M.D., nursing, pharmacy and public health students from across Florida attended the conference.
Registration for non-UCF students is $25 and $5 for UCF students; $5 from each registration will be donated to End7. The organization works to raise funds for eradicating neglected tropical diseases, noting that just 50 cents can treat and protect a person against all seven of the world's most common tropical conditions for up to one year
The event will also feature research on tropical diseases and Global Health leaders welcome interested people to submit abstracts for poster presentation consideration. Abstracts must be submitted by January 3, 2016 and should be no longer than 500 words.  Although this is a conference dedicated to neglected tropical diseases, any global health research projects will be considered.  Projects will be judged during a poster presentation session and monetary awards will be given to the top three highest scoring posters.
For more information, visit the conference website, https://med.ucf.edu/global-health/conferences/2015-2016-global-health-conference/
For periodic conference updates, please follow MedPACt on Facebook at https://www.facebook.com/UCFMedPactGHC2016/
Post Tags