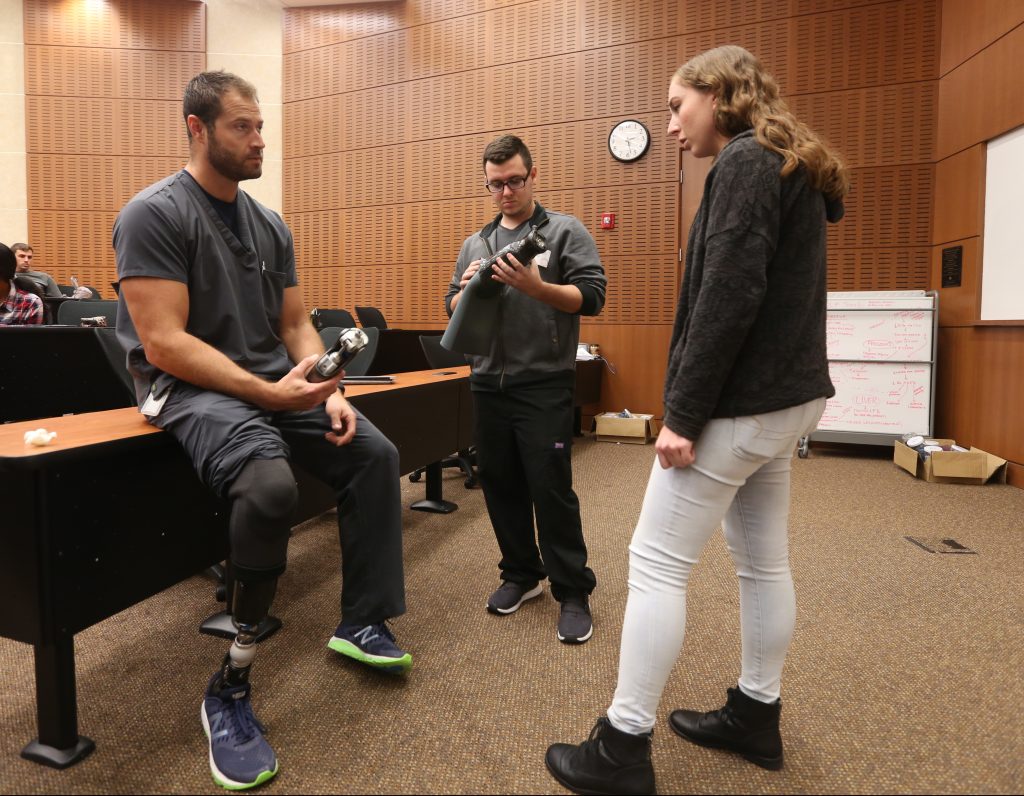 A group of future biomedical engineers got a close-up look into the world of prosthetics when they received a guest lecture from amputee and prosthetist, Mike Varro.
The group is the second cohort of students in UCF's new Master of Science degree in Biomedical Engineering, offered by UCF's College of Engineering and Computer Science in collaboration with the College of Medicine. The graduate degree prepares young engineers to design medical devices for implant in or on the body, such as heart pumps, pacemakers, and prosthetics.
Dr. Daniel Topping, assistant professor of family medicine and anatomy, leads the anatomy experience for the program that includes seven four-hour lab sessions where students examine the musculoskeletal structure of cadavers – people  who donated their bodies to help train medical students.
"If you're going to be working on a human body, you definitely need to know what's 'under the hood'," Dr. Topping said, noting that UCF is one of a few programs that offers such a hands on anatomical experience for future biomedical engineering. "So, there is no way to replace the experience these students are getting with the cadavers."
This year, Dr. Topping added a guest lecture from the prosthetist to give students a real-life  introduction to limb replacement devices.
Varro lost his right leg at a young age due to a congenital condition,  and decided to pursue a career in prosthetic fitting after years of tinkering with his own prosthetic leg.
"When I was younger, I was involved in a lot of sports and was constantly breaking things," he said. "It was a long drive to the hospital, so I would try to find a way to fix it on my own. In a way, that was preparing me for this career. I had a lot of fun working on my own prosthetics and I wanted to help people and impact their lives."
Now he fits veterans with prosthetic limbs at the Orlando VA Medical Center. In his lecture, Varro shared with the students the technical aspects and mechanics that go into designing prosthetics as well as how to adjust and align prosthetic legs to help those you use them to  achieve an optimal walking pattern.
"I want the students to know that you don't just put parts together and tell patients to walk -there is a lot that goes into it," he said. "Prosthetics is an evolving field and there's a lot of collaboration that goes into prosthetics from different fields that include biomechanics, medical doctors and other aspects of the allied health sciences."
Varro told the students that engineering a device that functions as a natural part of the body is an intricate task and commended UCF for offering the new program.
"We sometimes take for granted all the engineering that goes into making these prosthetic feet and knees," he said. "So the more people that can get into the science of making these adaptive equipment, the better, because it's really about making lives a lot better for people out there."
Dr. Topping said that working with cadavers helps engineering student see how devices interact with a real body. "My goal is to give them as much hands-on experience as possible," he said. "They see the stuff in the textbook, but now let's get up and touch it, let's move the joint around. I want them to see it all, the heart stents, chemotherapy ports, and other types of devices as they appear in or on the body."
And for students like Brandon Ly, the course is doing exactly that.
"You see these diagrams of how these wires hook into the body but you don't actually get to see them in the person," Ly said. "Once you see the real thing it's interesting how complex the body is and how everything has synchronized together in order to function."
Post Tags
Anatomy

biomedical engineering

daniel topping

engineering

mike varro

prosthetics