College of Medicine

Communique

Internal Medicine Residency

Residents
An inaugural UCF resident – who served veterans as a chief resident and told colleagues his career goal is to cure diabetes – is the new leader of the College of Medicine's endocrinology fellowship in greater Orlando.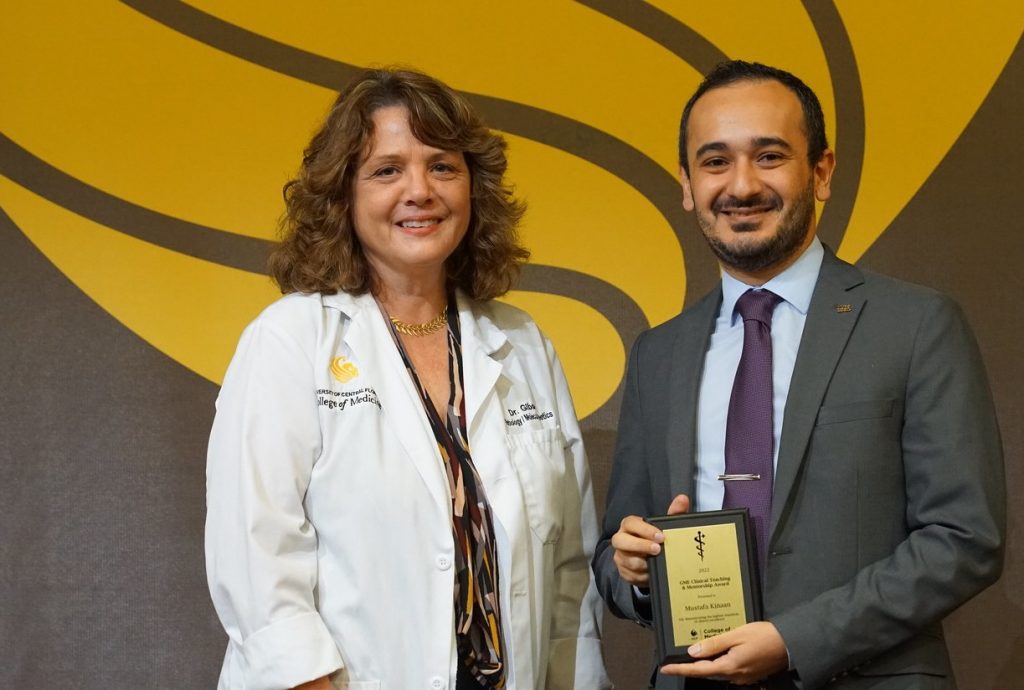 Dr. Mustafa Kinaan has shown his dedication to the Central Florida community throughout his graduate medical education journey.
In 2014, he was one of UCF's first 17 residents, when the medical school began its first internal residency program in partnership with HCA Healthcare and the Orlando VA Medical Center. After graduating from the program, he became chief resident, overseeing residents at the VA. A year later, he entered UCF-HCA's endocrinology fellowship, caring for patients at the VA and HCA Florida Osceola Hospital. In 2020, he joined Premier Endocrinology in Kissimmee and St. Cloud, saying he was staying in greater Orlando to "care for the new family I love."
Now he is leading the endocrinology program that trained him, creating more physicians who treat conditions including diabetes, thyroid and pituitary gland disease.
"Dr. Kinaan is the first GME trainee to go from resident in one of our programs, to fellow, to core faculty member and now to become a program director, leading our endocrinology fellowship," said Dr. Stephen Cico, the medical school's assistant dean for graduate medical education. "Recruiting the best, training the best, and retaining our residents and fellows has been a goal of the UCF-HCA GME Consortium since its inception in 2016. Dr. Kinaan is a skilled educator, compassionate physician and engaged faculty member — he is exactly the kind of physician we want representing our consortium in leadership positions."
Dr. Kinaan graduated from Weill Cornell Medical College in Qatar and did clerkship rotations and conducted research on the impact of diabetes on heart disease at Cornell University in New York. He said his experience helping to build new residency and fellowship programs at UCF gave him an unprecedented experience. "You're not just learning, you're building the program," he said. "It was a rich environment for me. At UCF, I was given all the tools I need to help shape the future."
The fellowship program currently trains four physicians per year, with fellows caring for patients in out-patient and hospital settings. While he leads the program, Dr. Kinaan continues to care for patients at Premier Endocrinology and also serves as an attending physician and faculty member at HCA Florida Osceola Hospital.
Dr. Abdo Asmar has led the Greater Orlando internal medicine residency since it began and said he saw the young physician's promise early in his training. "I cannot tell you how honored and proud I am that Mustafa is our program director," he said. "This is what we want to do with our GME programs – grow the next generation of outstanding physicians who are also extraordinary teachers. This is how we improve healthcare."
Throughout his UCF career, Dr. Kinaan has received awards for teaching and this year received the College of Medicine's faculty award for outstanding GME clinical teaching and mentorship. He also helped create a new research infrastructure to better support scholarship by residents and fellows. Dr. Asmar said his mentee was an innovative and engaging teacher even as a resident – known for his compelling case review reports. "He is a learner-focused educator," he said. "He knows how to share information based on a learner's needs."
As he moves forward training tomorrow's endocrinologists, Dr. Kinaan said he is committed to building a fellowship that is recognized locally, regionally and nationally.
"Our goal is to create extraordinary physicians who have the expertise and the compassion to create long-term relationships with their patients," he said. "Our patients have chronic illnesses and many have suffered for years because of their conditions. We want our physicians to be passionate about endocrinology and the opportunity to be part of the patient's support system for years to come."
Doctors cannot care for patients independently immediately after they graduate from medical school. They must first go through residency training – three to seven years depending on the specialty. After residency, many go into fellowships for even more specialized training.
The UCF-HCA Healthcare GME consortium is one of the fastest growing in Florida, now training almost 560 physicians in Tallahassee, Gainesville, Ocala, Pensacola and Greater Orlando – with more planned. Residency programs are a key to solving the state's physician shortage as the majority of physicians begin practicing where they do their residency training. UCF-HCA has 36 accredited programs in specialties including surgery, psychiatry, internal, family and emergency medicine, geriatrics and neurology.
Post Tags
endocrinology

Mustafa Kinaan

UCF-HCA endocrinology fellowship

UCF-HCA residency consortium