Burnett School

College of Medicine

Infectious Disease Division

Students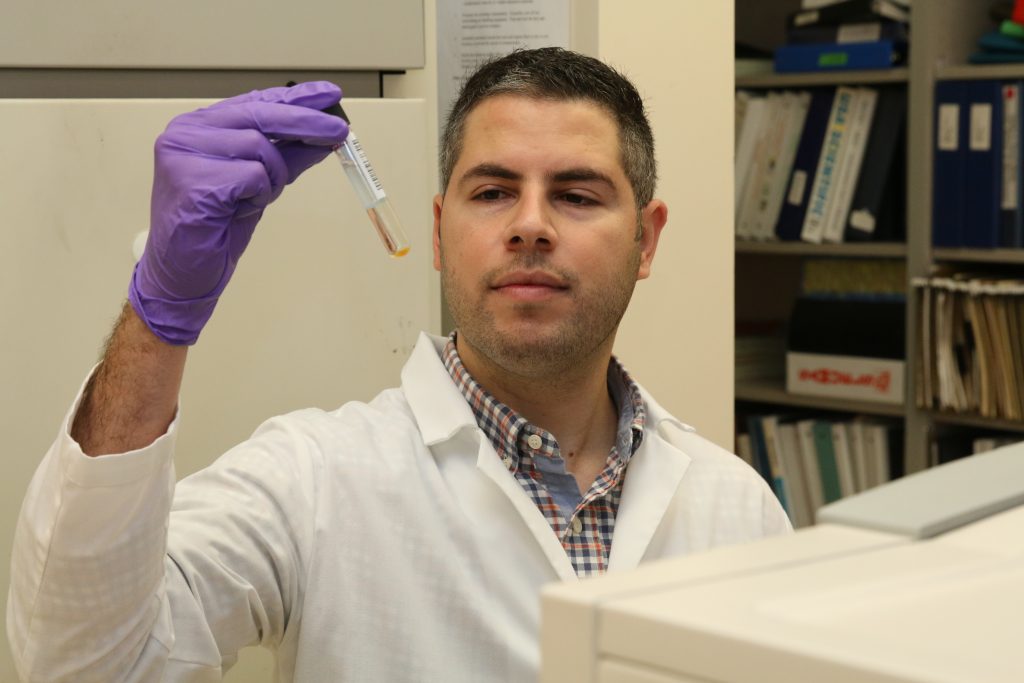 Ahmad Qasem had always wanted to be a pharmacist. But after completing his doctor of pharmacy degree, he felt it wasn't enough and wanted to do more.
"After I graduated, I knew my passion for helping others went beyond dispensing medications," Qasem said. "I saw patients suffering from chronic illnesses with limited therapeutic choices available. I wanted to make a difference through finding better treatments and that's what motivated me to pursue a degree in research."
Now a Ph.D. student at the Burnett School of Biomedical Sciences, Qasem researches Crohn's disease, has co-authored several journal articles, is involved in an international clinical trial and recently received the Order of Pegasus, UCF's highest student honor.
Born and raised in Jordan, Qasem is one of nine children of a salesman and a homemaker. Qasem joined UCF in 2014 to pursue a master's degree in biotechnology and later a Ph.D. in biomedical sciences, becoming the first in his family to attend an American institution.
Now in his third year, Qasem works in the lab of Dr. Saleh Naser, professor and infectious disease researcher at the Burnett School. Together, they are trying to find a link between environmental factors and Crohn's disease, a chronic inflammatory bowel disease that affects an estimated 700,000 Americans and has no known cure. Traditional treatments only address the symptoms of inflammation and not the cause. Naser's lab has identified an association with Crohn's and Mycobacteria paratuberculosis (MAP), a strain of bacteria found in about half of the cows in the United States and is spread to humans through the consumption of infected milk and beef.
"For a long time this disease has been known as an autoimmune disorder until the bacteria were found in these patients," Qasem explained.
In the lab, Qasem isolates MAP bacteria from blood and intestinal samples of Crohn's patients and studies the patients' genetic mutations, in particular a mutation in the Tumor Necrosis Factor alpha (TNFα) gene, and how it makes patients more susceptible to infection. He is also testing the use of antibiotics to kill the MAP bacteria as a more effective treatment for Crohn's patients.
"I believe that everyone's genes are unique in a way that they can determine the response to medications and disease susceptibility," Qasem said. "If we continue finding links between these two we will be able to develop a better and more cost effective treatment plan that will save patients from being exposed to damaging side effects."
Working with Dr. Naser, Qasem is also involved in an international FDA-approved Phase III clinical trial for an antibiotic treatment for Crohn's disease.
"We are conducting tests on blood and intestinal biopsies from Australia, New Zealand, United Kingdom, Canada and the USA," Qasem explained. "So far, we have shown that this new treatment kills MAP in vitro and we hope it will be effective for Crohn's patients eventually."
"He is very independent, has a lot of initiative and his expertise in pharmacy is an asset to our lab and to the work we are doing with Crohn's disease," said Dr. Naser, who has mentored Qasem since he began the master's program in 2014. "In only two years, he has achieved the equivalent of three years of work for his Ph.D., and he truly exemplifies Order of Pegasus caliber."
Qasem has already co-authored six peer-reviewed publications into novel therapeutic strategies to cure Crohn's disease. He has presented his research in many statewide conferences and has earned two UCF doctoral level awards.
"What I enjoy most about research is the collaborative work so that everyone has a potential to make a difference," Qasem said.  "We all have the same mission, which is helping patients in need."
"UCF has provided me with an invaluable experience that I will always be grateful for. The innovative environment and the productive collaboration UCF creates, encourages students from diverse backgrounds to implement unique initiatives." He shares his enthusiasm for research by helping to give tours to prospective students and was recently selected a UCF Global Student Ambassador.
After completing his Ph.D., Qasem hopes to integrate his multidisciplinary work as a pharmaceutical scientist for a major healthcare organization such as the Food and Drug Administration or Centers for Disease Control.
"I hope to discover cures for chronic illnesses, establish cost-effective therapies, and find ways to enhance disease prevention," he said.
Post Tags