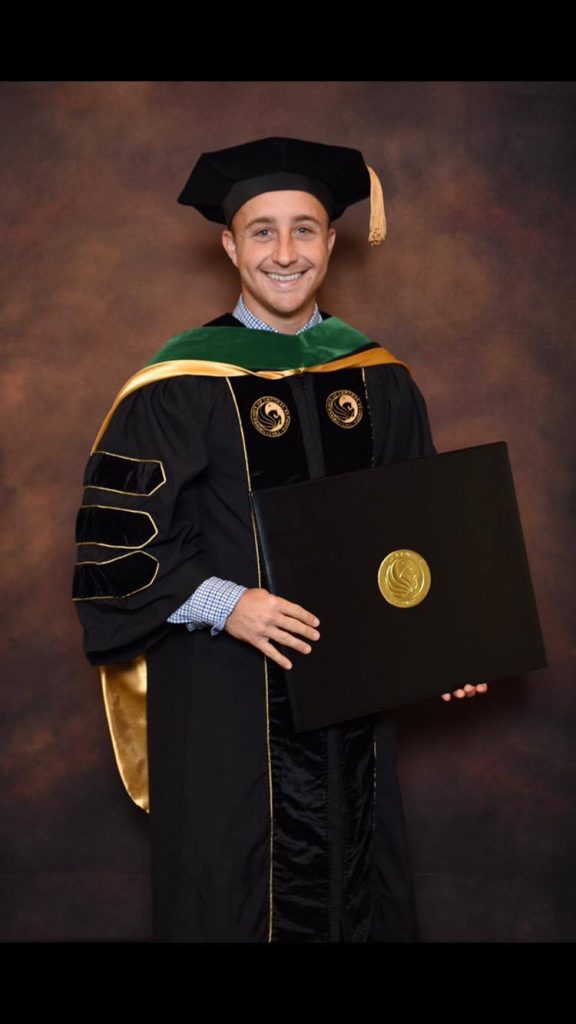 As a youngster, Joey Caravaglio performed on Broadway, playing Chip the teacup in Disney's musical, "Beauty and the Beast." Today, he's a doctor.
Caravaglio was one of 113 M.D. students who graduated from UCF's College of Medicine May 19. On July 1, he'll begin a transitional UCF residency at Osceola Regional Medical Center before doing his dermatology residency at Brown University.
"It's an interesting transition from how you go from acting and Broadway and music to medicine," he said. "This is quite an amazing moment."
After performing in New York City and in national Broadway visiting productions across the country, Caravaglio had planned on continuing a career in music and acting. But at the end of high school, his grandfather suffered a debilitating stroke. Caravaglio wanted to understand the science of how his family member could be vibrant and independent one day and require constant care the next. And as he watched doctors treat his grandfather, Caravaglio said he was inspired to learn how the human body worked so he could provide similar care.
He says he chose dermatology because it combines surgery with complex medicine. His faculty mentor, Dr. Jeffrey Greenwald, showed Caravaglio the special relationship between a dermatologist and his or her patients. "Dr. Greenwald loves all his patients and they love him," Caravaglio said. "Dermatology is a happy specialty."
The young physician said he chose to do a transitional year of training at Osceola Regional because it will allow him to serve patients in all kinds of specialties – from internal medicine to pathology, giving him a strong foundation for his specialty of choice. "It will be just like third-year clerkships because I'll be able to see all the rotations," he said. "I'll be able to see so many patients and learn so much."
Has the UCF College of Medicine Positively Impacted You?
The UCF College of Medicine is a research-based medical school with a culture based on partnerships and collaboration. As a founding member of Orlando's Medical City we are proud to be your community medical college.
Find out how to give back to your medical school, today!