College of Medicine

Faculty News

Students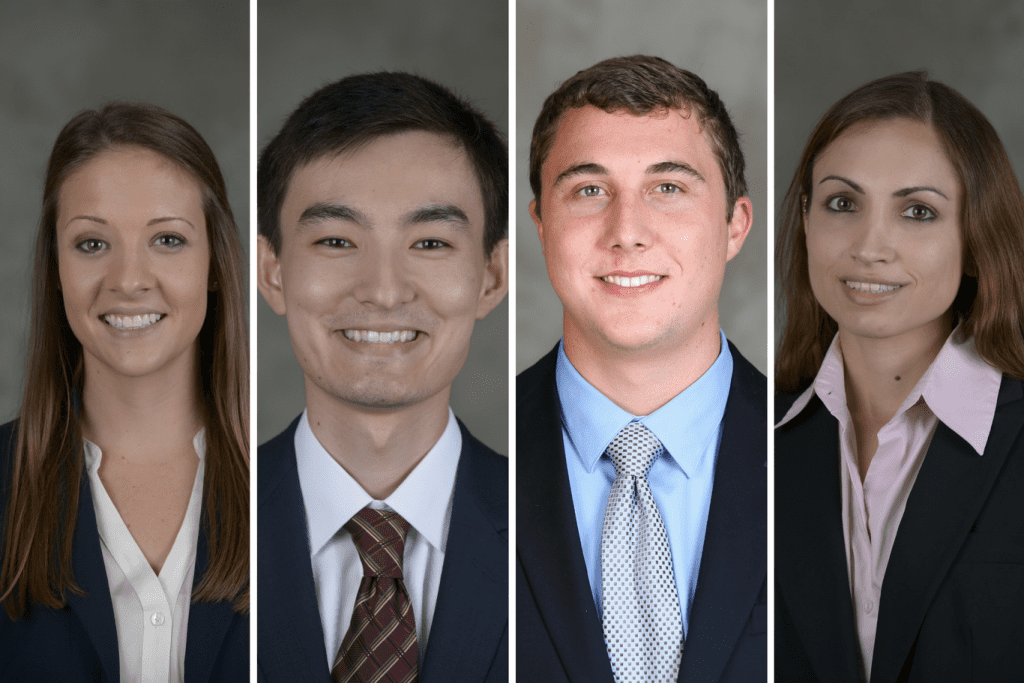 Nicole Spitzer knows more than most how precious the gift of sight is. By her twelfth birthday, she had already had three eye surgeries to correct amblyopia, commonly known as a lazy eye that affected her vision. That's why she chose to train in ophthalmology at Louisiana State University, the next step in realizing her dream of helping others see clearly.
Spitzer is one of four final-year medical students at the UCF College of Medicine who matched into highly competitive residencies in ophthalmology and urology announced last week.
"Vision is so important to people in general," said Spitzer, who is passionate about global health and has traveled on medical mission trips to Jamaica, Trinidad and Tobago and the Dominican Republic. "Cataracts are the leading cause of blindness in the world, and removing cataracts is only a 7-minute procedure that can definitely help a lot of people get around, earn money and be able to support their families."
Classmate Bryan Thiel also matched in ophthalmology and will train at the Medical College of Wisconsin. He chose the specialty because it offers opportunities to provide long term care to patients using the latest technology.
"Ophthalmology is a field that is surgically oriented and constantly innovating. I also love the really cool gadgets and technology, so it's a field that I have been passionate about."
His goal is to work with the veterans as his father served in the Navy. "It's already a population that is marginalized and in some cases not given adequate care. So I want to be the physician that makes a difference and offer the best personal care to these patients."
Leor Arbel will train in urology at St. Louis University School of Medicine in Missouri, and Aaron Smith will go to Hofstra Northwell School of Medicine in New York also for urology.
Smith wants to practice urology for its diversity in surgical procedures that range from small reconstructive surgeries to larger open abdominal cases, and is looking forward to learning from some of the best at Hofstra Northwell.
"There are so many leaders in the field at this hospital that can train me to be the best physician I can be," he said. "The residents there have such good camaraderie between them and they have all reached out to me to congratulate me, offer to answer any questions and are all eager to make my transition there easier."
Ophthalmology and urology are considered to be more competitive than other specialties and their match announcements are made ahead of the National Match Day – this year on March 16. The matching system uses a computerized mathematical algorithm to match applicants into programs based on the applicants preferences and ranking of institutions. Nationwide, there were 620 applicants for ophthalmology residencies this year; 446 medical students matched. Urology had 436 applicants with 314 matches. The military also has its own match program announced in December. All three UCF applicants matched.
Dr. Marcy Verduin, associate dean of students is delighted with the students' performance in the early matches.
"These are very competitive specialties," she said, "and our students' successes represent a culmination of many years of hard work, dedication, and the pursuit of excellence."
The Class of 2018 will graduate on May 18.
Post Tags
early match

early matches

Marcy Verduin

match

nicole spitzer

ophthalmology

opthalmology

residencies

residency

residency match

students

urology

verduin