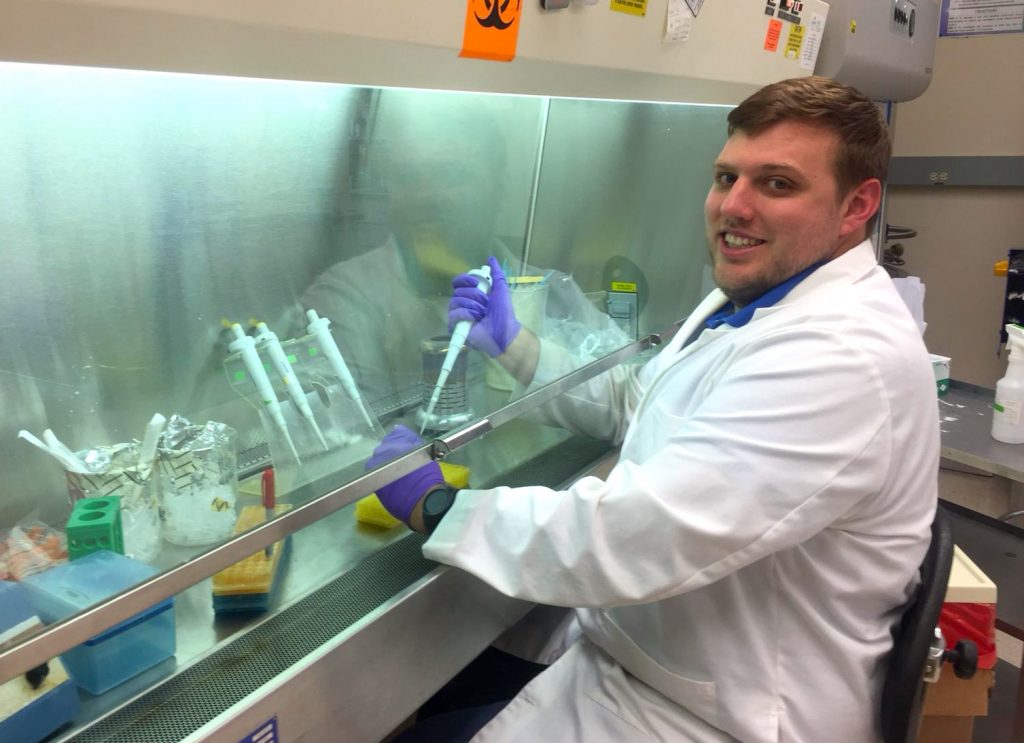 Cody Sharp had always dreamed of playing pro football until a shattered shoulder ended those hopes.  But he was determined that injury wouldn't mark the end of his story.
In December, he collected his Ph.D. in biomedical sciences — one of 181 students who graduated from the College of Medicine's Burnett School of Biomedical Sciences.  Burnett graduates were awarded 166 bachelor's degrees, including nine with university honors, 13 master's degrees and two Ph.Ds.
"I felt defeated after that incident because I was riding on that football career," said Sharp, who injured his shoulder while playing football at Birmingham Southern University. "But eventually I decided to pick myself up and work towards a new goal.  I've always loved science and I found the bachelor's in biotechnology program at UCF and it was exactly what I wanted to do — research in medicine. I wanted to do more than treat patients, I wanted to be the one to find cures and treatments."
In 2008, Sharp enrolled at UCF and pursued undergraduate studies in biotechnology with a minor in coaching and athletics. He stayed at UCF to complete his master's in biotechnology followed by a doctorate degree.  For his Ph.D. program, he joined the lab of infectious disease specialist Dr. Saleh Naser and researched Mycobacterium avium subspecies paratuberculosis or MAP, a strain of bacteria found in cows that can be spread to humans through consumption of milk and beef products.  He helped discover a connection between MAP and rheumatoid arthritis and his study, published in the Frontiers in Cellular and Infection Microbiology journal, gained national and international attention.
"Cody's story is a testament that life's obstacles can sometimes translate to a successful story," said Dr. Naser. "As his advisor, research mentor and friend, I am very proud of what he has achieved and what he has become, and I have full confidence that he will achieve whatever he sets his mind to."
The Burnett School offers undergraduate degree programs in biomedical sciences, biotechnology and medical laboratory sciences and prepares students for medical, veterinary, and other related professional schools. Others continue post-graduate studies to become research scientists.
"We are very happy to see our students grow, mature and now leave as colleagues," said Dr. Naser who is also the associate director of Burnett's graduate program. "I am proud of the development of our graduate program and we owe it to the hard work and contributions of our students."
Sharp began his post-doctoral fellowship at the University of Florida this month, researching Type 1 diabetes at the UF Diabetes Institute.
Post Tags