Burnett School

College of Medicine

Communique

Student Affairs

Students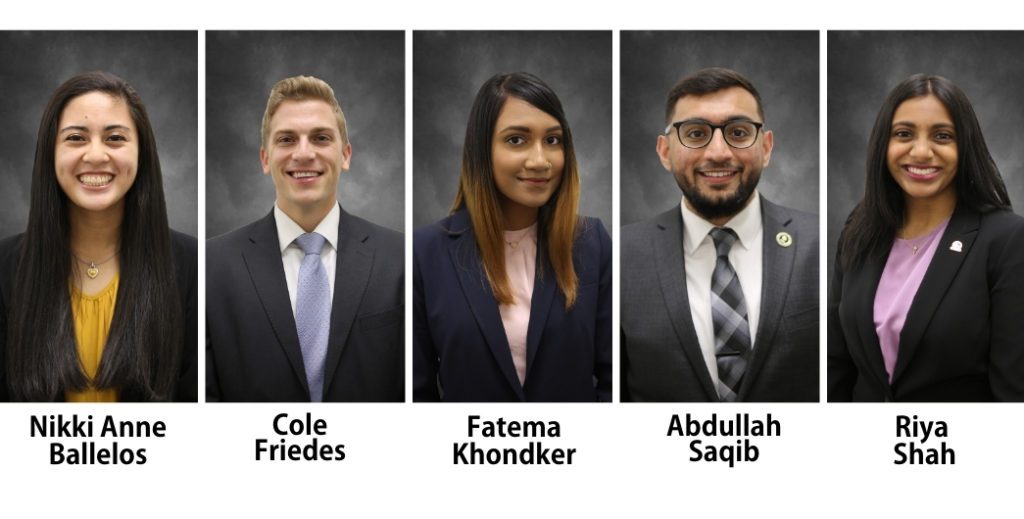 Four biomedical sciences seniors and one M.D. student are among this year's 23 recipients of the Order of Pegasus — UCF's most prestigious student award.
Undergraduate students are selected based on academic achievement, university involvement, leadership and community service. Graduate students are chosen based on the same merits as well as publication or research experiences.
The winners were honored at a ceremony March 26. Their names and pictures will be added to the wall showcasing past and present Order of Pegasus recipients in the Student Union. The awardees also received commemorative medals and scholarships from Student Government.
This year's College of Medicine recipients are:
Nikki Anne Ballelos
Ballelos is a biomedical sciences major with a psychology minor. As a Burnett Honors scholar, she served as Vice President for Honors Congress and a student representative on the University Honors Committee. Her passion for medicine and service is evident in her directorships in Pre-Med AMSA and Hearts for the Homeless. Ballelos is also a peer mentor and teaching assistant for the Burnett School of Biomedical Sciences. She volunteers her time at Nemours Children's Hospital and the Dr. Phillips Center for the Performing Arts.
Ballelos also conducts research that combines her interests in education and medicine by capturing data on diagnostic reasoning skills across varying levels of medical expertise with implications to enhance medical training.
"UCF has become my second home with its communities to explore my interests and opportunities to develop novel skills," she said. "The diverse Knight Family has welcomed and encouraged me to step out of my comfort zone these past four years. I am forever grateful for the memories and experiences I have made as a UCF Knight."
After graduation, she plans to apply to medical schools in the summer.
"My goal is to become a physician that emphasizes compassion and trust with her patients," she said. "During my growth year, I plan to carry on research in the SMART Lab and continue volunteering at Nemours Children's Hospital and the Dr. Phillips Center for the Performing Arts."
Cole Friedes
Friedes is in the final year of his medical degree at the College of Medicine where he has demonstrated ardent leadership and dedication to compassionate medical care.
During his time at the College of Medicine, he served as Vice President and later President of the student council. He co-founded the Chapman Compassionate Care organization, which provides access to healthcare for the transiently homeless population of downtown Orlando, and also went on medical mission trips to Costa Rica and Peru. He also conducted cancer research and published several articles on the optimal use of radiotherapy in oligometastatic lung cancer as well as the financial burdens of anti-cancer therapies.
Also while at UCF, he created a medical education podcast, served as a peer academic coach, and played in a professional ultimate frisbee league.
"I remember choosing to attend UCF for medical school because I felt that as a student here, I would be able to achieve any goal I set my mind to," Friedes said "Without a doubt, that feeling has been actualized.
"Through the continued encouragement, support, and collaboration of the UCF College of Medicine faculty, I have been able to kickstart new community-based organizations, present and publish research internationally, and participate in unparalleled clinical experiences. I am confident that my time at UCF will make me an outstanding, compassionate, and enthusiastic physician researcher, who is prepared to provide high-level and thoughtful cancer care to the patients who need it the most."
After completing medical school, Friedes will train in radiation oncology at the Hospital of the University of Pennsylvania on his path to becoming a compassionate oncologist.
Fatema Khondker
Khondker is pursuing dual degrees in social work and biomedical sciences. She is a first-generation college student who was selected as a Health Education and Leadership Scholar and various other leadership positions. Khondker is involved in many research projects including research on cytolethal distending toxins, bacterial genotoxins that cause DNA damage in cells, for which she was honored with a best presentation award at the national Annual Biomedical Research Conference for Minority Students 2020 conference.
She is also independently researching transportation barriers to health access in Orlando. Her passion for social policy and improving the social determinants of health in her community is evident in her service to clinics like Shepherd's Hope and Grace Medical Home.
"Without UCF, I don't know if I would've been able to discover the root of who I am as a leader, social justice advocate, and researcher," she said. "I attribute much of my success to supportive and kind faculty at UCF like Professor Robin Kohn and Dr. Ken Teter. My professors were the never-ending sunshine and water that helped me grow bigger than I would have ever thought. They inspired me to become a mentor to others, planting the seeds of success along their path."
After graduation she hopes to attend medical school to become a physician and hopes to one day work in Congress advocating for others.
"My calling is to be a lifelong learner and activist who serves others," she said. "I have a particular interest in serving those who come from disadvantaged backgrounds like I did."
Abdullah Saqib
Saqib is a Burnett Honors Scholar majoring in biomedical sciences A passionate servant-leader, Abdullah was selected to serve on President Cartwright's novel Student Advisory Council. He is also involved with the Islamic Center of Orlando where he serves as a Student Imam, on committees regarding interfaith and youth, and teaches classes. He also serves as the President of the Muslim Student Association at UCF and he founded and directs the Union of Muslim Organizations at UCF. He advocated for and helped to open the Prayer and Reflection Room at UCF and helped start a novel Interfaith Council at UCF. He also organizes food and clothing drives to support those in need at UCF and in the Central Florida community at large.
"It has been an honor to serve and lead at this world-class university," Saqib said. "I am forever in debt to UCF for giving me the experiences and opportunities to grow and become the person I am today."
After graduating, he plans to attend medical school. "I hope to become a world-class and passionate physician that will serve as a lifelong advocate for the healthcare of all, regardless of background or socioeconomic status," he said.
Riya Shah
Shah is pursuing a major in biomedical sciences, a minor in Spanish, and a certificate in Spanish for healthcare professionals. She is a National Merit Scholar, Burnett Medical Scholar, Burnett Honors College member, and LEAD Scholars Academy graduate. As part of the Honors Undergraduate Thesis program, her research focuses on neuroglobin's effects for novel stroke diagnostic and treatment alternatives, for which she also received the Burnett Research Scholars Grant. She has also been involved in leadership roles in the President's Leadership Council, SG Election Commission, Blood Drives at UCF, and KnightRaas. In the summer of 2019, she studied abroad in Granada, Spain as a recipient of the Mary Paige O'Connell Memorial Scholarship. She also serves as a teaching assistant for medical biochemistry.
As a strong proponent of giving back to the community, Shah volunteers at Affordable Care Clinics, a walk-in clinic for underprivileged patients.
"With the assistance of renowned faculty members and intelligent peers, I am so thankful to the UCF community for bringing me to where I am today," Shah said. "My time at UCF has taught me to step outside of my comfort zone and create new boundaries for a brighter future. I will always cherish these four wonderful years at UCF, and I will always do my best to give back to the university."
Shah plans to attend medical school this fall. "As a physician, I hope to create a welcoming atmosphere for my patients— focused on the intricacies of the physician-patient relationship. Down the line, I hope to return to the classroom and serve as a clinical educator. Overall, I hope to serve my community as a strong physician leader, dedicated to improving the health of my patients."
Post Tags