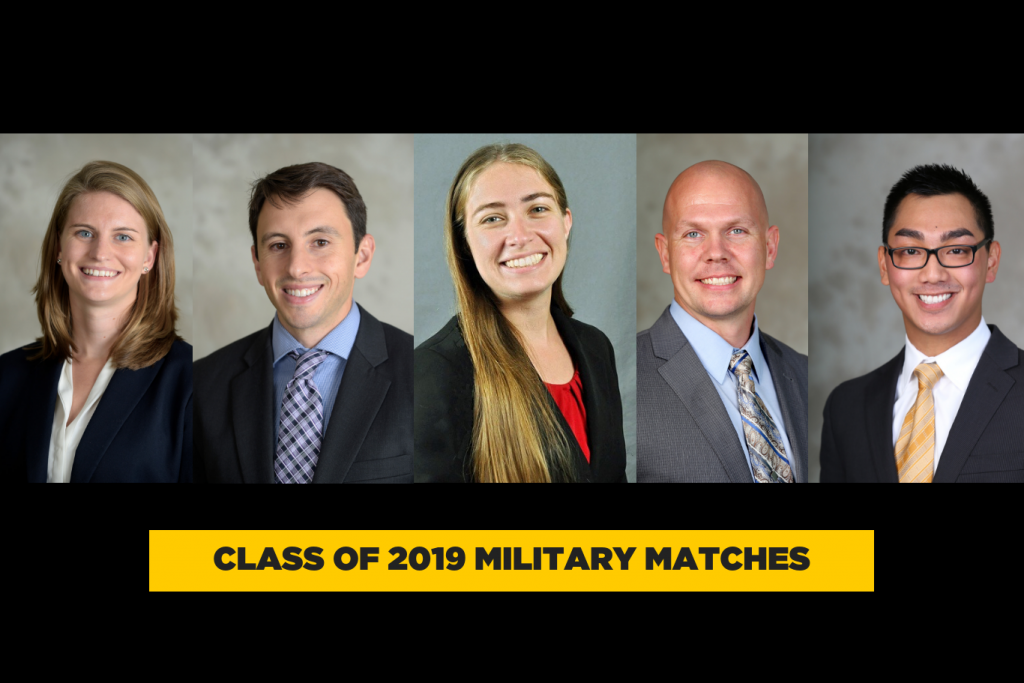 One Memorial Day, Arron Smith and his wife Melissa – both UCF medical students — stood before a monument at the Orlando VA Medical Center that bears the name of fallen soldiers.  "Our job will be keeping names off of this wall," Smith said.
Today, Smith is closer to his goal of healing those who serve as he is one of five UCF College of Medicine students who matched into military residencies on December 13.  All five seniors are recipients of the military's Health Professions Scholarship, which covers tuition and living expenses for medical students who agree to serve their country for one year for each year of scholarship. Students match into residencies at military hospitals or do their service after civilian residencies. Smith will do a transitional year at the Madigan Army Medical Center, where his wife Melissa is doing her urology residency.
Military match is typically held several months before the National Match Day in March, where thousands of medical students nationwide learn where they will do their residency training. For the match, medical students select their preferred residency program while residency programs at universities and hospitals list their top picks. Then a centralized computer spends weeks sorting and coming up with the best "match."
This year, UCF's military officers matched into specialties including general and orthopedic surgery and emergency medicine, and will train at veterans hospitals across the country including the Walter Reed National Military Medical Center.
Haley Dodson is heading to the Naval Medical Center San Diego where he will train in emergency medicine.
"The Navy has allowed me to serve in some unique environments and has provided opportunities that I wouldn't have experienced as a civilian," Dodson said, "so I'm grateful to be able to continue my service as a physician. I love emergency medicine because of the variety, the acuity, and the opportunity to be one of the first to provide treatment and hopefully make a difference."
Heather Lesch secured one of only four general surgery positions at Wright Patterson Medical Center at the airforce base in Ohio.
"It was a very competitive process, so I'm very ecstatic," she said. "My parents will tell you I've wanted to be a doctor ever since I was very young, and I'm even more thrilled for this opportunity to train in general surgery as it is a practice that makes me happy, being able to heal and save lives."
Jeremy Tran's father served in the Navy, and having spent most of his life immersed in all things military, is grateful for the opportunity to give back. He is headed to Walter Reed National Military Medical Center in Bethesda, MD, where he will train in orthopaedic surgery.
"Knowing that I am able to provide healthcare for the brave service men and women is a gratifying feeling," Tran said. "I feel one of the best parts of doing a military residency is that not only are you practicing medicine as a doctor, you are an officer in the military. It is a great honor and privilege to serve our country and care for the service men and women that protect us."
The military matches are:
Jennifer Cannon – General Surgery, Walter Reed National Military Medical Center
Haley Dodson – Emergency Medicine, Naval Medical Center San Diego
Heather Lesch – General Surgery, Wright Patterson Medical Center
Arron Smith – Transitional year, Madigan Army Medical Center
Jeremy Tran – Orthopaedic Surgery, Walter Reed National Military Medical Center
Post Tags