Burnett School

Cancer Division

College of Medicine

Diversity

Faculty News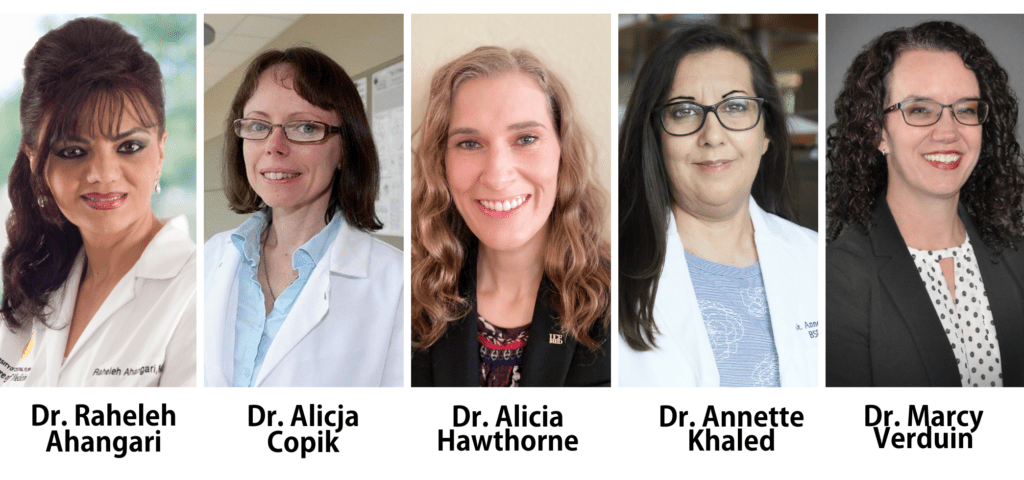 Five College of Medicine faculty are among 31 women being honored by UCF Faculty Excellence during March for Women's History Month. The awardees were nominated by peers and colleagues for their impact on campus and the community.
"This year, as we continue to charge on during a pandemic, our women faculty have not wavered in their commitments as mentors, role models, friends, researchers and teachers," said Allison Hurtado, director of communications at Faculty Excellence.
Each honoree received a Barnes & Noble gift card courtesy of LIFE@UCF.
Meet the honorees.
Dr. Raheleh Ahangari
Dr. Ahangari joined UCF in 2005 and is an associate professor of medicine at the Burnett School of Biomedical Sciences. There, she teaches courses in human physiology, clinical embryology and clinical endocrinology. Her current research focuses on trigeminal neuralgia, a chronic pain condition, as well as headache and inflammation. She has authored several publications, including articles and books and has over 700 citations. She is a graduate faculty scholar and has directed several independent studies in endocrine and metabolic disorders and chaired a number of graduate and undergraduate thesis and capstone projects at UCF.
Dr. Ahangari received her M.D. from Carol Davilla Medical University in Romania and completed graduate studies in Spain at the University of Salamanca, where she researched trigeminal neuralgia and headaches. She later completed post-doctoral research on Guillain Barré syndrome and Miller Fischer syndrome in Germany.
Dr. Alicja Copik
Dr. Copik is an associate professor of medicine at Burnett School of Biomedical Sciences specializing in immunity. Her research focuses on using the body's immune system, particularly Natural Killer (NK) cells, to fight cancer. Dr. Copik discovered a way to make NK cells more powerful by stimulating them with nanoparticles that enhance their cancer-killing ability. This technology is currently in clinical studies to determine its efficacy for treating various cancers and is also being explored as a weapon against COVID-19 and other viral infections.
Dr. Copik has diverse expertise in chemical engineering, medicinal organic chemistry, enzymology, biomolecular interactions, molecular and cell biology and has worked in academia, hospital and industrial settings. She received M.S. and Ch.E. degrees in Chemistry from Silesian University of Technology in Poland and a Ph.D. in Biochemistry from Utah State University. She was a Kempner postdoctoral fellow at the University of Texas Medical Branch and later at Roche Palo Alto, a pharmaceutical company based in California.
Dr. Alicia Hawthorne
Dr. Hawthorne is an assistant professor in the Burnett School of Biomedical Sciences where she teaches undergraduate courses in neurobiology, molecular biology, quantitative biological methods and medical biochemistry. In addition to teaching, she coordinates the Burnett School's Clinical Internship Program and was named Competency Faculty Champion by the National Association of Colleges and Employers in preparing students for their careers.
Her research interests include cell culture-based projects on regeneration of the nervous system, the gene-altering effects of compounds found in plastics, as well as survey-based projects on student-driven topics. She also serves as mentor to students and strives to promote their success. She was previously awarded the College of Medicine's 2020 Outstanding Undergraduate Educator Award and 2021 Excellence in Undergraduate Teaching Award.
Dr. Annette Khaled
Dr. Khaled heads the Cancer Research Division at the Burnett School of Biomedical Sciences and is a tenured full professor. Her research focuses on using cutting-edge nanotechnology to develop new cancer treatments to hunt down and kill metastatic cancer cells. She secured a patent for a biological agent – a tiny protein encapsulated in a nanoparticle – that can be used to kill cancer cells and microbial cells.
To date, she has published over 100 research abstracts and papers. Her research has been funded by multiple RO1 grants from the National Institutes of Health and most recently the Breast Cancer Research Foundation. She has been recognized with multiple research awards including the UCF Reach for Stars and Luminary awards and the CURE Lifetime Achievement award from the NIH. In addition to her research, Dr. Khaled teaches molecular immunology to graduate students and has received a Best Graduate Educator award from the college. She has also trained more than 10 graduate students and four post-doctoral scientists in her lab.
Outside of UCF, Dr. Khaled advances breast cancer awareness in the Orlando community through speaking engagements at venues sponsored by the Orlando Sports Foundation, such as the Cure Bowl, and being board director, secretary and chair of the Scientific Committee for the Florida Breast Cancer Foundation.
She received her Ph.D. from the University of Florida and completed her post-doctoral training at the National Cancer Institute within the National Institutes of Health.
Dr. Marcy Verduin
Dr. Verduin is the associate dean for students and a professor of psychiatry at the College of Medicine. She joined the medical school in 2007 as the first psychiatry faculty member and played an integral role in developing the undergraduate medical education curriculum, establishing policies and procedures, hiring faculty and staff and securing accreditation from the Liaison Committee on Medical Education.
She has spent the past decade growing the Student Affairs Office into a unit that oversees the areas of Admissions, Student Academic Support, Student Financial Services, Student Records, Student Services, and Student Counseling and Wellness. Her work in developing a strong career advising program for medical students gained national recognition as the sole recipient of the 2015 AAMC Excellence in Medical Student Career Advising Program Award.
Dr. Verduin currently practices at UCF Health, providing consultative services on an outpatient basis. She previously worked with Orlando's veteran population in a residential rehabilitation unit at the Orlando VA Medical Center.
A graduate of the University of Florida College of Medicine, she completed her residency training and addiction psychiatry fellowship at the Medical University of South Carolina. She is a fellow of the American College of Psychiatrists and a distinguished fellow of the American Psychiatric Association.
The honorees will be celebrated March 31 during a reception at the Burnett House.
Post Tags