College of Medicine

Communique

Faculty News

Research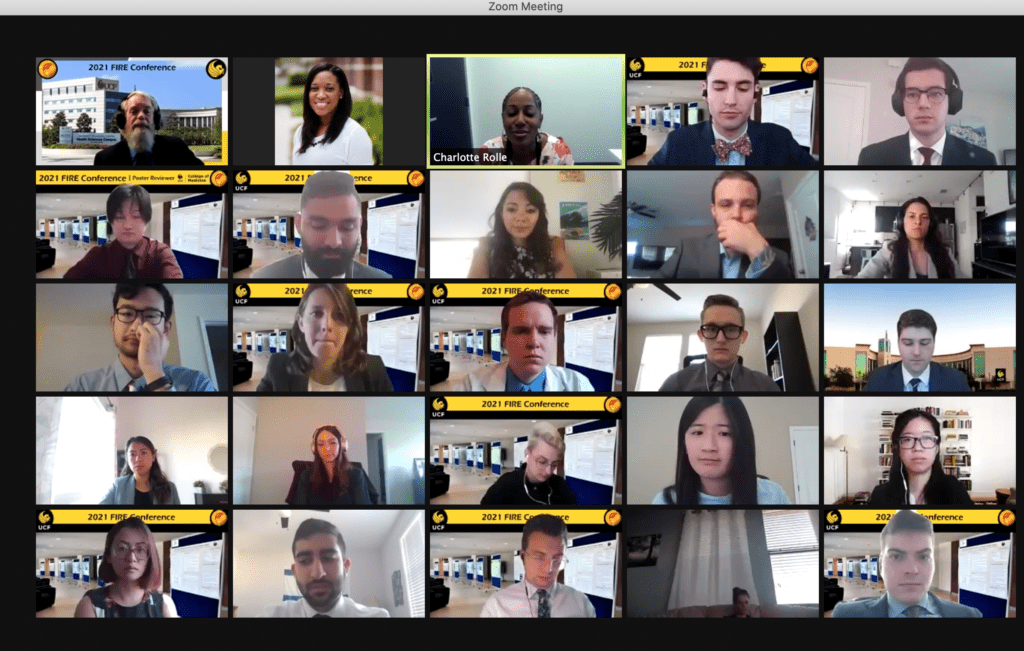 Are N95 masks better than surgical masks in preventing COVID-19 infection? Can 3D printing provide solutions for babies born with skull deformities? These were some of the questions explored at the UCF College of Medicine's 12th annual FIRE (Focused Inquiry and Research Experience) conference March 5.
The event, which showcases the discoveries of medical students during a required two-year research module, was virtual this year due to pandemic restrictions with an apt theme, "Virtually on FIRE and Zooming ahead with research"
The day-long conference held entirely via Zoom, saw 108 first- and second-year medical students sharing highlights of their research in oral presentations and poster exhibitions. Faculty and fellow students judged each presentation.
Some students, like Andrew Collins, had to adjust or entirely change their research projects due to restrictions imposed by the pandemic.
Collins' initial project was to test the efficacy of periodic glove changes in reducing bacterial contamination during shoulder surgery. However, with the lockdown and physical distancing restrictions, the microbiology labs at Orlando Health closed for smaller projects.
Collins, who was the winner of the Faculty Choice Award for his oral presentation, pivoted his project to look at the effectiveness of N95 respirators versus surgical masks in reducing viral respiratory illness among health care workers in hospitals. Working with Dr. Benjamin Service of Orlando Health, Collins conducted an analysis of previous studies reporting on the efficacy of N95 respirators.
"What we found was that there was statistically significant evidence showing that N95 respirators do have a protective benefit against viral respiratory illnesses over surgical masks," Collins said. "This is something that has not been shown before in the literature, and we're hoping that once we get the word published, it will help create guidelines for arming our frontline health care workers ensure they are protected."
Several research projects explored the use of innovative medical solutions. Katelyn Lewis, who won a first place Faculty Choice award, examined the use of virtual surgical planning and 3D printing to treat craniosynostosis – a birth defect in which bones in a baby's skull join together before the brain is fully formed. Virtual planning allows surgeons to design 3D models to visualize the bone and brain anatomy completely before operating. This results in shorter operative times, decreasing the time children are under anesthesia. However, the 3D printing procedure is usually outsourced and very costly for patients.
Working with mentor Dr. Rajendra Sawh-Martinez from Nemours Children's Hospital, Lewis undertook a feasibility study see whether virtual surgical planning could be implemented in-house at Nemours before surgical interventions.
"Our aim was to see if we could do the whole surgical simulation at Nemours to mitigate the added cost to the patient, as well as save time from outsourcing it to vendors in the event of an emergent surgery," Lewis explained. "And we were able to perform virtual surgical planning at Nemours and 3D print small models here at UCF with a 69-hour turnaround time for under $500 compared to the cost of $7,000 from outside vendors."
In addition to the oral presentations, FIRE leaders hosted poster sessions in breakout rooms hosted by the individual presenter. Students showed a pre-recorded video presentation and then did a live Q&A session with faculty and student judges who moved from room to room.
The event's keynote speaker was Dr. Arturo Casadevall, a microbiology and immunology expert at Johns Hopkins Bloomberg School of Public Health. He was one of the main proponents for using antibodies from recovered patients to treat COVID-19. Referencing the work of Dr. Roswell Gallagher, who stopped a measles outbreak in 1934 by using plasma from recovered patients, he discussed the importance of using lessons from medical history to solve current problems.
"Whatever field you're in, whether you're in your science, biochemistry or cell biology, learned the history of how things that are accepted today came to be," he said. "And history is not just five years ago. Try to go to the beginning. How did your field emerge and what were some of the big problems that have dominated thinking in this field."
Dr. Steven Ebert, director of the FIRE module, said he was not only pleased with the wealth of research presented this year and the diversity of topics, but also how much students persevered in completing their projects during COVID-19 restrictions.
"Undeterred is a word that comes to mind," Dr. Ebert said, "when we look back and see how the students and their mentors responded to the challenges of completing a successful rigorous and scholarly research project entirely through a year of global pandemic."
The winners are:
Faculty choice – Oral Presentations
First Place – Andrew Collins
N95 Respirator and Surgical Mask Effectiveness Against Respiratory Viral Illnesses in the Healthcare Setting: A Systematic Review and Meta-Analysis
Second Place – Daniel Stirt
Effectiveness of Lipid Lowering Medication Regimens in Reducing Low Density Lipoprotein Levels for Secondary Prevention of Atherosclerotic Cardiovascular Disease
Third Place – Elliott Cheung
A Cross-Sectional Survey of Anki Usage and Knowledge Among Medical Students
Peer Choice – Oral Presentations
First Place – Katelyn Lewis
A Novel Cost-Effective Approach for The Surgical Correction of Craniosynostosis Using Innovative Virtual Surgical Planning And 3D Printing
Second Place – Kharina Guruvadoo
Safety and Efficacy Of 3D Image-Guided Transforaminal Intrathecal Administration of Nusinersen Post Spinal Fusion and Bone Graft
Third Place – Daniel Stirt
Effectiveness of Lipid Lowering Medication Regimens in Reducing Low Density Lipoprotein Levels for Secondary Prevention of Atherosclerotic Cardiovascular Disease
Faculty Choice – Poster Presentations
First Place – Megan Maag
Does Allowing Patients to Self-Swab for Extra-Genital Chlamydia & Gonorrhea Improve Testing/Diagnosis Rates Among MSM?
Second Place – Ramapaada Medam
Promoting Type II Collagen Synthesis in Tissue Engineered Human Cartilage via Media Optimization and Drug Screening
Third Place – Sabah Ali
Accelerated Rehabilitation Does Not Increase Injury Following Meniscus Repair With ACL Reconstruction
Peer Choice – Poster Presentations
First Place – Ashley Su
Comparing Patient Perspective on PD-1 and BRAF Inhibitors for Melanoma Treatment Through Frequency of Social Media Posts via Artificial Intelligence (AI)
Second Place – Linda Ren
Efficacy of Ceria Nanoparticles in Treating an in-Vitro Model of Diabetic Retinopathy
Third Place- Chenan Huang
Design and Development of a Novel Assistive Device for Laparoscopic Surgery Using Granular Jamming
Post Tags